3M 1530-0 - Micropore Surgical Tape White 1/2"x10yd 24/BX, 10 BX/CS
Micropore Surgical Tape
3M Micropore Surgical Tape is a latex free hypoallergenic 'paper' tape that's gentle on the skin. This Micropore Surgical Tape is your first choice for general taping requirements. Its hypoallergenic adhesive is gentle to sensitive and fragile skin. Very porous and breathable, it allows moisture to escape without reducing adhesion. Our Micropore Surgical Tape is thin, soft and flexible for improved patient comfort. It tears easily to size, for quick and easy application. Available in white and "skin tone", ideal for cosmetic facial dressings. Radiolucent.
The dependable choice for a gentle, general purpose paper tape. 12mm x 9.1m.
A highly breathable tape that is gentle on the skin yet offers reliable securement of dressing and devices.
Adheres well to damp skin.
Hypoallergenic and latex free.
Water- resistant.
Micropore Surgical Tape Features
Offer gentle adhesion for at risk skin.
Are conformable and highly breathable.
Reliably secures dressings and devices to skin.
Are hypoallergenic and latex-free.
Suggested applications
Securing small to medium dressings, especially on damp skin.
Securing light tubing.
Securing Ostomy pouches.
Pressure Sensitive Adhesives
Micropore Surgical Tapes have adhesives that are: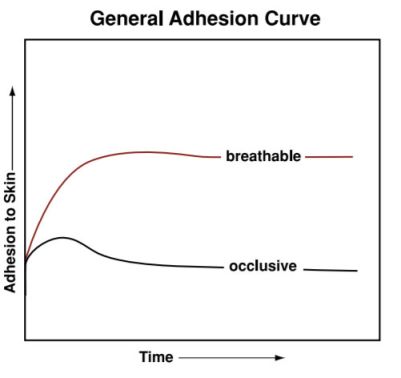 Hypoallergenic.
Free of natural rubber latex.
Pressure sensitive (adhere with only finger or hand pressure).
Designed to be as gentle as possible and yet deliver the desired performance.
In general, tape adhesion builds over time, with the fastest rate of increase during the first 24 hours.
Indications for Use
Dressing fragile skin.
Securing ostomy appliances.
Securing ophthalmology and other dressings.
Securing cosmetic facial dressings.
Successful Application & Removal
Application
Apply tape evenly to clean, dry surface.
Position and press down from centre outwards.
Maximise adhesion by firmly rubbing or pressing tape backing.
Never apply tape under tension. This may induce blistering or skin tearing.
Removal
Loosen tape ends.
Remove tape in direction of hair growth. Keep tape close to skin surface and slowly pull tape back.
Support skin throughout removal.
Frequently Asked Questions
1. Is Micropore tape hypoallergenic and natural rubber latex-free?
Yes.
2. Is Micropore tape sterile? Can it be sterilized?
3M Surgical tapes are sold clean, not sterile. Micropore tapes may be sterilized by ethylene oxide but NOT by steam (autoclave). Although 3M provides sterilization guidelines, it is up to the facility to ensure sterility. Sterrad processing with hydrogen peroxide is not recommended for Micropore tape because the rayon fibers in the tape will inactivate the hydrogen peroxide.
3. Why do we have an expiration date for tapes? What happens when a tape expires?
Although an expiration date is not required for surgical tapes in the U.S., an expiration date is required by a number of other countries. You might think of it as a best quality if used by.. In general, we do not expect changes in performance shortly after the expiration date, but 3M ensures performance within that time frame. The recommended shelf life for Micropore tape is 5 years under normal storage conditions.
4. How can I get Micropore tape to stick better?
Micropore tape has the lowest adhesion to dry skin of all the 3M medical tapes. However, it has the highest adhesion to skin that is damp and then dries. You may increase adhesion by gently but firmly pressing the tape to the skin (or tubing) or dampen the skin with water, pat dry, and then apply the Micropore tape. Most people will notice increased adhesion within 5 minutes.
5. Can I use Micropore tape to attach pictures/photos, etc.? Is Micropore tape acidfree?
A weak organic acid is in the copolymer used to make the Micropore tape adhesive, so technically, Micropore tape is not considered "acid-free". 3M does not promote uses of Micropore tape other than that for which it is intended. Micropore tape was intended for use on human skin, devices, dressings, and tubings. Micropore tape was not designed to be used on photos and other important objects, and the effects of the tape over time on these types of objects are not known.
6. What size microbe is blocked by Micropore tape?
The term "microporous" may be used in several ways: 1. The holes are small enough to filter substances (e.g., bacteria). This meaning of microporous is used for furnace filters, I.V. filters, etc. and infers that a product filters or is a barrier to particles greater than a certain size.
OR
2. The holes or "pores" are so small that they are not visible with the naked eye. This use is closer to what we mean when we say that a tape is microporous. Although some of the tapes are for practical purposes occlusive or almost occlusive, we don't claim that the tapes filter or block microorganisms.
7. Why do we have two Micropore tapes? What is the difference?
Micropore and Micropore Plus tapes have the same nonwoven, rayon backing. The difference between the tapes is in the adhesive. Micropore Plus tape was introduced to offer higher adhesion to dry skin while maintaining the current Micropore tapes levels of adhesion to damp skin.
Specifications
NHRIC No.: 8333-1530-00.
Size Standard: 1/2 in x 10 yd.
Size Metric: 1,25 cm x 9,1 m.
Rolls/Box: 24.
Boxes/Case: 10.
HCPCS Code: A4450.
HCPCS codes as referenced in the Local Coverage Determination Surgical Dressing Policy.