3M 1535-1 - TAPE, PAPER, MICROPORE, 1"X10YD, DISPENSER, 120 EA/CS, 120 RL/CS, 10 BX/CS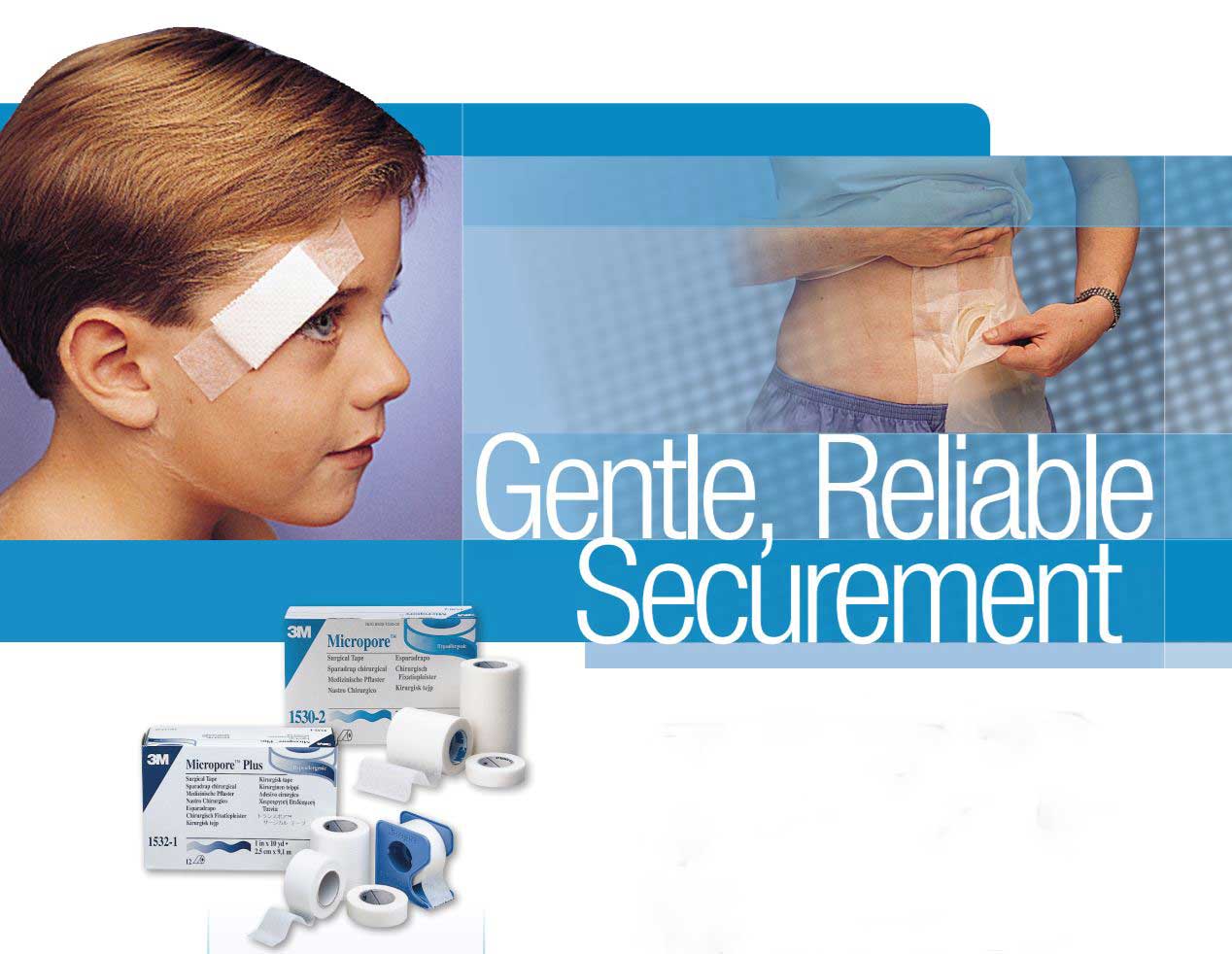 3M Micropore Medical Tape, 1535-1, dispenser, 1 in x 10 yd (2.5 cm x 9.1 m)
3M Micropore Medical Tape is a latex-free, hypoallergenic paper tape that is gentle on skin while adhering well and leaving minimal residue upon removal. This breathable surgical tape allows air to flow through, aiding the healing of minor wounds and incisions while limiting exposure to airborne contaminants. As a general purpose tape, 3M Micropore Medical Tape is effective for securing small to medium dressings, especially on damp skin.
Gentle adhesion

Conformable and highly breathable

Reliably secures dressings and devices to skin

Hypoallergenic and not made with natural rubber latex

Economical single use rolls

Paper, hypoallergenic tape
A hypoallergenic paper tape that is gentle to the skin yet adheres well and leaves minimal adhesive residue upon removal. An economical, general purpose, breathable surgical tape. Not made with natural rubber latex. Available in white or tan.
A highly breathable tape that is gentle on the skin yet offers reliable securement of dressing and devices.

Latex-free and hypoallergenic for sensitive patients.

Highly breathable to maintain skin integrity.

Holds well on damp skin for secure placement.
---
Medical Adhesive Related Skin Injuries (MARSI)
A medical adhesive related skin injury is an occurrence in which erythema and/or other manifestation of cutaneous abnormality (including, but not limited to, vesicle, bulla, erosion, or tear) persists 30 minutes or more after removal of the adhesive. Skin injury related to medical adhesives is a prevalent, but under-recognized complication. It occurs in all care settings and to people of all ages. If proper technique for application and/or removal of adhesive products is not used, tissue trauma can occur, impacting patient safety, quality of life and increasing healthcare costs.
Tape Application
Tape should be applied without tension to clean, dry skin.
A clipper may be used to remove hair, if necessary.
To protect at-risk skin, 3M Cavilon No Sting Barrier Film may be applied and when thoroughly dry, tape may be applied over it.
Minimize touching of adhesive.
Smooth tape in place with gentle pressure. Avoid gaps and wrinkles.
In general, do not encircle a limb completely with tape.
Rub in place to get a good seal.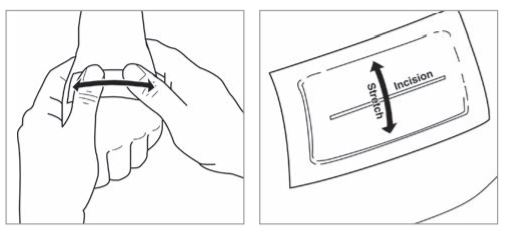 Tape Removal
Proper tape removal is critical in reducing the occurrence of traumatic skin injuries.
Loosen edges of tape. If necessary, press a small piece of tape onto a corner to start an edge of the tape.
Stabilize skin with one fi nger. Remove tape "low and slow" in direction of hair growth, keeping it close to skin surface and pulled back over itself. Removing tape at an angle will pull at the epidermis increasing risk of mechanical trauma.
As tape is removed, continue supporting newly exposed skin.
General taping
Apply tape without tension, gently but fi rmly stroking the surface to maximize adhesion.
Tape should extend at least one-half inch beyond the dressing.
Tape should not be pulled or stretched when applied.
If swelling does occur, loosen and re-fasten or replace tape to relieve the tension.
Anticipated distention (swelling)
Use a nonwoven soft cloth tape which stretches in the cross-direction and on the bias (i.e. 3M Medipore Surgical Tape).
Direction of the stretch should be considered when securing a dressing or tubing to an area that is at high risk for distention, edema, hematoma formation or movement.
Anecdotally, applying soft cloth tape parallel to the incision appears to be associated with fewer skin tension injuries than taping perpendicular to the incision.
Suggested Applications
Securing small to medium dressings especially on damp skin
Securing lightweight tubing
Securing ostomy appliances
Taping fragile, at-risk skin
When repeated taping is needed