Allow C.I.A. to white-glove your request for this item
Not buying today? Need a volume discount, Net 30 terms, or a government quote? Got a backorder, and need immediate stock? That's exactly what we do best. Let us solve your problem.
Product Description
3M 2570 - Red Dot Multi-Purpose Monitoring Electrodes with Sticky Gel 2570 electrode, 4x3-1/2cm, 50/Pk, 20 PK/CA
Red Dot Monitoring Electrode with Foam Tape and Sticky Gel 2570 - Radiolucent front and back with abrader. This electrodes feature a larger adhesive area and gel area to improveperformance.
3M Red Dot 2570 Electrodes utilise an advanced, high performance conductive adhesive technology for long, secure wear, yet they can be removed easily at any time. The 2570 electrode also has a radiolucent stud and trace prep surface.
Multi-purpose monitoring electrodes with sticky gel feature a high performance adhesive and foam backing. They are clinically proven to stay in place for up to five days. They are supplied on strips of 3, 5 and 10 electrodes so that they can be quickly and easily applied to the patient. The electrodes remain fresh for 45 days out of the bag and they allow for easy removal from the patient at any time. The conductive gel is sticky to maintain intimate skin contact for excellent trace quality.
Product Details
Clinically tested for a five-day wear time.
45 day out-of-bag Performance.
Packaged in larger packs for efficiencies.
Foam backing is comfortable for patients, occlusive to fluids, and easy to handle for quick application.
Sticky gel delivers excellent trace quality resulting in better patient information.
Built in abrader on the 2570 series.
Cord delivery - organized application delivery system.
3M adhesive provides greater adhesion to diaphoretic skin, which results in better trace quality.
Product Benefits
Hypoallergenic adhesive is kind to skin.
Compact size is possible due to new, high performance adhesive.
Conveniently supplied in sheets of 10 for quick and easy application and removal.
Guaranteed to be fresh for up to 30 days out of the bag.
Maintains intimate skin contact throughout use ensuring excellent trace quality.
The 3M Red Dot 2570 Electrode is radiolucent and supplied with skin prep surface.
Five-day wear time: Clincially tested to provide good electrode performance for up to five days.
Larger conductive area: The conductive surface area of our Red Dot Repositionable Monitoring Electrodes is larger than that ofconventional electrodes. This results in improved ECG trace quality.
Comfortable and conformable: The low-profile, soft cloth backing provides ease of application and removal, improves patient comfort andreduces the risk of electrodes catching on medical devices, drapes, gowns or bedding.
Adhesion choices: Red Dot Repositionable Monitoring Electrodes are available in two levels of adhesion. Both are quick to stick on skin and gentle on removal, but the Red Dot Repositionable Monitoring Electrode 2670 is the preferred choice when more aggressive adhesion is needed.
Suggested Applications
ECG monitoring.
For applications requiring high adhesion.
For hospital-wide use; especially suited for the ER, OR and Catheter Lab or ICU and Paramedics.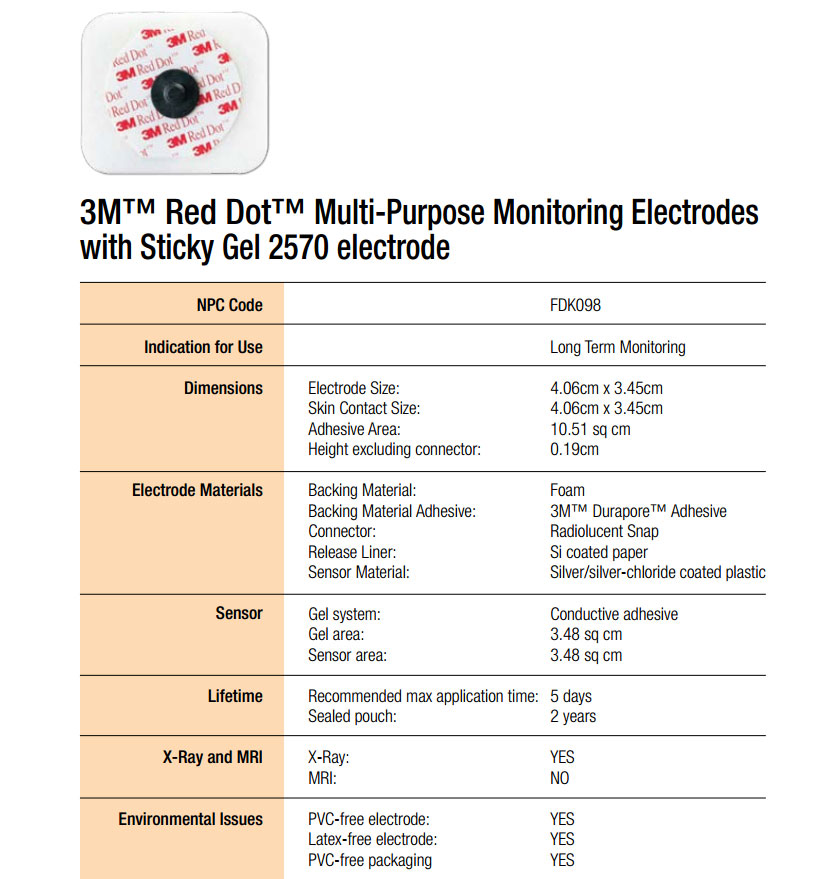 FAQs
1. Why are there so many different types of backings that are available in the 3M Red Dot product line?
Some are for use in long-term wear situations and others are for short-term situations and still others are for problem adhesion conditions.
Micropore
Foam
Clear Plastic
Soft Cloth
2. What is the difference(s) between a short-term and long-term electrode?
Short-term electrodes:
Used for a shorter period.
Less porous/occlusive.
Good initial tack.
Used for demanding applications.
Long-term electrodes:
Used for a longer period.
More porous/breathable.
Clinically tested to be safe and effective for long-term use (up to 5 days).
Please note that there have been cases where long-term electrodes have workedwell in place of short-term electrodes. The preference to use long- or short-termelectrodes depends on customer preference and their clinical knowledge andexperience.
3. What is the difference between a solid gel and a wet gel?
Solid gel:
No gel squeezes out.
Gel does not interfere with adhesion.
No messy residue left after removal.
Allows for good skin contact.
Low chloride content to minimize skin irritation from gel.
Wet gel:
Leaves residue after removal.
Residue clean up time.
Possibility of gel interfering with adhesion.
4. Why is skin abrading recommended prior to attaching electrodes?
To reduce skin impedance and expose the inner conductive layer of the epidermis to enhance trace quality. 3M Red Dot Trace Prep is a "tool" to solve trace quality issues and artifacts (if skin impedance related). Virtually all electrodes face trace quality and skin impedance issues. 3M Red Dot Trace Prep is designed to minimize those issues. Skin abrading is not only meant for 3M Red Dot electrodes, it is a good practice to enhance trace quality. 3M has designed this tool to solve customer issues related to trace quality.
5. What is sticky gel?
A new technology with conductive adhesive in place of the gel column thatprovides intimate skin contact along the surrounding pressure sensitive adhesive.
6. Is this electrode recommended for long- or short-term monitoring?
These electrodes can be used for either short- or long-term monitoring. Bothelectrodes have a 5-day wear claim.
7. How does this electrode differ from other 3M electrodes?
The 2570 have sticky gel, longer wear-time claim, and convenient stripdelivery.