B Braun 620-100R - Outlook Pump Primary IV Sets Refurbished, EA
A portfolio of primary pump sets for the Outlook and Outlook ES Large Volume Infusion Pump.
B. Braun pump sets offer comprehensive standard and Design Options lines of disposables, integrating easily into clinical requirements and allowing quicker therapy starts.
Not made with DEHP or natural rubber latex, offering a greater focus on inpatient safety

Pump- and set-based free-flow protection offer the latest best practice

Greater compliance with Joint Commission, OSHA, CDC guidelines
Outlook Pump Primary IV Sets Care Categories:
Blood
Burette
Epidural
Extension
Filtered
Microbore
Nitroglycerin (polyethylene-lined tubing)
ULTRABLOCK UV light sensitive protected
Intended Use of Outlook Pump Primary IV sets
The Outlook ES is intended for use with B. Braun Medical Inc. Horizon Pump IV Sets to regulate the flow of primary and secondary fluids when positive pressure is required. The infusion system is capable of delivering fluid from a negative head height (when the IV fluid container is lower than the pump), and provides clinically accepted volumetric accuracy for all standard IV fluids, including blood, lipids, and Total Parenteral Nutrition (TPN).
Positive pressure is frequently a necessity, but clinical experience shows that high pressure limits may increase the severity of an infiltration without causing an alarm. Because there is a need to control pump pressure settings, the Outlook ES has user-selectable Occlusion Limit settings which start at 75 mmHg and extend to 500 mmHg. At rates of 400 ml/hr and higher, the pressure setting is automatically increased to 400 mmHg. For epidural infusions which require higher pressures, the pump has an extended occlusion limit setting of 750 mmHg.
The pump is equipped with distinct audible and visual alarm signals to indicate Keep Vein Open (KVO), low battery, and other alarm conditions.
Important Keys
An understanding of the function and location of these keys will assist in the use of the pump.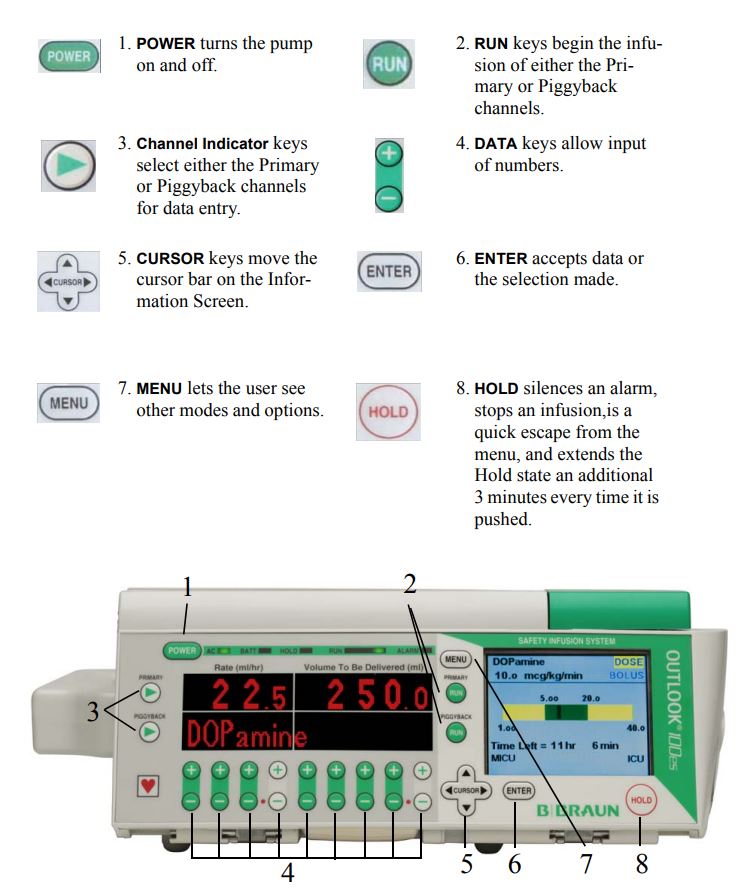 Front View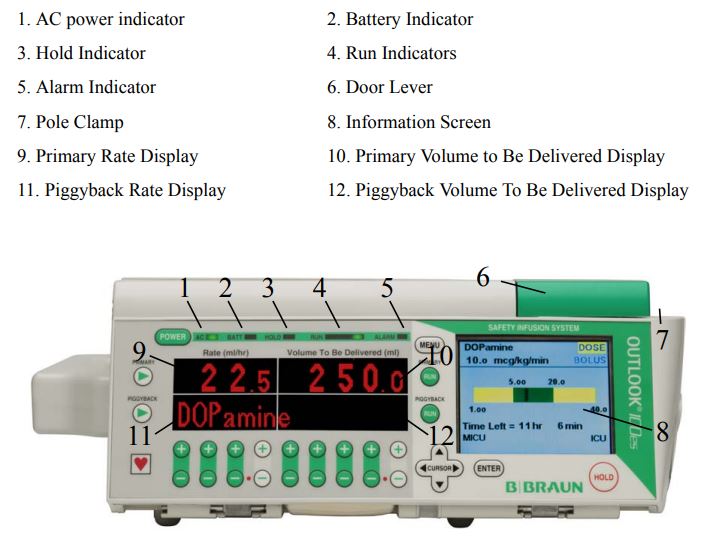 Back View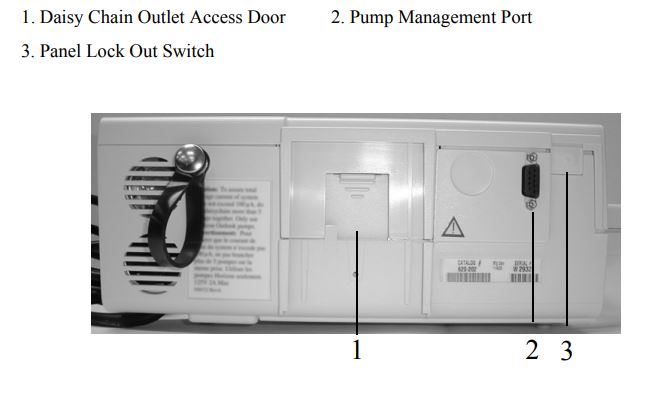 Device Characteristics of B Braun 620-100R Outlook Pump Primary IV Sets
What MRI safety information does the labeling contain?
Labeling does not contain MRI Safety Information
Device required to be labeled as containing natural rubber latex or dry
natural rubber (21 CFR 801.437):
No
Device labeled as "Not made with natural rubber latex":
No
For Single-Use:
No
Prescription Use (Rx):
Yes
Over the Counter (OTC):
No
Kit:
No
Combination Product:
No
Human Cell, Tissue or Cellular or Tissue-Based Product (HCT/P):
No