Allow C.I.A. to white-glove your request for this item
Not buying today? Need a volume discount, Net 30 terms, or a government quote? Got a backorder, and need immediate stock? That's exactly what we do best. Let us solve your problem.
Product Description
BD 303345 - CANNULA BLUNT PLASTIC 10BX/CS
BD Blunt Plastic Cannula A Truly Universal Cannula
BD Cannula Products for use with Baxter Interlink, Abbott LifeShield or McGaw SafeLine Systems
Designed for improved performance, the BD Blunt Plastic Cannula enhances the Interlink IV Access System. The BD Blunt Plastic Cannula is a truly universal cannula, and can be used with all types of split septum IV injection sites and vials designed for needleless access. A study conducted by BD demonstrates the new BD Blunt Plastic Cannula flushes preslit injection sites more effectively than competitive cannulae. Flushing effectiveness was assessed by measuring removal of red blood cells from the injection sites.
Dual Side Ports that create turbulence for thorough flushing of injection sites.
CenterPoint Design with tapered tip reduces insertion forces by 30% from Interlink Syringe Cannula.
Clear Material for enhanced visualization.
Available Separately and preattached to BD Syringes.
Universal Compatibility with Baxter Interlink, Abbott LifeShield, and McGaw SafeLine injection sites as well as vials designed for needleless access.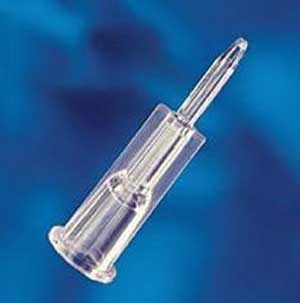 Key Product Features
Availability: New Zealand, US, Australia, Canada.
Product type: Interlink System cannula only, BD safety-engineered device.
DNR (Latex) free?: Yes.
Gauge: 17 G.
Sterile?: Yes.
Brand: LifeShield (A trademark of Hospira Inc.), SafeLine (A trademark of B. Braun Medical, Inc.), Interlink (A trademark of Baxter International).
Product group: Blunt plastic cannula.
Safety feature: Needleless system.
Use: Baxter Interlink, Abbott LifeShield, McGaw SafeLine.
How sterilized: Cobalt radiation.
Storage: Normal conditions.
Resterilize: No.