Ships Within
Special Order
Cardinal Health C-NWDS446S - T Drain/IV Sponges, 4 x 4 in., 6-ply, Sterile, Non-Woven, Small, 25/pack, 20pk/case
Drain/IV Sponges
We are ssential to care. Our traditional wound care offering provides you with quality care products at a great value. From bandages to sponges, gauze and dressings!
C-NWDS446Sis a non-woven rayon Drain/IV Sponge, this sponge help keep tube sites clean and protected. It's pre-slit allow for a snug fit and are designed to lay flat around a drainage tube. Ideal for IVs, drains, tubes, catheters and tracheotomies. All are sterile and not made with natural rubber latex. Available in non-acute only.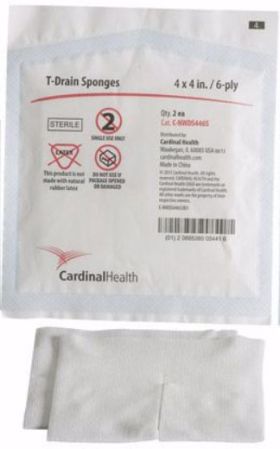 Superior absorbency and fast wicking action.
Unique pre-cut T-slit conforms snugly around drains, catheters, chest tubes, I.V.s and tracheotomies.
Sterile.
No loose threads to fall into wound.
Eliminates need for sterile scissors, conserves nursing time.
T-Drain Sponge 4" x 4" Rayon/Polyester, 6-Ply, Sterile, Latex-Free;This sponge features an extra fenestration which allows it to lay flat when wrapped around a drainage tube, without it, the sponge will pucker, decreasing effectiveness by allowing fluids to pool around the drain tube.