Allow C.I.A. to white-glove your request for this item
Not buying today? Need a volume discount, Net 30 terms, or a government quote? Got a backorder, and need immediate stock? That's exactly what we do best. Let us solve your problem.
Product Description
Cardinal Health TD-14 - TRANSPARENT DRESSING W/BO, 4BX/CS
Transparent Dressings Originial Border
Our Transparent Dressings help protect the wound surface or can be used to secure catheters and IVsproviding the protection you need with the simplicity you deserve. Made of water-resistant material, but designed to conform and flex with patient movements.
Indications
May be used for wound care applications, securing objects to the skin and as a secondary dressing. The moisture vapor permeability allows excess moisture to vent, while maintaining a moist wound environment conducive to healing.
Surgical incisions.
Skin grafts and donor sites.
Stage I and II pressure ulcers.
Post tattoo application and removal.
Catheter sites.
Superficial wounds such as abrasions and skin ulcers.
IV sites.
Minor burns.
Features
Safe
Innovative, advanced design helping you provide efficient, quality patient care
Moisture vapor permeability allows excess moisture out while maintaining a moist wound environment conducive to healing.
Flexible film conforms to the body and flexes with the skin.
Not made with natural rubber latex.
Simple
Engineered with features that help ensure ease of use and enhance patient comfort
Thumb tab provides for an easy application.
Transparency allows observation without removing the dressing.
Water-resistant allows for patient bathing without dressing change.
Secure
High level of adhesion, resulting in fewer dressing changes.
Advanced securement with notches, tape and border, reducing tension on stitches and wounds.
Acrylic adhesive ensures securement.
Helps prevent edges from rolling.
Application Instructions
Choose the appropriate dressing according to wound size. Prepare the site according to institutions protocol. Open package and remove sterile dressing.
Remove the liner and position the dressing so the transparent portion covers the insertion site and the hub portion rests on the catheter hub. Center dressing over the site.
Press dressing into place.
Slowly remove the paper border, using pressure to smooth down the dressing edges. Stabilize catheter with additional taping technique, as needed.
For dressing supplied with a label, record information and then place it on or near the dressing. Stabilize extensions according to institutions protocol.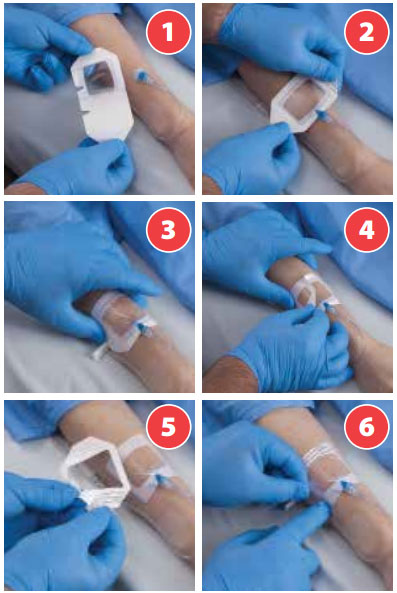 Removal Instructions
Gently grasp an edge and slowly peel the dressing from the skin in the direction of hair growth.
For removal from IV sites or other devices, grasp one edge of the dressing and gently pull straight out to stretch and release adhesion. Care should be taken not to dislodge catheters or other devices or to disrupt wound surface during removal.
Avoid skin trauma by peeling the dressing back, rather than pulling it up from the skin. Support the skin and the catheter while removing the dressing. Note: If the dressing adheres to the wound surface, it can be gently soaked off.
To aid in lifting the dressing edge, secure a piece of medical tape to one corner and rub firmly. Use the tape as a tab to help slowly peel back the dressing. Proceed with step one to remove the remainder of the dressing.