Allow C.I.A. to white-glove your request for this item
Not buying today? Need a volume discount, Net 30 terms, or a government quote? Got a backorder, and need immediate stock? That's exactly what we do best. Let us solve your problem.
Product Description
Carefusion 2N2700X - Tru-Cut Biopsy Needle 14gx3" 10/CS

Tru-Cut Biopsy Needle
The Tru-Cut biopsy needle is designed for manual capture of high-quality tissue samples with minimal trauma to the patient.
| | | | |
| --- | --- | --- | --- |
| Manufacturer Part Number | Manufacturer Name | Gauge Size | Needle Size ( Inch ) |
| 2N2700X | Carefusion | 14G | 3" |
Features
20mm specimen notch
Scalpel-sharp, surgical steel cutting edge retrieves cleanly cut, high-quality specimens
Removable stylet allows multiple sampling capability
Thin-wall needle yields larger core
Centimeter depth markings assist in needle placement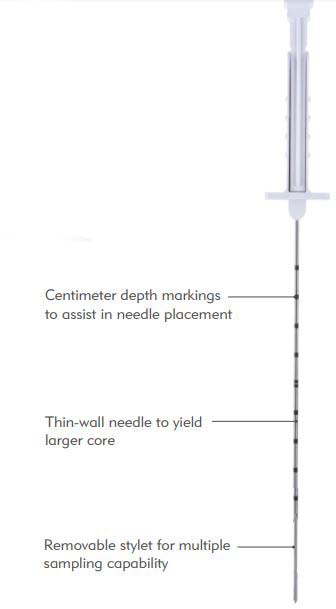 Device Characteristics
| | |
| --- | --- |
| What MRI safety information does the labeling contain? | Labeling does not contain MRI Safety Information |
| Device required to be labeled as containing natural rubber latex or dry natural rubber (21 CFR 801.437): | No |
| Device labeled as "Not made with natural rubber latex": | No |
| For Single-Use: | Yes |
| Prescription Use (Rx): | Yes |
| Over the Counter (OTC): | No |
| Kit: | No |
| Combination Product: | No |
| Human Cell, Tissue or Cellular or Tissue-Based Product (HCT/P): | No |