Cook Medical G05133 - NEEDLE, INFUSION, C-DIN-18-3.0-T45-DKM, EACH
Disposable Intraosseous Infusion Needles
Dieckmann Modification - Standard Hub Design (Trocar)
Dieckmann Intraosseous Infusion Needle 45 Degree Trocar - Pediatric Use (Less than 24 months)
The Intraosseous Infusion Needle is a needle/handle assembly. The standard design (product prefix DIN-) has a positioning mark 1 cm proximal to the needle tip and is available with a trocar, lancet, or pencil point tip. The Sussmane-Raszynski design (product prefix SDIN-) has a fine-screw needle cannula and a trocar tip.
Intended Use
Intraosseous infusion needles are sterile, disposable devices used primarily during pediatric emergencies as an alternative to unsuccessful intravenous access to allow for effective infusion of resuscitative drugs or fluids.Used as an alternative to intravenous access permitting infusion of drugs and fluids during pediatric emergencies. Two opposing sideports at the tip of the needle cannula promote unobstructed flow.
| | | | | | | |
| --- | --- | --- | --- | --- | --- | --- |
| Order Number | Reference Part Number | Needle gage | Needle Length (cm) | Tip Configuration | Needle Sideports | Adjustable Flange |
| G05133 | C-DIN-18-3.0-T45-DKM | 18 | 3 | 45 Trocar | 2 | - |
Features & Benefits
Two laterally opposed sideports positioned near needle cannula distal tip ensure proper fl ow if needle tip is obstructed by posterior bone cortex.
Positioning mark 1 cm proximal to needle cannula tip provides visual reference point for depth determination.
Supplied sterile in peel-open packages.
Intended for one-time use.
Intraosseous Infusion Needles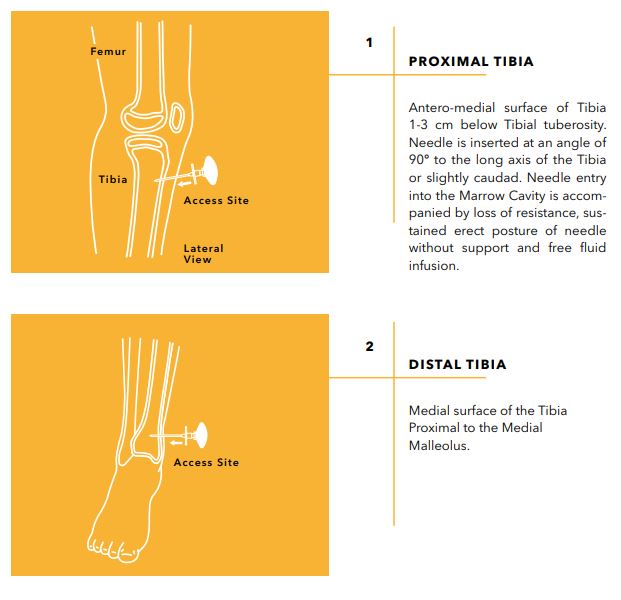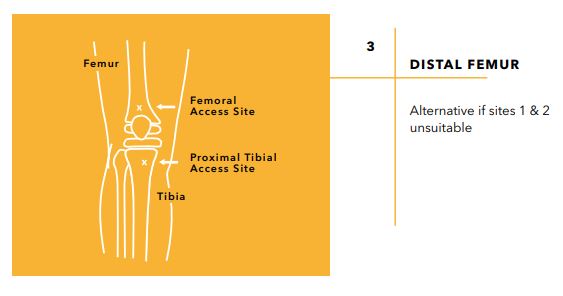 Device Characteristics
| | |
| --- | --- |
| What MRI safety information does the labeling contain? | Labeling does not contain MRI Safety Information |
| Device required to be labeled as containing natural rubber latex or dry natural rubber (21 CFR 801.437): | No |
| Device labeled as "Not made with natural rubber latex": | No |
| For Single-Use: | Yes |
| Prescription Use (Rx): | Yes |
| Over the Counter (OTC): | No |
| Kit: | No |
| Combination Product: | No |
| Human Cell, Tissue or Cellular or Tissue-Based Product (HCT/P): | No |
Contraindications
Skin infection at insertion site
Trauma or comminuted fracture at insertion site or compromised extremity
Warnings
Intraosseous infusion is an emergency alternative to be utilized until standard or conventional venous access can be obtained. It is not recommended for use longer than a 24-hour period.
Recommended for use in children under 24 months of age. If used in pediatric patients over 24 months, the high-density hub design (C-DIN- 15.5-3.0-T45-DKM-HD) should be used to provide greater stability in bones that are more dense.
Maintain needle orientation in line with the long axis of the bone and slightly away from the joint space and epiphyseal plate.
Precautions
The product is intended for use by physicians trained and experienced in emergency vascular access techniques. Standard techniques for placement of intraosseous needles should be employed.
Possible allergic reactions should be considered.
To avoid extravasation, advance the needle far enough into the medullary cavity for ease of infusion.
Instructions for Use
Needle Placement
Prepare the intended insertion site with antiseptic solution.
NOTE: If the patient is awake or alert, administer local anesthesia.
Grasp the handle with the thumb and middle finger. Stabilize the needle by placing the index finger on the skin surface next to the needle tip.
Stabilize the extremity and begin inserting the needle with firm, downward pressure into the bone, with the needle tip directed away from the joint space and epiphyseal plate. Always maintain needle orientation in line with the long axis of the bone.
As the needle tip enters the bone, continue firm downward pressure with a steady clockwise rotation of the needle assembly. Continue advancing the needle in this manner until slight give is felt. The needle should stand upright, unsupported in the bone.
Remove the needle trocar stylet by stabilizing the baseplate of the needle cannula and turning the handle counterclockwise to disengage.
Aspiration of bone marrow (presents as thick serosanguinous fluid);How Supplied
Test injection of sterile saline and aspiration of bone marrow; or
Free-flow infusion through the needle with no evidence of subcutaneous extravasation. Re-check with aspiration of bone marrow.
Stabilize the needle at skin level in standard fashion, and initiate infusion.
In the Event of Obstruction or Failure
Reassess the insertion site landmarks.
Flush the needle cannula, reinsert the stylet and repeat the insertion procedure.
If unsuccessful, consider alternative insertion site on the opposite leg.
Needle Removal
To remove the standard intraosseous infusion needle (product prefix DIN-), apply gentle traction and rotate the needle cannula back and forth to disengage from the bone cortex. Dress the insertion site in standard fashion.
How Supplied
Supplied sterilized by ethylene oxide gas in peel-open packages. Intended for one-time use. Sterile if package is unopened or undamaged. Do not use the product if there is doubt as to whether the product is sterile. Store in a dark, dry, cool place. Avoid extended exposure to light. Upon removal from package, inspect the product to ensure no damage has occurred.