Allow C.I.A. to white-glove your request for this item
Not buying today? Need a volume discount, Net 30 terms, or a government quote? Got a backorder, and need immediate stock? That's exactly what we do best. Let us solve your problem.
Product Description
Cook Medical G05461 - TUBE, CHEST DRAIN 18FR, EACH

Thal-Quick Single Lumen Chest Tube Tray
Intended for percutaneous introduction of a chest tube for pleural fluid drainage.
The Thal-Quick Chest Tube Set (TQTS-) consists of introducer needle, wire guide, dilators, coaxial chest tube inserter and clear catheter with radiopaque strip (TQT-).
The letters "Y" or "YJ" in the order number prefix, (e.g., TQTSYJ-) indicate a tray. Trays include the same items as sets, plus additional accessories for use in placement of a chest tube. The Thal-Quick is also available in a double-lumen configuration. The Double-Lumen Thal-Quick Chest Tube is a 24 French chest tube with a 17 gage second lumen that can be used for infusions or aspirations.
Intended Use
The Thal-Quick Chest Tube is intended for percutaneous introduction of a chest tube for pleural fluid drainage.
| | | | | |
| --- | --- | --- | --- | --- |
| Order Number | Reference Part Number | Catheter Fr | Catheter Length (cm) | Sideports |
| G05461 | C-TQTSY-1800 | 18 | 41 | 4 |
Features & Benefits
Percutaneous (Seldinger) placement facilitates controlled, minimally invasive catheter introduction.
EchoTip echogenic introducer needle enhances needle tip visibility under ultrasound imaging.
Radiopaque catheter enhances X-ray visualization.
Marked dilator facilitates controlled insertion of chest tube into the pleural cavity.
Components
Scalpel
EchoTip echogenic introducer needle
Amplatz Extra-Stiff Wire Guide
Dilators
Chest tube inserter
Thal-Quick Chest Tube
25 and 22 gage needle
Lidocaine
Chlorhexidine
Fenestrated drape
Gauze sponges
Disposable syringes
Suture with needle
Povidone-iodine ointment
CSR wrap
Prep tray
Needle holder cup
More Features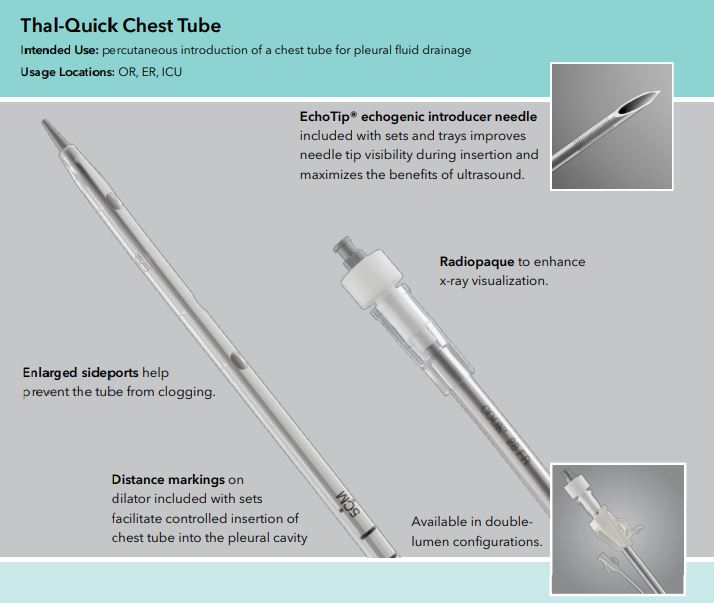 Device Characteristics
| | |
| --- | --- |
| What MRI safety information does the labeling contain? | Labeling does not contain MRI Safety Information |
| Device required to be labeled as containing natural rubber latex or dry natural rubber (21 CFR 801.437): | No |
| Device labeled as "Not made with natural rubber latex": | No |
| For Single-Use: | Yes |
| Prescription Use (Rx): | Yes |
| Over the Counter (OTC): | No |
| Kit: | No |
| Combination Product: | No |
| Human Cell, Tissue or Cellular or Tissue-Based Product (HCT/P): | No |
Warnings
Over insertion of the needle and/or dilators may result in serious harm to the patient.
Precautions
This product is intended for use by physicians trained and experienced in percutaneous pleural drainage techniques. Standard techniques for placement of chest tubes should be employed.
Manipulation of products requires fluoroscopic, CT scan or ultrasound guidance.
The potential effects of phthalates on pregnant/nursing women or children have not been fully characterized and there may be concern for reproductive and developmental effects.
How Supplied
Supplied sterilized by ethylene oxide gas in peel-open packages. Intended for one-time use. Sterile if package is unopened or undamaged. Do not use the product if there is doubt as to whether the product is sterile. Store in a dark, dry, cool place. Avoid extended exposure to light. Upon removal from package, inspect the product to ensure no damage has occurred.