Cook Medical G49973 - SET, STENT, UNIVERSA, SOFT, URTRAL, USH-624-R, EACH
Universa Soft Ureteral Stent and Positioner
Stent and positioner - (No wire guide)
The Universa Soft Ureteral Stents and Stent Sets are flexible tubular devices made from radiopaque polyurethane. The stents are available with or without hydrophilic coating. Each end of the Universa Soft Ureteral Stent consists of a curled, tapered pigtail. Sideports are placed on each end of the stent, including on the pigtails of the stent. A braided or monofilament tether for repositioning and removal of the device is located on the proximal pigtail of the stent. Radiopaque graduation marks are located on the stent to increase fluoroscopic visualization during stent advancement and placement.
The Universa Soft Ureteral Stent Set includes
Radiopaque double pigtail stent
Stainless steel wire guide
Radiopaque stent positioner with radiopaque tip
Pigtail straightener
| | | | |
| --- | --- | --- | --- |
| Order Number | Reference Part Number | Fr | Length (cm) |
| G49973 | USH-624-R | 6.0 | 24 |
Experience Universa
Universa stents provide temporary internal drainage from the ureteropelvic junction to the bladder. Universa products have premium features and the everyday advantage of a full product line. Consolidated part numbers enable streamlined ordering and provide cost savings. The Universa Soft stent offers a softer feel for patient comfort.
Features and Benefits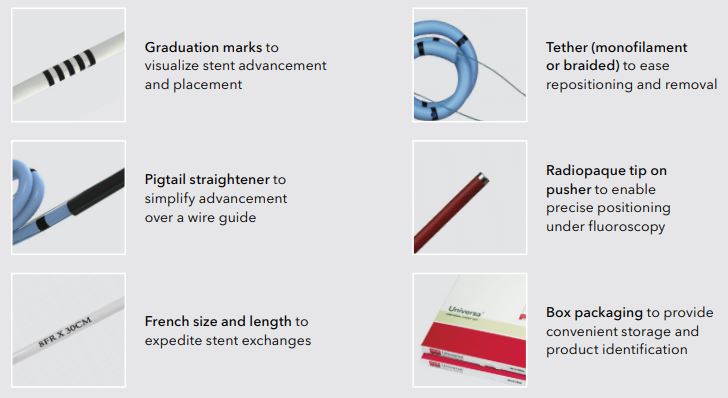 Comparison
Enlarged cross-section comparison of a typical 6 Fr stent and 5 Fr Universa stent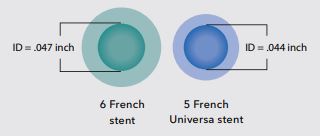 Intended Use
The Universa Soft Ureteral Stents and Stent Sets are used for temporary internal drainage from the ureteropelvic junction to the bladder. Ureteral stents have been used to relieve obstruction in a variety of benign, malignant and post-traumatic conditions. The stents may be placed using endoscopic, percutaneous or open surgical techniques.
Precautions
The potential effects of phthalates on pregnant/nursing women or children have not been fully characterized and there may be concern for the reproductive and developmental effects.
The Universa Soft Stents must not remain indwelling more than six months. If the patients status permits, the stent may be replaced with a new stent.
These stents are not intended as permanent indwelling devices.
The tether should be removed if the stent is to remain indwelling longer than 14 days.
Do not force components during removal or replacement. Carefully remove the components if any resistance is encountered.
A pregnant patient must be more closely monitored for possible stent encrustation due to calcium supplements.
Improper handling can seriously weaken the stent. Acute bending or overstressing during placement may result in subsequent separation of the stent at the point of stress after a prolonged indwelling period.
Angulation of the wire guide or stent should be avoided. Use of a 0-degree scope lens is recommended. Scopes larger than 21.0 French are suggested.
Individual variations of interaction between stents and the urinary system are unpredictable.
Ureteral stents should be checked periodically for signs of encrustation and proper function. Periodic checks of the stent by cystoscopic and / or radiographic procedures are recommended at intervals deemed to be appropriate by the physician in consideration of the individual patients condition and other patient specific factors. The stent is not intended as a permanent indwelling device which should not exceed 180 days.
Use of the device should be based upon consideration of risk-benefit factors as they apply to your patient.
Potential Adverse Events
Complications of ureteral stent placement are documented. These complications include, but are not limited to:
Extravasations
Occlusion
Migration
Hemorrhage
Sepsis
Perforation of the urinary tract
Peritonitis
Encrustation
Urinary tract infection
Loss of renal function.
Product Recommendations
If no wire guide is provided with this set, the following is recommended:
5.0 French stents accept .035"
6.0 French stents accept .038"
7.0 French stents accept .038"
8.0 French stents accept .038"
MRI Information
Nonclinical testing has demonstrated that the Universa Ureteral Soft Stents are MR Conditional according to ASTM F2503. A patient with this device may be safely scanned in an MR system meeting the following conditions:
Static magnetic field of 1.5 tesla or 3.0 tesla only
Maximum spatial gradient magnetic field of 1600 gauss/cm (16.0 T/m) or less
Maximum MR system reported, whole-body-averaged specific absorption rate (SAR) of < 2.0 W/kg (Normal Operating Mode) for 15 minutes of continuous scanning
Under the scan conditions defined above, Universa Soft Ureteral Stents are expected to produce a maximum temperature rise of 1.6C after 15 minutes of continuous scanning. The image artifact extends approximately 6 mm for the Universa Soft Ureteral Stents as found during nonclinical testing when imaged with a gradient echo pulse sequence and a 3.0 tesla MR system. The image artifact obscures the device lumen.
Instructions for Use
Endoscopic Placement
NOTE: Prior to use, immerse stent in sterile water or isotonic saline to allow the hydrophilic surface to absorb water and become lubricious. This will ease placement under standard conditions.
Pass a flexible wire guide tip to the renal pelvis. Tortuosity in the obstructed ureter can be resolved using a wire guide and an open-end ureteral catheter in combination.
Using a baseline pyelogram, estimate the proper stent length; add 1 cm to that estimated ureteral measurement. Accurate measurement enhances drainage efficiency and patient comfort.
Pass the stent over the wire guide through the cystoscope. Under direct vision, advance the stent into the ureter with the stent positioner. Have an assistant hold the wire guide in position to prevent advancement of the wire guide into the renal parenchyma.
Watch for the distal end of the stent to appear at the ureterovesical junction. At that point, halt advancement of the stent.
As an assistant removes the wire guide, hold the stent in position with the positioner. The stent pigtail will form spontaneously.
Carefully remove the positioner from the cystoscope
NOTE: If necessary, final adjustment can be made with endoscopic forceps.
NOTE: The stent may be removed easily by gentle withdrawal traction using endoscopic forceps.
NOTE: Fluoroscopy facilitates stent placement; however, standard radiography may be used. If problems occur using this device, please call your Cook sales representative or contact our Customer Relations Department.
How Supplied
Supplied sterilized by ethylene oxide gas in peel-open packages. Intended for one-time use. Sterile if package is unopened or undamaged. Do not use the product if there is doubt as to whether the product is sterile. Store in a dark, dry, cool place. Avoid extended exposure to light. Upon removal from package, inspect the product to ensure no damage has occurred.
CAUTION: U.S. federal law restricts this device to sale by or on the order of a physician (or a properly licensed practitioner).