C.R. Bard 011915 - HuberPlus Safety Infusion Set without Y-Injection Site and Needleless Injection Cap 19g x 1.5", 25/CS
Needle-Stick Safety: It's in the Wings
HuberPlus Safety Infusion Set without Y-Injection Site and Needleless Injection Cap
The HuberPlus reduces the incidence of needlestick injuries by giving you control in hand placement and grip and, most importantly, single handed needle access and safety activation.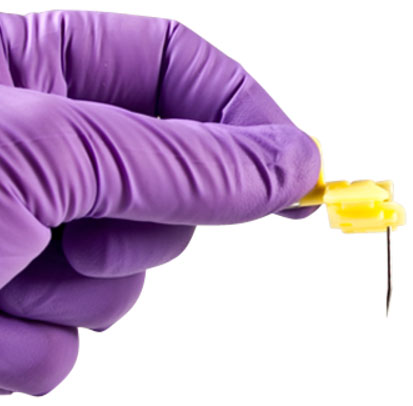 Features and Benefits
Single handed needle access and safety activation.
Safety mechanism completely contains the needle.
Low profile to facilitate dressing.
Dual lumen port compatible to enable simultaneous infusions through dual lumen ports.
Easy-to-Use
Virtually no technique change.
One-handed passive safety activation.
Audible click - confirms safety feature is engaged.
Needleless access connector for needle-free access.
Wing color dictates gauge size of needle.
Comfortable for the Patient
Small footprint.
Easy to dress.
Safety Mechanism
The wings "snap" closed and enclose the needle protecting the clinician from an accidental needlestick injury during needle removal, transport and disposal of the HuberPlus.
Indications For Use
The Huber Plus Safety Infusion Set is a safety IV administration set with a non-coring right angle Huber needle used to access surgically implanted vascular ports. The Huber Plus is used to administer fluids or to withdraw blood. The Huber Plus facilitates safe removal of the needle by encapsulating the needle within the wings to help prevent needlestick injuries when using the device for vascular port access.
Cautions:
Carefully read and follow all instructions prior to use.
Care must be taken to avoid accidental needlesticks.
Only qualified healthcare practitioners should insert, manipulate and remove these devices.
High pressure or use with power injectors may cause leakage or damage.
Confirm correct needle placement in the port reservoir by aspiration of blood before infusion of any substance. If there is doubt regarding proper needle placement, preform a radiographic dye procedure to confirm placement per institutional protocol.
Do not remove and reinsert the needle into the port.
Avoid excessive manipulation once the needle is in the port.
Follow all instructions, contraindications, warnings, cautions and precautions for all infusates, ports, IV pumps, IV sets and needleless systems, as specified by the respective manufacturer.
Follow standard infection control precautions as specified by the CDC (USA) or local equivalent.
Do not use this product if it appears damaged or if the package has been previously opened or damaged.
Warnings!
When handling the Huber Plus Safety Infusion Set, always follow universal (infection control) precautions as specified by the CDC (U.S.A.) or local equivalent.
Leakage may occur with Luer fitting connections over time or when disconnecting components -- use universal precautions to prevent exposure to bloodborne pathogens.
Verify that clamp is open and that there are no kinks in the IV line before priming or initiating flow.
If the folding wing safety feature fails to completely cover and lock the contaminated needle during removal, use care in handling the infusion set and immediately dispose of it into a sharps container.
Do not clean, re-sterilize or reuse the Huber Plus Safety Infusion Set.