Part Number
C.R. Bard 0642034
Ships Within
Discontinued
C.R. Bard 0642034 - LiftLoc Safety Infusion Set without Y-Injection Site, 20 Gauge x .75", 20/CS
The LiftLoc Safety Winged Infusion Set is designed for stability and comfort. The pliable base is designed to securely fit over the patient comfort pad to facilitate site care and cleanliness. Also the base and low profile of the needle add to patient comfort when dressing the site.
Broad, pliable base designed for patient comfort.
Patient comfort pad designed for site care.
Low profile.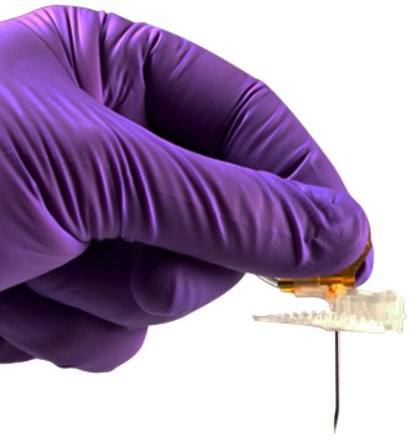 Features and Benefits
Pliable base designed for the patient comfort and to facilitate site dressing and care.
Audible and tactile "click" to ensure engaged safety feature.
Safety feature covers needlepoint to reduce risk of injury and exposure to bloodborne pathogens.
Patented Safety Lock - reduces the risk of accidental needle sticks.
Convenient and Easy to Use - conforms to user technique.
Low-Profile Design - promotes patient comfort and ease-of-dressing.
Y Injection Site - for secondary access.
Luer-Lock Connectors - adapt easily to needleless access devices and secondary access.
Viewable Access Area - site windows allow healthcare personnel to view infusion site.
Non-Coring Needle - minimizes septum damage.
Tubing - latex free and DEHP free.
LiftLoc Safety Infusion Set without Y-Injection Site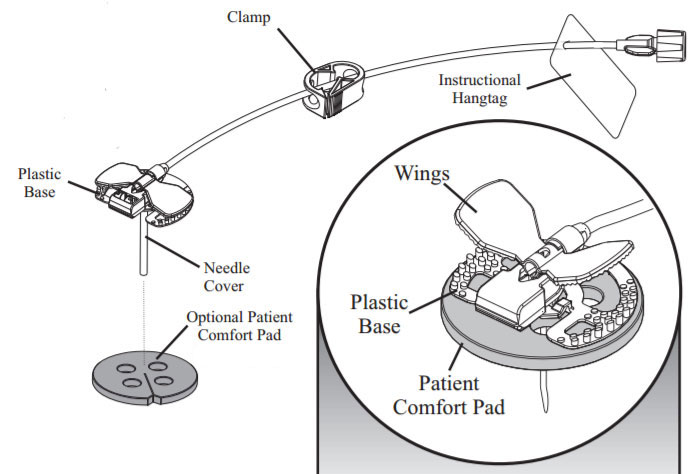 Patient Comfort Pads
Patient comfort pads are designed specifically for use with LiftLoc and are an optional alternative to gauze. They are:
Packaged with each infusion set and also available individually.
Replaceable to maintain cleanliness.
Breathable.
Constructed with site-viewing windows.
Sterile.

Safety Mechanism
As the needle is removed from the port the wings extend up and away from the site until the needle is clicked into a safe and lifted position. The lifted position of the wings locks the needlepoint into a safe position to protect you from accidental needlestick injuries during needle removal, transport and disposal of the LiftLoc Safety Infusion Set.
Indications For Use
The Bard Access Systems LiftLoc Safety Infusion Set is indicated for accessing a subcutaneously placed port. A manually activated safety mechanism reduces the risk of accidental needlestick injuries during removal by shielding the needle.
Warnings!
Fully tighten all connections before each use. Failure to attach an end cap or.
appropriate needleless device after removing a male luer locking cap can result in lan embolism or bleeding.
DO NOT REUSE. For single patient use, single insertion. Reuse carries the attendant concern of cross-infection regardless of the cleaning or re-sterilization method. Re-sterilization of incompletely cleaned devices may not be effective. Any ldevice that has been contaminated by blood should not be reused or re-sterilized.
Handle and discard in accordance with accepted medical practice and all applicable lregulations. After use, this product is a potential biohazard.
Do not alter this device.