C.R. Bard 0657510 - X-Port isp M.R.I. Plastic Implanted Port with Attachable ChronoFlex Polyurethane 8.0 French Single-Lumen Venous Catheter, Each
The Next Generation of Bard Implantable Ports
The specially designed X-Portispimplantable port is intermediate in size. Its compact size and height of only 11.7 mm allow for easy port placement and removal. Therefore, it only requires a small port pocket, which facilitates placement and helps toensure patient comfort.
Intermediate-Sized Port - compact size and height.
Large Septum - is easy to palpate and provides easy access during needle insertion.
Silicone-Filled Suture Holes - reduce the risk of tissue ingrowth and facilitate port removal.
Tapered Port Design - eases port introduction into port pocket.
MRI-Compatible - plastic material reduces MRI distortion.
Small Footprint - requires small port pocket.
Cath-Lock Radiopaque Ring - ensures accurate visualization of locking mechanism via fluoroscopy or X-ray.
Silicone-filled suture holessecure and stabilize port.
Cath-Lock mechanismeasily secures catheter.
Large septumfor easy needle insertion.
X-Port isp Implanted Port
Compact, intermediate-sized port.
Large septum is easy to palpate and provides easy access during needle insertion.
Silicone-filled suture holes reduce the risk of tissue in-growth and facilitate port removal.
Tapered design eases port introduction into surgical pocket.
Plastic material reduces MRI distortion.
Small footprint enables small port pocket.
The firmness and rounded tip of Chronoflex polyurethane catheters facilitate advancement into vein.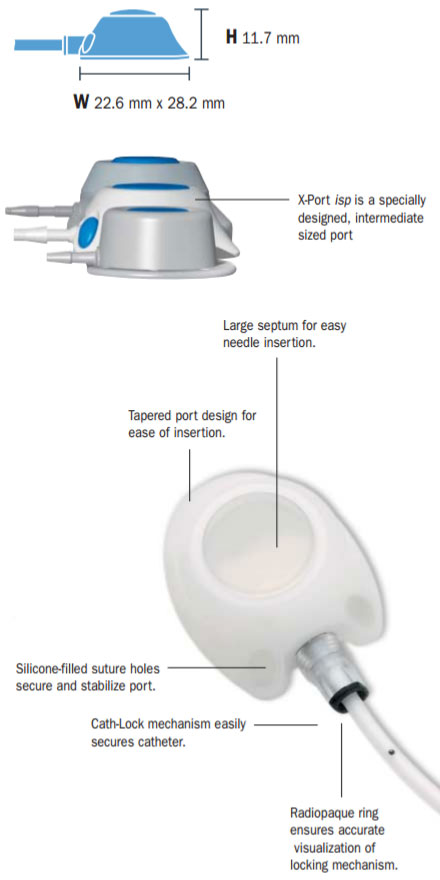 Single Lumen Port Device

Indication For Use
The BardPort, SlimPort, and X-Port implantable ports are indicated for patient therapies requiring repeated access to the vascular system. The port system can be used for infusion of medications, I.V. fluids, parenteral nutrition solutions, blood products, and for the withdrawal of blood samples.
Contraindications
This device is contraindicated:
When-the presence of device-related infection, bacteremia, or septicemia is known or suspected.
When the patients body size is insufficient for the size of the implanted device.
When the patient is known or is suspected to be allergic to materials contained in the device.

If severe chronic obstructive lung disease exists.
If the prospective insertion site has been previously irradiated.
If the prospective placement site has previously suffered episodes of venous thrombosis or vascular surgical procedures.

If local tissue factors will prevent proper device stabilization and/or access.
Warnings
During Placement:
Intended for Single Use. DO NOT REUSE. Reuse and/or repackaging may create a risk of patient or user infection, compromise the structural integrity and/or essential material and design characteristics of the device, which may lead to device failure, and/or lead to injury, illness or death of the patient.
After use, this product may be a potential biohazard . Handle and discard in accordance with accepted medical practice and applicable local, state and federal laws and regulations.
Place thumb over exposed opening of sheath or needle or attach syringe filled with sterile normal saline solution to minimize blood loss and prevent air embolism . The risk of air embolism is reduced by performing this part of the procedure with the patient performing the Valsalva maneuver and/or in Trendelenburg position.
Do not suture catheter to port, port stem, or surrounding tissue. Any damage or constriction of catheter may compromise the catheter integrity. Bard Access Systems, Inc. does not recommend suturing around the catheter as doing so could compress, kink, or damage catheter, including catheter fragmenting and/or fracturing.
Failure to completely advance the catheter on the dual lumen stem may result in subcutaneous leakage.
Avoid vessel perforation.
For Implantable ports with Groshong catheters, do not cut stylet. Withdraw stiffening stylet from catheter prior to cutting.
Pinch-off Prevention: Catheters placed percutaneously or through a cutdown, into the subclavian vein, should be inserted at the junction of the outer and middle thirds of the clavicle, lateral to the thoracic outlet. The catheter should not be inserted into the subclavian vein medially, because such placement can lead to compression of the catheter between the first rib and the clavicle, which can cause damage and even sever the catheter. A radiographic confirmation of catheter placement should be made to ensure that the catheter is not being pinched by the first rib and clavicle.
Do not attempt to measure the patients blood pressure on the arm in which the peripheral port system is located since catheter occlusion or other damage to the port system could occur.
Do not access arm in which a peripheral port system is located, proximal to the port pocket as catheter puncture or other damage to the port system could occur.
Alcohol should not be used to soak or declot polyurethane catheters because alcohol is known to degrade the polyurethane catheters.