Ships Within
Special Order
C.R. Bard 2206219 - Winged Infusion Set with Injection Site, 19 Gauge x 1", 20/CS
Winged Infusion Set without Injection Site. It's the little things in life that make the biggest difference.
The Bard Winged Infusion Set, a unique one-piece system with a permanently attached right-angle non-coring needle, is designed to help prevent accidental needlesticks. Other important features include:
A broad selection of needle lengths and gauges so that you can match the size of the needle to the size of the patient.
PVC microbore tubing for improved infusions and aspirations.
Y Injection Site for secondary access.
Flexible wings that identify needle gauge and facilitate secure attachment of needle in port septum.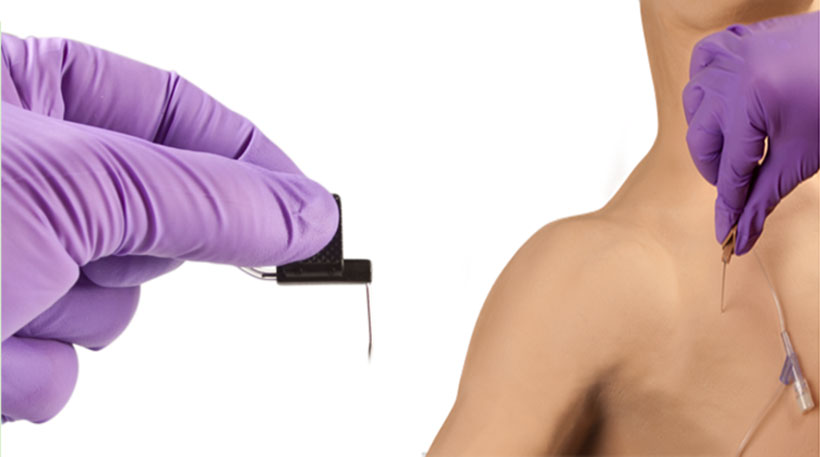 Non-Coring Needles
Every Bard Non-Coring Needle offers sturdy construction of non-siliconized regular-wall stainless steel, with a metal hub for greater durability and a tip designed to avoid septum damage. Nearly two dozen different lengths and sizes are available to satisfy your needs:
Right-angle non-coring needles are easily secured for increased patient comfort during continuous infusions.
For bolus injections, choose from a broad selection of straight and right-angle non-coring needles.
Multiple shapes, lengths and sizes of non-coring needles satisfy every infusion therapy need.
A stainless steel needle designed to be introduced into a silicone septum of a subcutaneously placed implanted port for infusion of medications, I.V. fluids, parenteral nutrition solutions, blood products and for the withdrawal of blood samples. The Non-Coring needle is designed not to core the silicone septum.
Winged Infusion Set
Contains a Non-Coring needle with a pre-attached extension set with clamp and with or without an injection Y site.
Indications for Use
The Bard Access Systems Non-Coring Needle & Non-Coring Needle Winged Infusion Sets are indicated for the accessing of subcutaneously placed implanted ports with silicone septums. See Bard Access Systems Implanted Port Instructions for Use on specific indications, contraindications, precautions, cautions, warnings and procedures for implanted ports.
Warnings
Intended for Single Use. DO NOT REUSE. Reuse and/or repackaging may create a risk of patient or user infection, compromise the structural integrity and/or essential material and design characteristics of the device, which may lead to device failure, and/or lead to injury, illness or death of the patient.
Resterilization of incompletely cleaned devices may not be effective. Any device that has been contataminated by blood should not be reused or resterilized.
After use, this product may be a potential biohazard. Handle and discard in accordance with accepted medical practice and applicable local, state and federal laws and regulations.
Fully tighten all connections before use. Failure to attach caps can result in an embolism or bleeding.
Cautions
Carefully read and follow all instructions prior to use.
Federal (U.S.A.) law restricts this device to sale by or on the order of a physician.
Only qualified healthcare practitioners should insert, manipulate and remove these devices.
It is necessary to know the maximum psi (kPa) ratings for the implanted port which you are accessing. High pressures or use with power injectors may cause leakage or damage.