Part Number
C.R. Bard 600600
C.R. Bard 600600 - TRAY, CATHETER, HICKMAN, 9 FR, DUAL LUMEN, EACH
HICKMAN 9.0 Fr. Dual Lumen Catheter with Peel-Apart Introducer
Bard Access Systems Hickman, Broviac and Leonard tunneled catheters are made of radiopaque medical grade silicone. Each has female luer locking adapter(s) and SureCuff Tissue Ingrowth Cuff for fixation of the catheters in the subcutaneous tunnel.
Low-profile adapter
Lumen and French sizes on catheter
Smooth-molded bifurcation
Soft silicone atraumatic tip
Comfortable finger grip
Radiopaque silicone construction
PRODUCT ITEM ID
FRENCH SIZE (F)
TOTAL LENGTH (CM)
VOLUME (CM)
LUMEN SIZE (OD/ID) (MM)
REPAIR KIT
600600

9F

90 cm

1.0 ml red,

0.6 ml white

3.0 mm/1.3 mm red,

0.7 mm white

0601700 body, 0601690 red, 0601680 white
---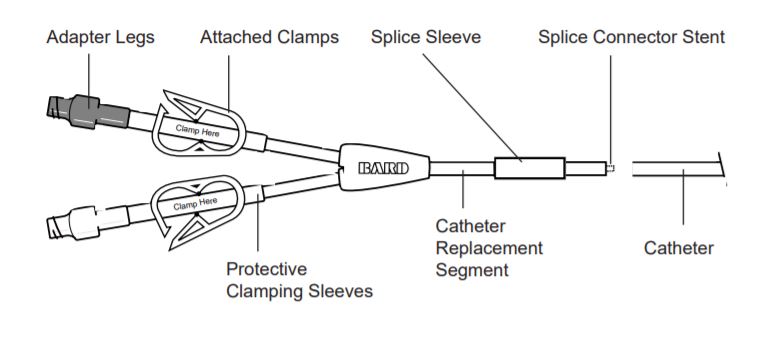 Indications For Use
Hickman, Leonard, and Broviac central venous catheters are designed for the administration of I.V. fluids, blood products, drugs and parenteral nutrition solutions, as well as blood withdrawal. Catheters with a VitaCuff Antimicrobial Cuff are intended to help provide protection against catheter related exit site infections and sepsis.
Purpose
To repair the damaged external segment of a dual or triple lumen Hickman or Leonard catheter if there is at least 3 cm. of undamaged catheter remaining.
NOTE: Catheter should have been clamped with atraumatic clamp between the catheter exit site and the damaged area when damage occurred and must remain clamped during repair.
Repair Kit Contents
Silicone External Replacement Catheter Segment
Silicone Splicing Sleeve (Shipped Loose-Mounted on Replacement Segment)
Splice Connector Stents (Mounted on Replacement Segment)
Injection Cap (one per lumen)
Clamp (one per lumen)
Tube of Medical Adhesive
Disposable Plastic Syringe
Blunt 18 Ga. Needle
Instructions
Additional Supplies Needed
Antiseptic (Povidone-Iodine is Recommended)
Atraumatic Clamp
Sterile Drapes
4 in. x 4 in. Gauze Sponges
Heparin (Volume and Concentration per Hospital Policy)
Isopropyl 70% Alcohol
10cc Syringe
Sterile Scalpel or Scissors
Tape
Tongue Blade or Application Sticks
Sterile Gloves
NOTE: The replacement segment, splicing sleeve, and splice connector stents will repair only the catheter size for which the repair kit is indicated.