C.R. Bard SH22-100Y - PowerLoc EZ Power-Injectable Infusion Set, with Y-injection site, 22 Gauge x 1", 5 mL/s FR, 25/CS
The PowerLoc EZ Safety Infusion Set Family is designed with both the clinician and the patient in mind. The PowerLoc EZ Safety Infusion Set Family is meant/intended for accessing PowerPort devices. This power-combination enables contrast agents to be power-injected. As a result, tissues show up more clearly in CECT scans, making it easier to monitor patient conditions.
The PowerLoc EZ Safety Infusion Set's low profile and small footprint make it an ideal needle for dressing the access site. The small size of the needle helps to maintain dressing integrity.
Power injection capability enables imaging.
EZ Huber Safety Infusion.
Set + Power Injection Capability = PowerLoc EZ Safety Infusion Set.
Integrated Bio-Bag designed to minimize contact with blood and fluids following safety activation.
Padded footprint designed for patient comfort.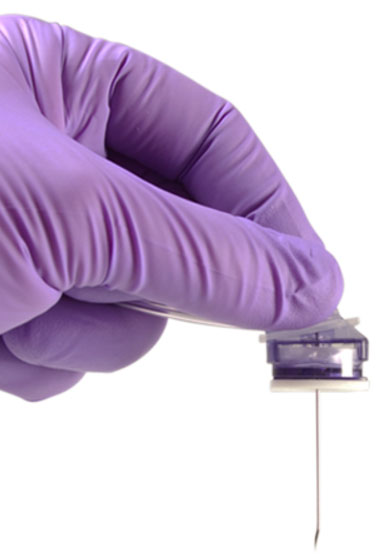 EZ Huber SIS + Power Injection Capability = PowerLoc EZ Safety Infusion Set
The EZ Huber is a safety cannula for puncturing implanted port systems. A safety mechanism reduces the risk of being injured by the needle and protects users from infection.
Patented safety mechanism
The patented EZ Huber safety mechanism reduces the risk of needlestick injuries and provides protection against infection. The safety mechanism is activated automatically when the cannula is extracted. An audible click indicates that the cannula is safely locked inside the housing. The EZ Huber meets the requirements of the TRBA 250 for security products.
Safety Mechanism
The PowerLoc EZ Safety Infusion Set has a dual utility safety mechanism. This safety mechanism was designed to protect clinicians from needle base stick injuries and minimize clinician contact with blood and fluids following safety activation. Once the needle is pulled through the base, the safety mechanism covers the needle tip and locks it into the plastic base while the complete needle is covered in the Bio-Bag.
Unique protective sheath
The unique, patented sheath completely covers the cannula when it is withdrawn from the port and, after usage, affords protection against contact with bodily fluids and germs. The protective sheath effectively prevents the risk of cross-contamination.
Biocompatible material
The use of extra biocompatible materials containing no latex or DEHP affords the patient additional protection. Infusion of aggressive medication without material damage is still possible.
Details
The EZ Huber is suitable for high-pressure injection procedures involving (not version SHNxx-60) pressures up to 21 bar / 300 psi, when administering a contrast medium, for example, during computer tomography examinations (only in combination with an appropriate port system, such as T-Port Contrast developed by pfm medical ag).
The EZ Huber's retaining wings provide a good grip to ensure convenient puncturing procedures and easy removal of the cannula.
The configuration of the retaining wings and the transparent base make it possible to conduct a visual inspection of the injection point to detect any signs of infection in good time.
The ring-shaped foam padding prevents the patient suffering pressure marks or skin irritation.
The design of the EZ Huber features a very flat construction which provides a good fit and more comfort for the patient.
The moveable base can compensate for any length tolerances and stabilise the cannula during use.
It may be possible to dispense with the need for an underlay/compress. Please refer to the relevant internal regulations that apply.
The EZ Hubers simple mode of operation does not require any changes in the usual routine with respect to the use of port cannulas.
The EZ Huber with Y-formation allows additional medication to be administered without interrupting an infusion in progress.
Features and Benefits
Easy-to-Use:
A safety infusion set that has an integrated Bio-Bag designed to minimize contact with blood and fluids during safety activation.
Low profile to enhance clinician visualization of the access site.
Visual and audible confirmation of safety activation.
Compatible for use with Bard PowerPort Devices and other power-injectable ports.
Designed for Patient Comfort:
Padded infusion set base designed for patient comfort.
Lower insertion and penetration force than other currently marketed non-siliconized port access needles.
Indications For Use
The PowerLoc EZ Safety Infusion Set is a device used to administer fluids from a container to a patients vascular system through an implanted port. The PowerLoc EZ Safety Infusion Set incorporates an active safety feature that aids in the prevention of accidental needle sticks. The PowerLoc EZ Safety Infusion Set is a safety needle designed with an anti-coring needle tip configuration. The primary use for Huber needles is to deliver solutions to implanted ports. The safety feature is designed to protect the practitioner from accidental needle sticks. The PowerLoc* EZ Safety Infusion Set is compatible with power injection procedures up to 300 psi.

Cautions
Carefully read all instructions prior to use; follow all instructions during use.
Federal law restricts the device to sale by or on the order of a physician.
Only qualified health care practitioners should insert, manipulate and remove these devices.
Any port used for power injection needs to be indicated for power injection. High pressure or use with power injectors in a non-power injectable port may cause leakage or damage.
Follow all instructions, warnings, contraindications, cautions and precautions for all infusates, ports, IV sets and needleless systems as specified by the manufacturer.
Do not use if package is damaged, opened or expiration date has passed. Examine the package carefully before opening to confirm its integrity and that the expiration date has not passed. The device is supplied in a sterile package and is non-pyrogenic.
Care must be taken to avoid accidental needle sticks. Universal precautions must be adhered to in accordance with CDC and OSHA standards (U.S.A.) for blood borne pathogens for inserting, maintaining, removing and discarding the infusion sets to reduce the risk of exposure to contaminated blood.
It is recommended that this product be changed in accordance with U.S. Centers for Disease Control (CDC) guidelines for administration sets. Local or country specific guidelines, professional standards or practice, and/or according to your institutions policy for Huber needle IV administration sets.
Confirm correct needle placement in the port reservoir by aspiration of blood before infusion of any substance. If there is doubt regarding proper needle placement, perform a radiographic dye procedure to confirm placement per institutional protocol.
Do not remove and reinsert the needle into the port.
Avoid excessive manipulation once the needle is in the port.
Infusion set Luer connections must not be left open to air while the needle is in the port.
Do not attempt to override or defeat the locking mechanism.
Warnings!
Fully tighten all connections, Y-site end caps, or needleless connectors before use. Failure to attach an end cap or appropriate needleless device after removing a male Luer locking end cap or needleless connector can result in an embolism or bleeding.
Intended for Single Patient Use. DO NOT REUSE. Reuse and/or repackaging may create a risk of patient or user infection, compromise the structural integrity and/or essential material and design characteristics of the device, which may lead to device failure, and/or lead to injury, illness or death of the patient.
Failure to use the safety mechanism of the device correctly, when removing needle from port site, could result in needle tip re-emerging from the base, resulting in an accidental needle stick with a contaminated needle. A needle stick with a contaminated needle may cause infectious disease.
Verify needle length is correct based on port reservoir depth, tissue thickness and the thickness of any dressing beneath the bend of the needle; if too long, needle and/or port may be damaged at insertion; if too short, needle may not completely pierce port septum, and medication may be delivered into surrounding tissue and/or needle may be blocked.
Do not alter the device.
After use, this product may be a potential biohazard. Handle and discard in accordance with accepted medical practice and applicable local, state and federal laws and regulations.