Part Number
Halyard Health 52818
Halyard Health 52818 - LAVENDER Nitrile 9.5" Ambi Nitrile Powder-Free Exam Gloves, Medium, 250/BX
Halyard Health Nitrile Exam Gloves. Best Protection, Best Performance, Best Value!
When we say Halyard Health Nitrile Exam Gloves deliver, weve got plenty to back us up. Like extraordinary protection, performance and value. Its an impressive package of benefits thats easy to get your hands around. And its all yours when you choose Halyard Health Lavender Nitrile Exam Gloves. Choose the right glove for your task and budget and feel confident that youre getting outstanding quality and reliability from the brand you trust.
Halyard Health Lavender Nitrile Exam Gloves. Latex-free Beaded cuffs 2.8 mil thickness Ambidextrous Textured fingertips Static dissipative in use AQL 1.5.
Maximum protection for higher-risk procedures Halyard Health Purple Nitrile Exam Gloves are ideal for moderate- to high-risk settings. Purple Nitrile is a highly durable synthetic, eliminating the risks and costs associated with latex allergies, while maximizing protection.
These durable gloves are available in 9.5 inch lengths, for maximum coverage and protection.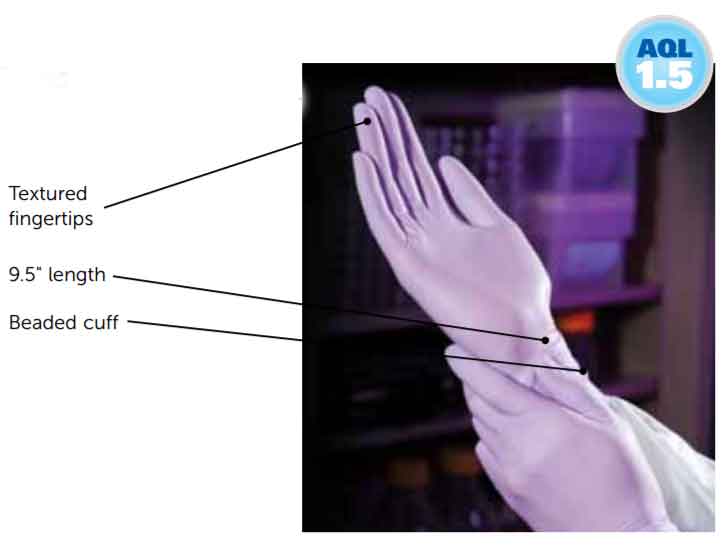 Product Features:
2.8 mil thickness.
Static dissipative in use.
Latex-free.
Exceptional value vs. standard nitrile.
Cleared for use in chemotherapy.
Purple Nitrile* and Purple Nitrile-XTRA Exam Gloves meet NFPA Standards 1999:2008.
Smartpull* box opening significantly reduces the incidence of getting more than one glove while dispensing.
Specifications
Certifications ASTM, ISO9001.
Coating Material Textured fingertips.
Color Lavender.
Length (English) 9.5 in.
Length (Metric) 24.13cm.
Material Nitrile.
Sterile No.
Disposable Yes.
Glove Cuff Style Beaded.
Grade Medical, exam.
Hand Ambidextrous.
Latex Free Yes.
Powdered No.
Tensile Strength 24.
Thickness 2mil.