HLIC HLSVF205077MB_DISC - IV Admin Set with 0.22 Micron Filter, 2 Injection Ports, 50 Per/Cs (EXPIRED)
Universal Spike, Slide Clamp, Back Check Valve, Valve Injection Sites 87 in. and 9 in. above the distal end, roller clamp, spin connector, Priming Volume: 28 mL, Length: 103 in. (261.6 cm)
Extend your IV therapy without overextending yourself!

IV Admin Set w/ 2 Luer Injection Sites
Features
Universal spike.
Slide Clamp.
Roller clamp.
Back Check Valve.
Valve Injection Sites 87 in. and 9 in. above the distal end.
Spin connector.
Priming Volume: 28 mL.
Length: 103 in. (261.6 cm).
Cross Reference
Slide clamp
Slide clamp used to regulate the flow of IV solution. The slide clamp has a graduated opening through which the IV tubing passes. Pushing the tube into the narrow end of the opening constricts it and reduces the flowrate of the IV solution. Sliding the wide end of the opening over the tube increases the flow rate.
Roller clamp
Roller clamp equipped with a small roller that may be rolled counterclockwise to close off primary IV tubing or clockwise to open it. The roller clamp may also be manipulated to increase and decrease the flow of the IVsolution and is easily moved with the thumb, thus making it a one-handed convenience in the administration of IV therapy.
Back check valve
Prevents backflow and therefore it offers higher safety during parallel pressure and gravity infusions.
For example, at high secondary infusion flow rates, the pressure exerted by the pump can be enough to overcome the primary flow protection offered by the back check valve, causing simultaneous delivery of both the primary and secondary infusions at indeterminate rates. In this unique case, a reduction in secondary infusion flow rate may be required, if possible, or the primary infusion tubing may need to be clamped upstream of the secondary infusion port to obstruct primary fluid flow. The flow rate that overcomes the flow protection of a back check valve varies depending on the specific components (e.g., pump, administration set, IV bag) and the drug connected to the system.
Why Universal Spike?
A vented/non-vented or "universal" spike allows an administration set to be used with all types of solution containers. The vent should be open when infusing from non-collapsible containers (glass and semi-rigid plastic) and closed when infusing from collapsible plastic containers (bags).
What is Priming volume?
The amount of fluid required to fill the entire length of the IV administration set eliminating the air in line. At the beginning of an infusion, all IV sets are primed to avoid delivering air through the line. After the IV bag is spiked with the IV administration set, the IV solution/fluid flows through the tubing to remove the air. The priming volume of IV administration sets vary by manufacturer and affected by the length of the tubing and any add-on devices. The priming volume information can be found on the packaging label of the IV administration set.
Filter Material
The filter material of HLIC filter sets is polyethersulfone (PES). The size of the membrane pore are 0.22 micron. The multiple layer, three-dimensional filter, significantly increases the capability of entrapping microparticles and reduces drug absorption rate; and there is no membrane shedding. This prevents phlebitis, vascular discoloration or hardening, local embolisms, scleroma, limb numbness, granuloma, etc. thus ensuring a safe, clinical infusion.
PES (Polyethersulfone) Membrane
These hydrophilic, low protein binding, PES membrane filters are ideal for tissue culture media sterilization, life science and microbiology fluid applications, clinical, and general filtration. Microporous PES membranes are produced from a high-temperature, acid and base resistant, polyethersulfone polymer in a proprietary, quality-assured manufacturing process.
The high level of quality standards applied in each step of production provide consistent products with pore uniformity for predictable flow rates, particle retention, and purification values. Inherent, uniform porosity and controlled pore size allow these PES filtration membranes to efficiently remove particulates from solutions during general filtration and its low protein and drug binding characteristics maximize recovery of critical drugs used in IV therapy, chemotherapy, and open-heart surgery. The strength and durability offered by our PES membranes is suited for aggressive handling and use with automated equipment.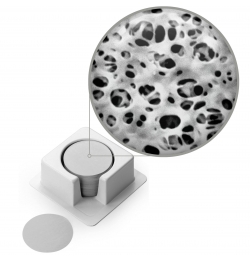 0.22 Micron Filter
Membrane filters with pore-size rating of 0.22 micron were tested for it's ability to recover Pseudomonas diminuta ATCC 19146 (P. diminuta), the organism typically used in bacterial retention testing of sterilizing-grade membrane filters. 0.22 micron filters have ability to retain higher levels of bacteria.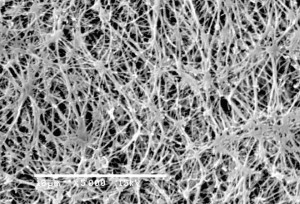 0.22 micron filter used to sterilize fluid passed through it. So, for the purpose of sterilization, 0.22 micron filters are indistinguishable. The real measure of filters ability to sterilize fluid is passing the test described in ASTM F838-05, Standard Test Method for Determining Bacterial Retention of Membrane Filters Utilized for Liquid Filtration. Basically, if the filter can retain a minimum of 1 x 107 colony forming units (cfu) per cm2 of a challenge bacteria (usually B.diminuta5), then the filter is suitable to use for sterilization.
DEHP Free
Infusion Therapy Standards of Practice advise to usee administration sets free of di-ethylhexyl-phthalate (DEHP) to administer lipid-based infusates, such as IVFE or TNA. DEHP is lipophilic and is extracted into the lipid solution with commonly used polyvinyl chloride administration sets and containers. DEHP is considered a toxin, and studies have demonstrated increased DEHP levels in lipid solutions, which is especially a risk with neonatal, pediatric, and long-term home care patients (42).