3M 1527-1 - TAPE, SURGICAL, TRANSPORE, 1"X10YD, 120 EA/CS, 120 RL/CS, 10 BX/CS
Tears Easily Works Reliably
Transparent, perforated plastic tape designed for dependability and ease of use:
Easy, straight, bi-directional tear allows clinicians to tailor the tape for various dressings and devices.
Easy to handle with gloves.
Good adhesion to skin and tubing.
Transparent, porous.
Hypoallergenic and latex-free.
Water-resistant.
Allows clinician to tailor the tape for the various dressings and devices.
Economical single use rolls.
Clear, porous, plastic hypoallergenic tape.
Transparent, perforated plastic tape that tears easily, works reliably.
Suggested Applications
Securing tubing and devices,(e.g., catheters, I.V. tubing).
Anchoring bulky dressings.
When tape width must be customized.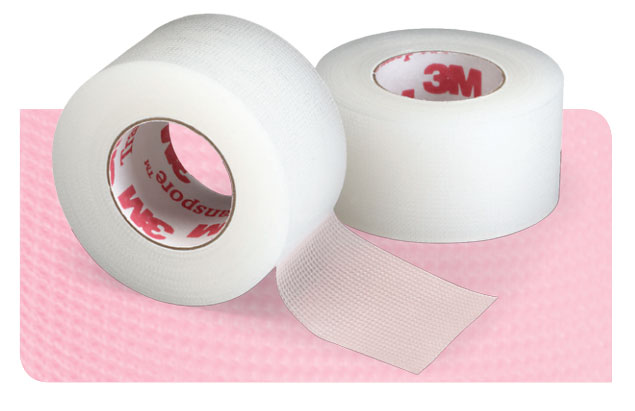 All 3M Surgical Tapes have adhesives that are:
Hypoallergenic.
Free of natural rubber latex.
Pressure sensitive (adhere with only finger or hand pressure).
Designed to be as gentle as possible and yet deliver the desired performance.
In general, tape adhesion builds over time, with the fastest rate of increase during the first 24 hours.
Use this booklet and educational materials to guide your selection of tape to give the desired result: the safe, effective secural of devices and dressings.
Product Details
Brand: Transpore
Color: Clear
Condition: Dressing and Device Securement, I.V. Related
Department: Cardiovascular, Critical Care, Dialysis Center, Emergency, I.V. Therapy, Intensive Care Unit, Labor & Delivery, Medical-Surgical, Oncology, Operating Room-Surgery, Orthopedics, Pediatrics, Radiology, Urgent Care, Wound Care
Environmental claim being made: Yes
Environmental claim relates to: Product
Evidence for Claim Self: Certified
Hypoallergenic: Yes
IV Related Condition Type: Arterial Catheter, CVC Dialysis, CVC Implanted Port, CVC PICC, CVC Short-Term, CVC Tunneled, PIV
Latex: No
Length: 1.5 Linear Yard, 10 Linear Yard
Length (Metric): 1.37 m, 9.1 m
Material: Plastic
Product Type: Medical Tape, Surgical Tape
Width: 0.5 Inch, 1 Inch, 2 Inch, 3 Inch
Width (Metric): 1.25 cm, 2.5 cm, 5 cm, 7.6 cm
FAQs
1. Is Transpore tape sterile? Can it be sterilized?
3M Surgical tapes are sold clean, not sterile.Transpore tape may be sterilized by ethylene oxide but NOT by steam(autoclave). Although 3M provides these guidelines, it is up to the facility toensure sterility. At this time, Sterrad processing with hydrogen peroxide is notrecommended for Transpore tape.
2. Why do we have an expiration date for tapes? What happens when a tape expires?
Although an expiration date is not required for surgical tapes in the U.S., an expiration date is required by a number of other countries. You might think of it as a best quality if used by.. In general, we do not expect changes in performance shortly after the expiration date, but 3M ensures performance within that time frame. The recommended shelf life for Transpore tape is 3 years under normal storage conditions.
3. Why do some tapes leave so much residue on tubes?
Plasticizers are used in many medical grade PVC tubes to make them soft, pliable, and more comfortable for patients. Plasticizers tend to leach out of the tubing and interact with the tape adhesive, leaving a sticky, gummy residue. Transpore tape has a tacky adhesive and is often used to secure tubing. In general, the longer the Transpore is on the tubing, the gummier it will be when the tape is changed.
4. Is there anything more to know than sticky side down?
Yes, after choosing the appropriate tape, place the tape without tension onto the skin. In general, do not encircle a limb completely with tape since subsequent swelling or an infiltration may compromise circulation. The adhesives on the surgical tapes are pressure sensitive. This means that they are designed to adhere best when gentle, but firm, finger or hand pressure is applied to the tape, rubbing it into place. Skin has hills and valleys. Just laying a piece of tape on the skin only gives you contact with the top of the hills. Gentle, but firm strokes along the tape allows the adhesive to come into contact with more of the skin surface. This will increase initial adhesion and decrease the risk of rolling or losing your tape to friction. Usually, the tackier - or stickier - the tape, the less pressure is needed.
5. How can I increase tape adhesion?
The key concepts to maximize adhesion are:
- Start with clean, dry skin.
- Touch the sticky surface of the tape as little as possible.
- Apply sufficient pressure to the tape to get the adhesive into the nooks and crannies of the skin.
- Cover adequate surface area so that the tape can support the tubing or dressing.
- Obtain full contact between the tape and the skin or tubing so that moisture cannot slip between the two and loosen the tape.
6. How can I get tape to let go of my gloves?
We tend to hold tape tightly, especially when tearing it off the roll and when gauging where we plan to put the tape. Because the tapes have pressure sensitive adhesives, when we hold them tightly, they stick even more to our gloves. But, the adhesives were designed to release from gloves so try holding the tape a little less tightly, and it will usually let go.