3M 1657 - Tegaderm CHG Dressing 3.5"x4.5" 25/BOX
3M Tegaderm Chlorhexidine Gluconate (CHG) I.V. Securement Dressing 1657
Chlorhexidine Gluconate I.V. Securement Dressing
3M Tegaderm CHG Chlorhexidine Gluconate I.V. Securement Dressing is used to cover and protect catheter sites and to secure devices to the skin. It is available in a variety of shapes and sizes. Tegaderm CHG dressing consists of a transparent adhesive dressing and an integrated gel pad containing 2% w/w Chlorhexidine Gluconate (CHG), a well known antiseptic agent with broad spectrum antimicrobial and antifungal activity. The transparent film provides an effective barrier against external contamination including fluids (waterproof), bacteria, viruses* and yeast, and protects the I.V. /p>
In vitro testing (time kill and zone of inhibition) demonstrates that the Tegaderm CHG gel pad in the dressing has an antimicrobial effect against a variety of gram-positive and gram-negative bacteria, and yeast. The gel pad absorbs fluid. *In vitro testing shows that the transparent film of the Tegaderm CHG dressing provides a viral barrier from viruses 27nm in diameter or larger while the dressing remains intact without leakage. Tegaderm CHG dressing is transparent, allowing continual site observation, and is breathable, allowing good moisture vapor exchange.
Indications
3M Tegaderm CHG Chlorhexidine Gluconate I.V. Securement Dressing can be used to cover and protect catheter sites and to secure devices to skin. Common applications include securing and covering IV catheters, other intravascular catheters and percutaneous devices.
Features
Integrated I.V. dressing combines antimicrobial protection with site visibility, catheter securement, and breathability.
Provides immediate and continuous antimicrobial protection with integrated chlorhexidine gluconate (CHG) gel pad.
Helps keep catheters in place with large securement tape strip and conforming keyhole notch.
Transparent film and gel pad allows continuous site visibility to easily assess for early signs of infection.
Breathable film coating provides a barrier to microbes and external contaminants.
Reinforcing document tape strip allows for documentation and can help secure hubs, lumens and tubing.
Integrated design allows for easy and consistent application.
Tegaderm CHG Chlorhexidine Gluconate I.V. Securement Dressing provides continuous site visibility and antimicrobial protection in one integrated product. Now you can give your patients an added level of comfort and protection, while simplifying your daily vascular access routine. Tegaderm CHG Dressings combine antimicrobial protection, securement, site visibility and breathability into one, easy-to-use product to provide a more convenient and reliable solution for the securement and monitoring of catheters and other I.V. devices.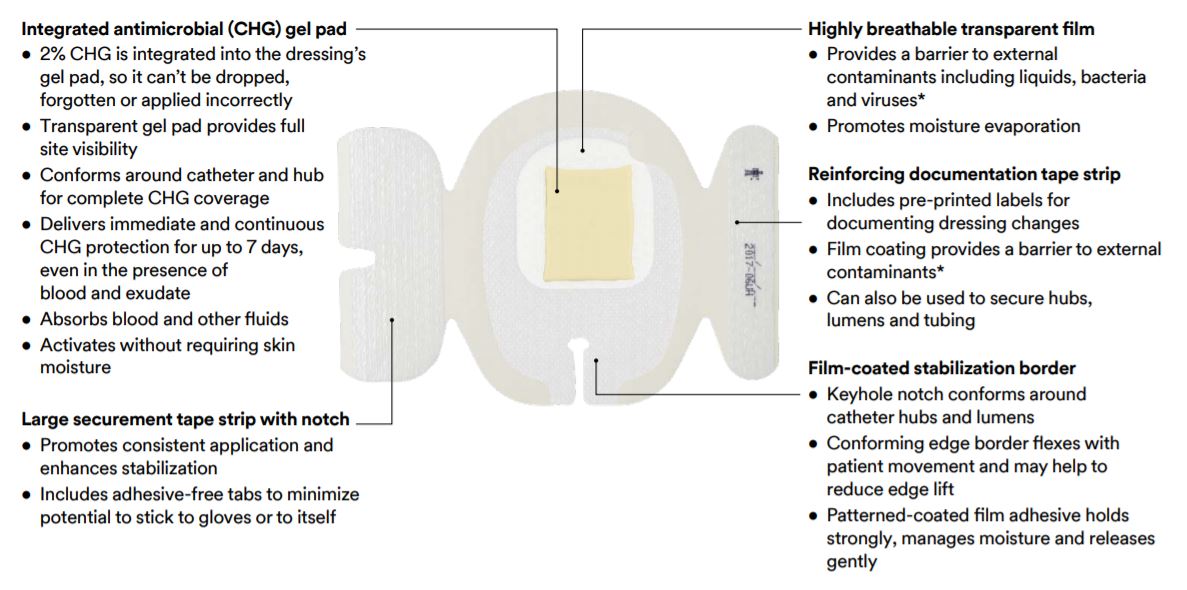 All-in-one Antimicrobial Transparent Film Dressing Provides Comfort and Protection
Transparent film allows continuous observation around the entire insertion site.
Tegaderm Film integrated with 2% w/w Chlorhexidine Gluconate gel pad conforms to body contours and flexes with patient movement.
Semi-permeable, highly breathable film.
CHG is immediately and continuously available, does not require additional moisture.
The all-in-one antimicrobial transparent dressing minimises opportunity for error.
Enables Continuous Site Visibility
The CDC recommends the use of transparent film dressings for I.V. site care, because they: permit continuous visual inspection of the catheter site, permit patients to bathe and shower without saturating the dressing, and require less frequent changes than do standard gauze and tape dressings.
Delivers Exceptional Securement
Reinforced stabilisation borders and notches designed for advanced securement.
Soft cloth border adhesive forms seal around catheter site.
Sterile stablisation tape strip allow the dressing to withstand additional pull force.
Supports I.V. Site Care Best Practices and Protocols
Provides a waterproof, sterile barrier to external contaminants including liquids, bacteria and viruses.
Allows continuous site observation to monitor for signs of infection, as recommended by the CDC Guideline and the Intravenous Nursing New Zealand.
Meets INS and CDC definitions as a catheter securement or stabilisation device
Research has shown Tegaderm CHG Dressings are easy to use and fit into clinical practice as easily as other transparent dressings.
Tegaderm CHG Dressings can be safely worn for up to seven days - until the dressing is soiled or no longer intact - or for the length of facility protocol.
The transparent film allows for effective oxygen-vapor exchange while helping protect against external contaminants, including those most commonly associated with CRBSIs.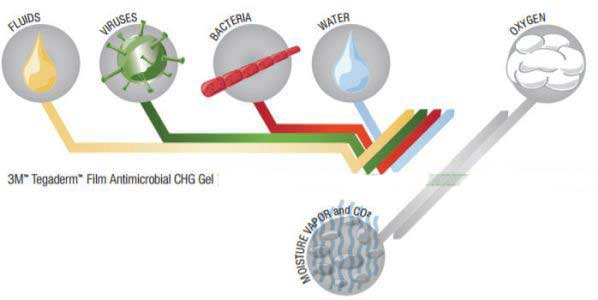 Proven to Perform Better than BIOPATCH Protective Disk
In studies comparing BIOPATCH Protective Disk with CHG and a transparent adhesive cover dressing against Tegaderm CHG I.V. Securement Dressings on the unprepped skin of healthy adult subjects, Tegaderm CHG Dressings were proven to be:
As effective, or better, at reducing skin flora for up to 10 days (see Figure 2).
More effective at preventing regrowth at 7 days.
Significantly better at maintaining low skin counts (see Figure 3).
With the integrated soft gel pad, the CHG is immediately active and does not need additional moisture to activate and begin attacking skin flora.
The CHG gel pads unique size, shape and composition provide a greater zone of antimicrobial activity than the sponge disk. The larger gel pad surface area allows for coverage of sutures as well as the insertion site.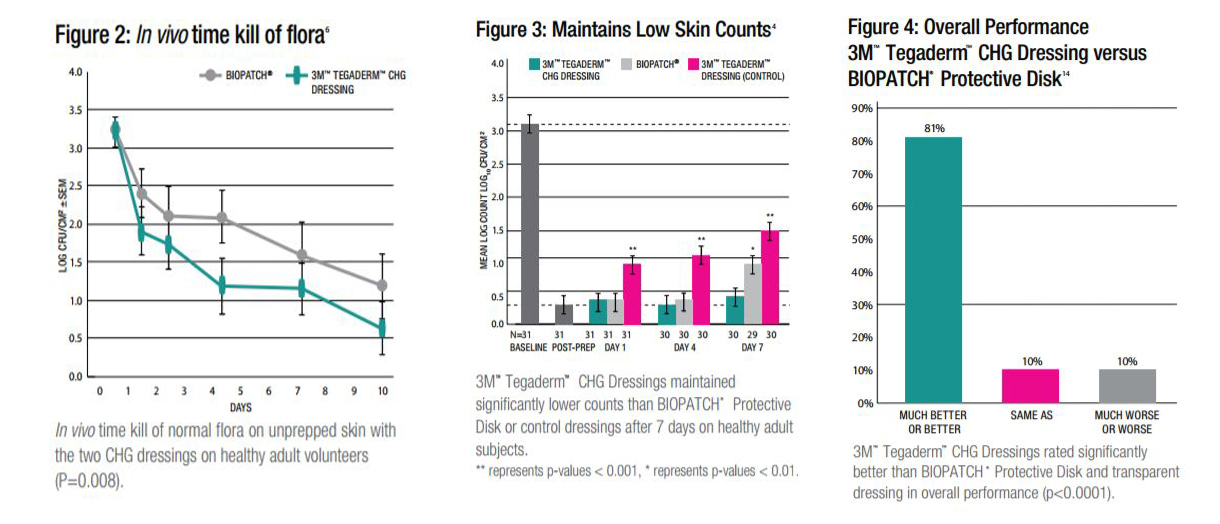 Preferred by Clinicians
As part of a clinical evaluation, professional I.V. nurses were trained in proper application and removal techniques for BIOPATCH Protective Disk and Tegaderm CHG Dressings. They were asked to apply the dressings immediately after training. Tegaderm CHG Dressings were rated significantly better in:
Overall performance.
Ease of correct application.
Ability to see the I.V. site.
Ease of training another clinician.
More intuitive to use.
TegadermTM CHG: Proven effectiveness against the following pathogens:
Most catheter-related infections (~60%) are caused by Gram-positive microorganisms belonging to the resident skin flora (mainly coagulase-negative staphylococci and Staphylococcus aureus).
Staphylococcus epidermidis (including MRSE)
Klebsiella pneumoniae
Staphylococcus aureus (including MRSA and GRSA)
Pseudomonas aeruginosa
Enterococcus faecium (including VRE)
Acinetobacter baumanii
Enterococcus faecalis (including MDR)
Serratia marcescens
Escherichia coli
Enterobacter cloacae
Candida albicans
Suggested Applications
Short peripheral I.V. and midline venous catheters.
Central venous catheters (including subclavian, jugular, femoral and PICCs).
Dialysis catheters.
Arterial catheters.
Epidural catheters.
Other percutaneous devices.
Specifications