3M 1658 - Tegaderm CHG Chlorhexidine Gluconate I.V. Securement Dressing 4X4.75, 100 PER/CS
THE DIFFERENCE IS CLEAR
Only Tegaderm CHG Dressings combine the most critical elements of I.V. site care into a single, easy-to-use product.

Full site visibility.
Antimicrobial CHG protection.
Catheter securement.
Breathability.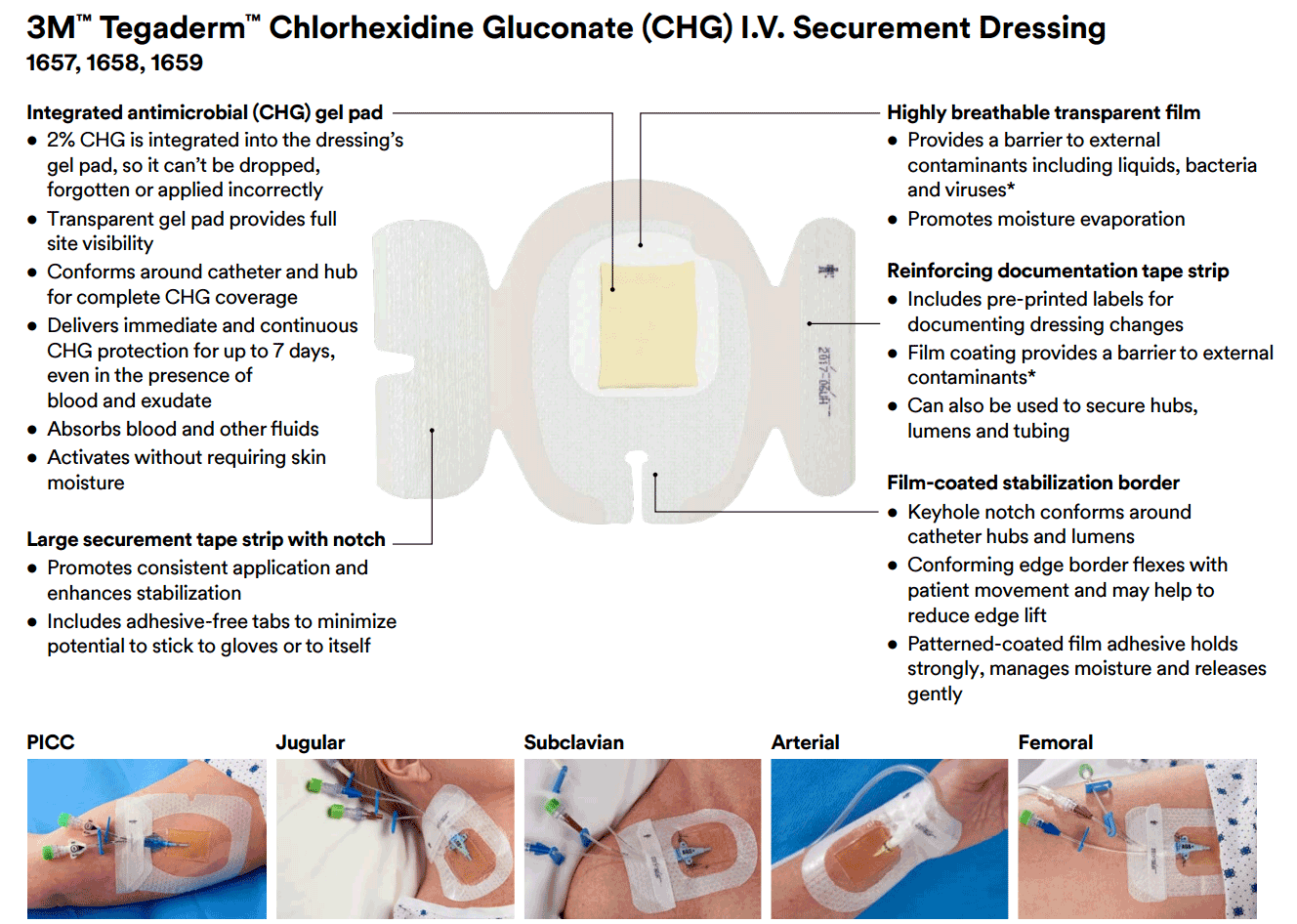 1. Antimicrobial Protection: Integrated CHG gel pad provides immediate and continuous protection.
2. Securement: Reinforced border and notch provides catheter securement.
3. Site Visibility: Transparent film and gel pad allow continuous site observation.
4. Breathability: Promotes moisture evaporation and enhances securement.
5. Immediate and Continuous Antimicrobial Protection : The soft gel pad diffuses CHG around the insertion site, including under the catheter hub. The CHG is immediately active and does not require moisture to activate, providing continuous protection for up to seven days, even on dry skin. The CHG gel pad can absorb perspiration, exudate and blood without compromising antimicrobial activity or site visibility.
Fast Kill Right from the Start Complete Coverage Around the Site Continuous Protection for Seven Days
3M Tegaderm CHG Chlorhexidine Gluconate I.V. Securement Dressings are proven to be as effective as, or better than, BIOPATCH Protective Disk plus adhesive cover dressing, at reducing skin flora and preventing regrowth.Tegaderm CHG Dressings are proven to maintain significantly lower counts than BIOPATCH after seven days on healthy adult subjects.

Tegaderm CHG Dressings are Proven to:
Immediately kill skin flora.
Maintain progressive kill over time.
Protect against pathogens most commonly found in CRBSIs.
Provide a larger area of protection.
Offer the same level of antimicrobial activity at Day 10 as Day 1.
Continue to be effective in the presence of blood, saline and exudate.
Enables Continuous Site Visibility
The gel pad and film remain transparent, so you always have full visibility of the insertion site to monitor for early signs of infection. The CDC recommends the use of transparent film dressings for I.V. site care because they: reliably secure the device, permit continuous visual inspection of the catheter site...and require less frequent changes than do standard gauze and tape dressings; the use of these dressings saves personnel time.