3M 3582 - DRESSING TEGADERM TRANSPARENT W/PAD 2X2.75 50/BX 4BX/C

3M Tegaderm +Pad Film Dressing with Non-Adherent Pad 3582, 2 in. x 2-3/4 in. 5 cm x 7 cm (Dressing Size), 1 in. x 1-1/2 in. 2,5 cm x 4 cm (Pad Size)
The Tegaderm +Pad Dressing is a waterproof, bacterial and viral* barrier dressing. The dressing consists of a non-adherent, absorbent pad bonded to a larger thin film backing with a non-latex, hypoallergenic adhesive.
Benefits
A waterproof, absorbent dressing.
All-in-one sterile dressing - reduces application time
A bacterial and viral* barrier - helps prevent external bacteria and contaminants from entering the site
A waterproof barrier - patient may bathe or shower without removing dressing
Conforms to body contours, providing comfort
Unique, non-adherent absorbent pad
Indications
The Tegaderm + Pad Dressing is designed for covering acute wounds such as cuts, burns, abrasions, IV catheter sites, and surgical incisions. It is also designed for covering superficial and partial thickness chronic wounds. Follow your gauze and tape protocol for use. This product is not designed, sold or intended for use, except as indicated.
Full Surround Protection | Fewer Barriers to Healing
Despite modern advancements in infection prevention, health care-acquired infections (HAIs) remain one of the top 10 leading causes of death in the United States and are responsible for nearly 100,000 deaths each year. Surgical site infections (SSIs) are the second most-common HAI, accounting for 20% of all HAIs among hospitalized patients. Post-operative SSIs are the most common health care-associated infection in surgical patients , occurring in up to 5 percent of surgical patients.
SSIs are a major public health concern for health care providers and patients alike. Studies find that surgical patients who develop an SSI are more than twice as likely to die as those who dont. If an SSI occurs, a patient is 60 percent as likely to spend time in the ICU after surgery than is an uninfected surgical patient. Patients who develop a surgical site infection after hospital discharge are also five times more likely to be readmitted to the hospital.
To equip your healthcare facility with tools to implement infection prevention strategies, help improve patient outcomes and reduce costs, 3M offers a full line of 3M Tegaderm +Pad Film Dressings with Non-Adherent Pad to help facilitate infection prevention efforts.
3M Tegaderm +Pad
Film Dressing with Non-Adherent Pad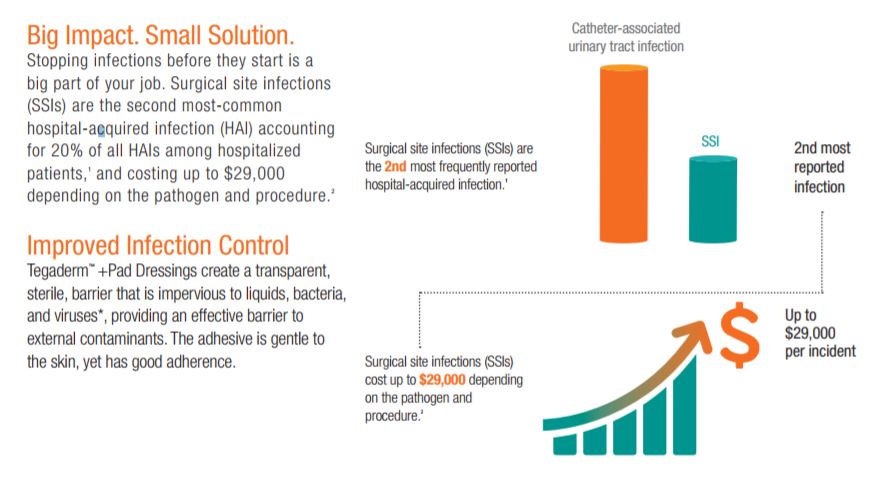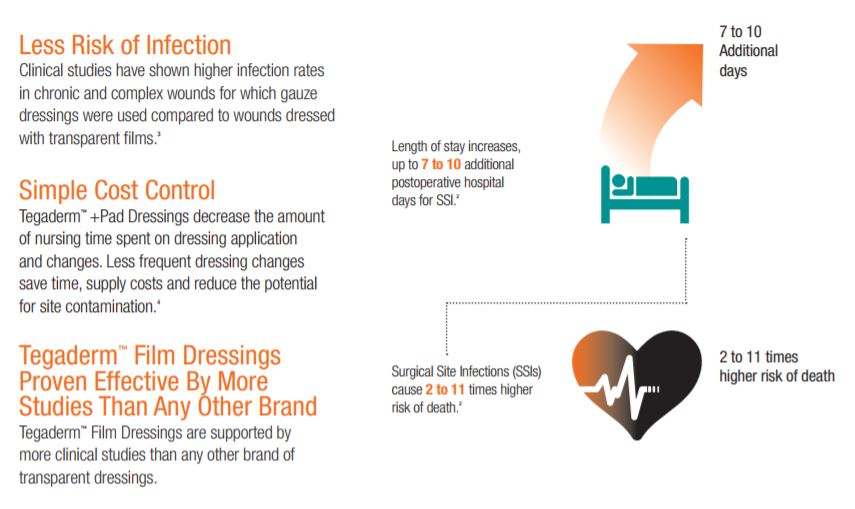 Covering your
SSI prevention needs
Protecting your patients and organization from surgical site infections (SSIs) never comes down to just one thing. Its recommended to use a sterile dressing to help reduce the risk of infection.7 So we engineered 3M Tegaderm +Pad Film Dressing with Non-Adherent Pad to include three advanced performance features.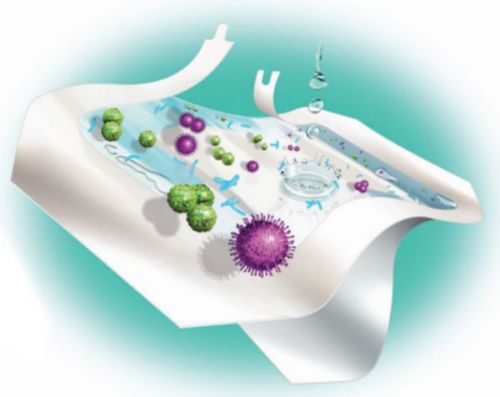 Clear Difference
Unlike gauze dressings, Tegaderm +Pad Dressings offer a transparent, waterproof film that serves as a barrier. Tegaderm +Pad Dressings are breathable, letting oxygen in and moisture vapor out, allowing the skin to function normally.
Dual Purpose Barrier
Testing has demonstrated that Tegaderm +Pad Dressings provide a bacterial barrier, even against some of the most common organisms associated with SSI: Staphylococcus aureus, Enterococcus faecalis, Escherichia coli and Pseudomonas aeruginosa.* Tegaderm +Pad Dressings also provide a viral barrier against HIV-1 and HBV and other potentially infectious body fluids while the dressings remain intact without leakage.
Easy Does It
Latex-free, hassle-free design is both patient and clinician-friendly. The pressure-sensitive adhesive film conforms naturally, holds strongly and releases gently -- ensuring skin integrity. Plus, the non-adherent pad will not adhere to the wound bed, reducing pain upon removal. And a wide variety of standard sizes and shapes ensure timely, accurate placement.
Impact of SSI
Surgical site infections (SSIs) are the second most common hospital-acquired infection (HAI) costing up to $29,000 depending on the pathogen and procedure. Patients who develop a SSI after hospital discharge are five times more likely to be readmitted to the hospital and are more than twice as likely to die as those who dont.
CDC Guidelines for Prevention of SSI (1999)
Postoperative Incision Care: Protect with a sterile dressing for 24 to 48 hours postoperatively an incision that has been closed primarily - Category IB.
National Health and Medical Research Council (2009)
Included in the summary of processes following a surgical procedure: Use an appropriate dressing (such as semi-permeable film membrane with or without an absorbent island) to manage surgical wounds that are healing by secondary intention'.
Australian Wound Management Association Guidelines (AWMA 2011)
Recommends Use of dressings that minimise the potential for entry of bacteria where possible.
Gauze Dressings: No Barrier to Bacteria
Clinical studies have shown higher infection rates in chronic and complex wounds for which gauze dressings were used compared to wounds dressed with transparent films.
Gauze dressings do not present a barrier to bacteria, and one in vitro study demonstrated that bacteria can pass through up to 64 layers of dry gauze. Once gauze is moistened, its even less effective as a barrier to bacteria.

Tegaderm Film Dressing Clinical Evidence Summaries
Tegaderm + Pad Film Dressing with Non-Adherent Pad was less expensive to use than standard gauze dressings and decreased nursing time.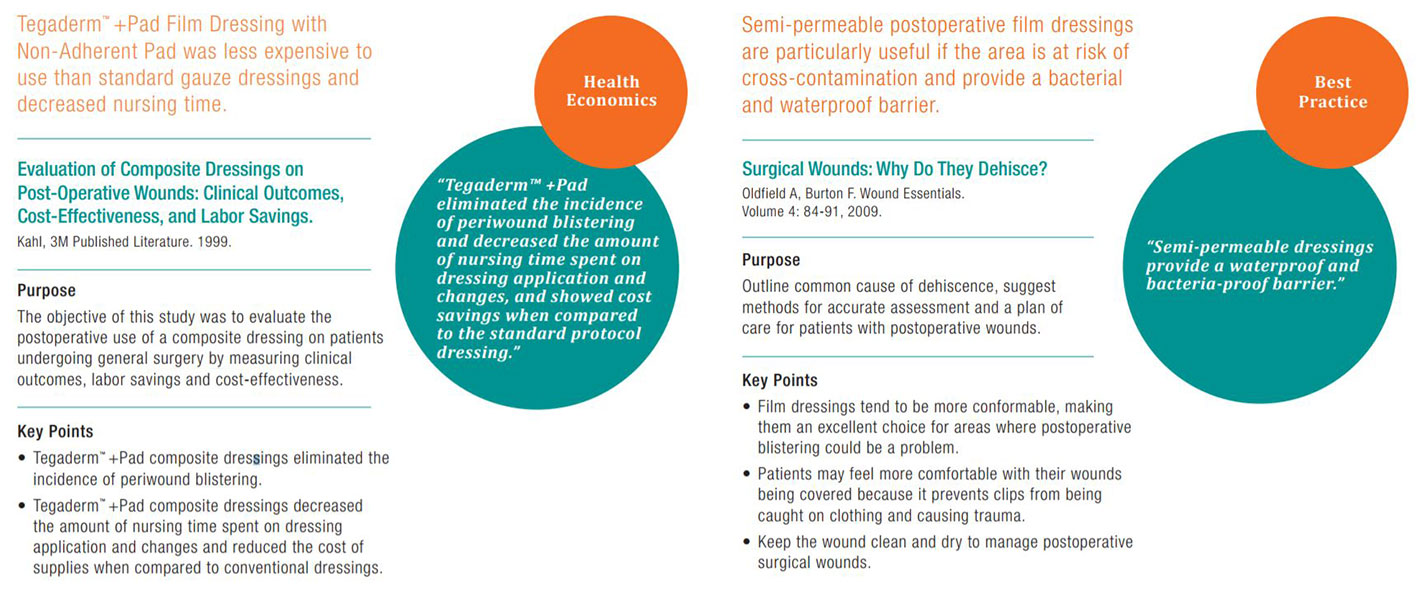 Warnings
Do not use the dressing as a replacement for sutures and other primary wound closure methods.
Precautions
Stop any bleeding at the site before applying the dressing.
Do not stretch the dressing during application as tension can cause skin trauma.
Make sure the skin is dry and free of soap residue and lotion to prevent skin irritation and to ensure good adhesion.
The dressing may be used on an infected site only when under the care of a health care professional.
Suggested Applications
Post-surgical dressings - especially on areas where swelling or movement is expected
Acute wounds, such as cuts and abrasions.
Light-to-moderately-draining chronic wounds
Superficial and partial-thickness burns
I.V. catheter sites (peripheral and central lines)
To secure or cover devices
Secondary dressing applications:
Over hydrogels, alginates, and gauze
Application & Removal Guide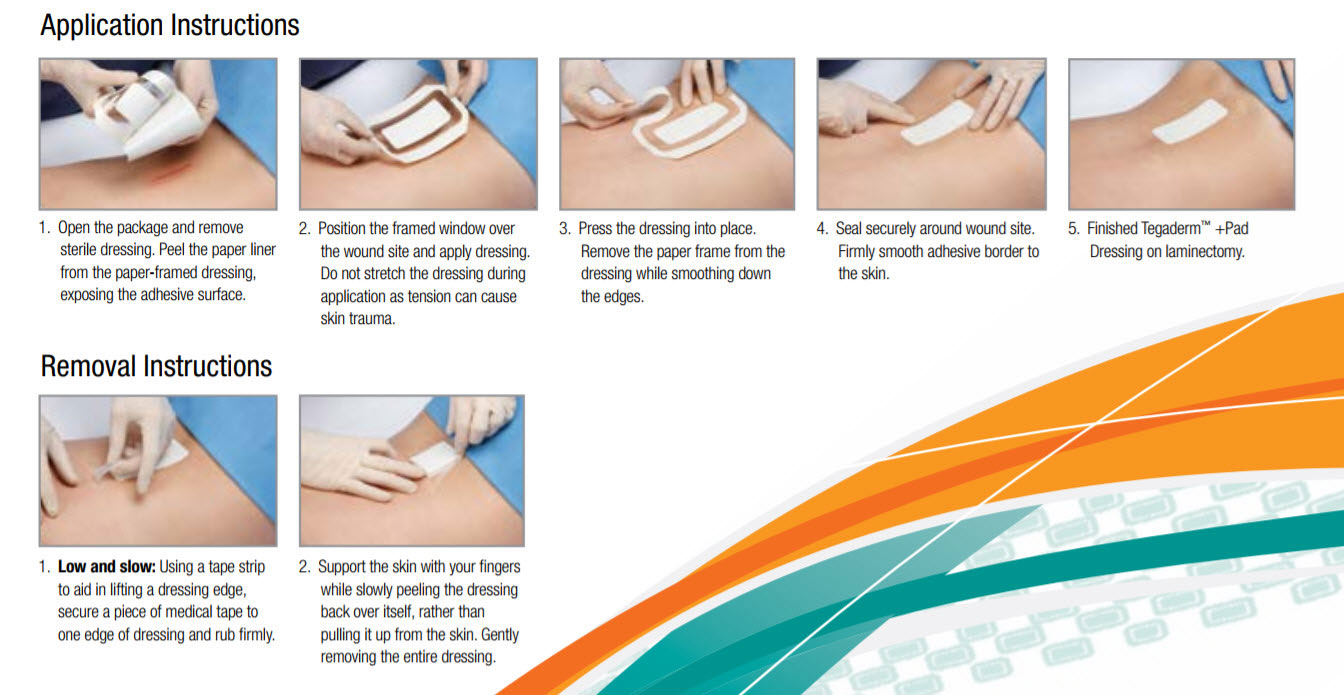 Commonly Asked Questions
Question: Is there natural rubber latex in 3M Tegaderm +Pad Transparent Dressings with Absorbent Pad?
Answer: 3M Tegaderm +Pad Transparent Dressing with Absorbent Pad Does Not Contain Natural Rubber Latex Or Dry Natural Rubber As Components In The Product, or Its Packaging.
Question: Is the product waterproof?
Answer: Yes, Tegaderm +Pad island dressing is waterproof and impermeable to bacteria.
Question: Are Tegaderm +Pad dressings breathable?
Answer: All Tegaderm dressings are breathable. They allow moisture vapor to be evaporated from the skin and they are permeable to oxygen. There is much confusion in the marketplace regarding breathability of transparent dressings. It is further complicated by competitive comparisons by the various manufacturers, each promoting their own product as "most breathable." Laboratory bench data, rather than clinical performance measurements, are the basis for these comparisons.
Question: Is the absorbent pad the same as the 3M Microdon sheeting material?
Answer: Yes, it is the same material, except the island dressing pad is slightly thicker to provide better absorbency.
Question: What differentiates the 3M "non-adherent pad" from the competitive pads?
Answer: The unique 3M pad was originally designed for burn patients as a non-adherent absorbent contact layer to allow wound healing with less trauma and pain. The 3M pad fuses a porous, breathable film to an absorbent layer. It is designed to:
Not delaminate and leave fibers in the wound. Fibers can result in disruption of the healing process and predispose the wound to infection.
Prevent infiltration of healing tissues into the surface of the pad, minimizing both disruption of the healing tissues and pain on removal.
Rapidly wick exudate up and away into the absorbent layer, protecting the peri-wound skin and reducing the potential for maceration.
Question: Is Tegaderm +Pad dressing suitable for use on chronic wounds?
Answer: Yes, the dressing is indicated for partial thickness wounds with low to moderate exudate. The dressing may also be used as a "cover" dressing for full thickness wounds when used in conjunction with appropriate additional packing or absorbent materials (3M Tegagen Alginate Dressing is an excellent choice).
Question: Can Tegaderm +Pad dressings be used in conjunction with 3M Cavilon No Sting Barrier Film?
Answer: Yes, the acrylate adhesives used in the dressing are compatible with the polymer in the 3M No Sting Barrier Film.
Question: What is the recommended wear time for Tegaderm +Pad dressings?
Answer: The customer should, of course, follow their institutional protocols, since change intervals are dependent on many factors. However, in the absence of signs of clinical infection, or if the pad has not become saturated with wound exudate, the dressing can safely remain in place for up to 96 hours.
Specifications