3M 90112 - DRESSING, ALGINATE, TEGADERM, 4"X4", 50/CS
3M Tegaderm High Integrity Alginate Dressing 90112, 4 in. x 4 in. 10 cm x 10 cm
Moist Healing Environment. Easy Removal.
3M Tegaderm High Integrity and High Gelling Alginate Dressings are non woven dressings made from calcium alginate fibers. The dressings are highly conformable, soft, absorbent, sterile, primary wound dressings. Tegaderm Alginate dressings react with wound exudates to form a gelatinous mass which provides a moist healing environment.
Highly conformable
Ideally suited for the management of moderately to heavily exudating partialand full-thickness wounds
Compatible with the 3M family of cover dressings
Tegaderm High Integrity and High Gelling Alginates provide clinicians with a choice of products to meet their needs for moderate to heavily exudating wounds. Both types of alginate dressings become a gel-like consistency as they absorb exudate. Alginate fibers absorb up to 20 times their own weight in exudate.
Why use Tegaderm High Integrity Alginate?
Tegaderm High Integrity Alginate is designed to maintain its integrity when saturated. This dressing is easily removed from most wounds in one piece with minimal gel residue.
Features:
Retains integrity when saturated
Appears as gelled fibers when saturated
Often removed in one piece from wound bed
Clinical Application:
Deep cavity wounds with moderate to heavy exudate
Wounds with tunneling or undermining
Heavily draining wounds with potential for periwound skin maceration
Indications for Use:
Pressure ulcers
Arterial ulcers
Venous ulcers
Diabetic ulcers
Superficial wounds such as cuts and abrasions
Donor sites
Post-operative wounds
Trauma wounds
Other dermal lesions
Help control minor bleeding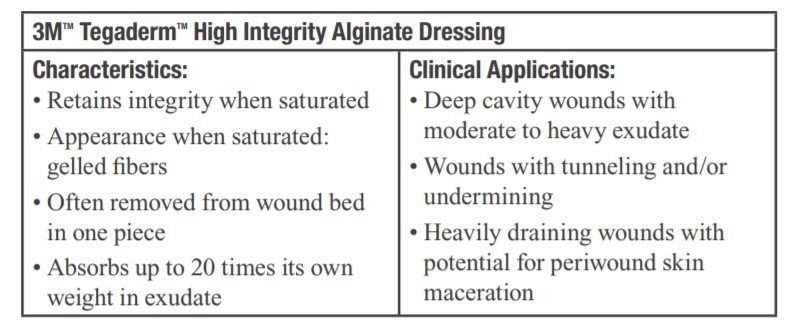 Physical Performance Characteristic Comparisons of Calcium Alginate and Other Absorbent Dressings
Purpose
With the wide variety of alginate and other absorbent products currently offered, it is desirable to provide information to differentiate among the relative performance levels of these dressings.
Methodology
Three separate lots, when available, of both the flat and rope forms of each commercial dressing were tested for absorbency (n=20 per lot).
Absorbency was tested using the British Pharmacopoeia test method (a 30-minute soak period in a calcium-sodium solution at 37℃ [98.6 ℉] with the samples returned to the calcium-sodium solution to continue soaking for a 24-hour period before being re-measured). Absorbencies for each time period were recorded as grams of solution absorbed per gram of dressing material and as grams of solution absorbed per dressing sample (flats=2"x2"; ropes=2" length).
Data were analyzed using Minitab. Analysis of variance with the TukeyKramer comparison test was used to compare results between dressings for each performance characteristic. All statistical significance was evaluated at the 5% significance level (p < 0.05).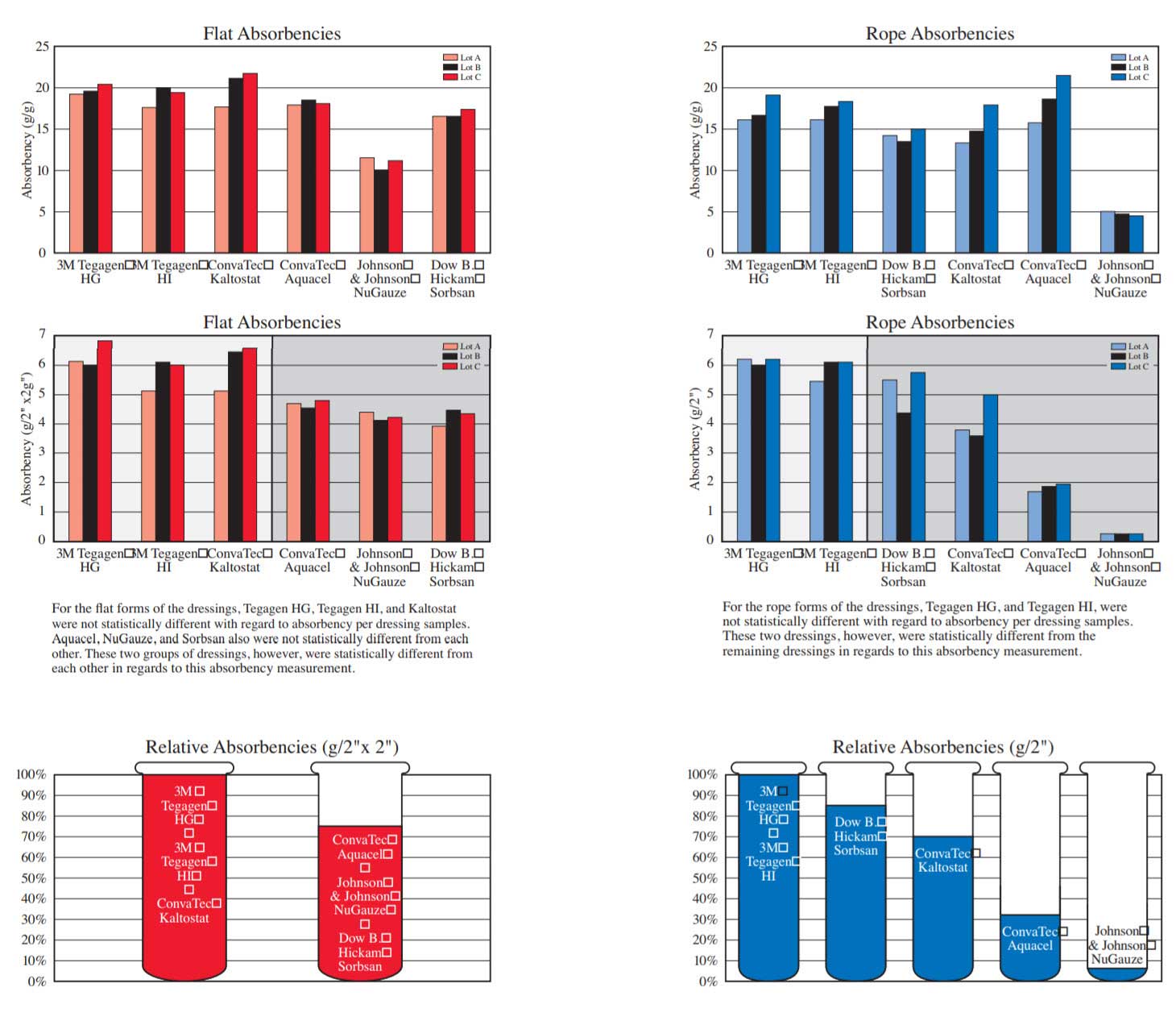 Absorbency Testing Results
Absorbency results for leading alginate and other absorbent products indicated a wide range of absorbency performance on both "gram per gram" and "gram per dressing" measurements. Interestingly, higher gram per gram absorbency frequently did not correlate to higher absorbency per dressing, for the same dressing product. Absorbency comparisons between the British Pharmacopoeia 30-minute soak period and the 24-hour soak periods did not show significant changes and did not affect ranking order of the dressings tested, therefore, in the interest of conciseness, only the 30-minute soak period data are reported.
Conclusion
Based upon the results of this study, clinicians should continue to be aware that there are significant differences in absorbency performance potential, even within product categories. In addition, clinicians selecting alginate and other absorbent products may wish to use an actual measure of grams per dressing absorbency as a more meaningful predictor for meeting clinical needs, than grams per gram of dressing."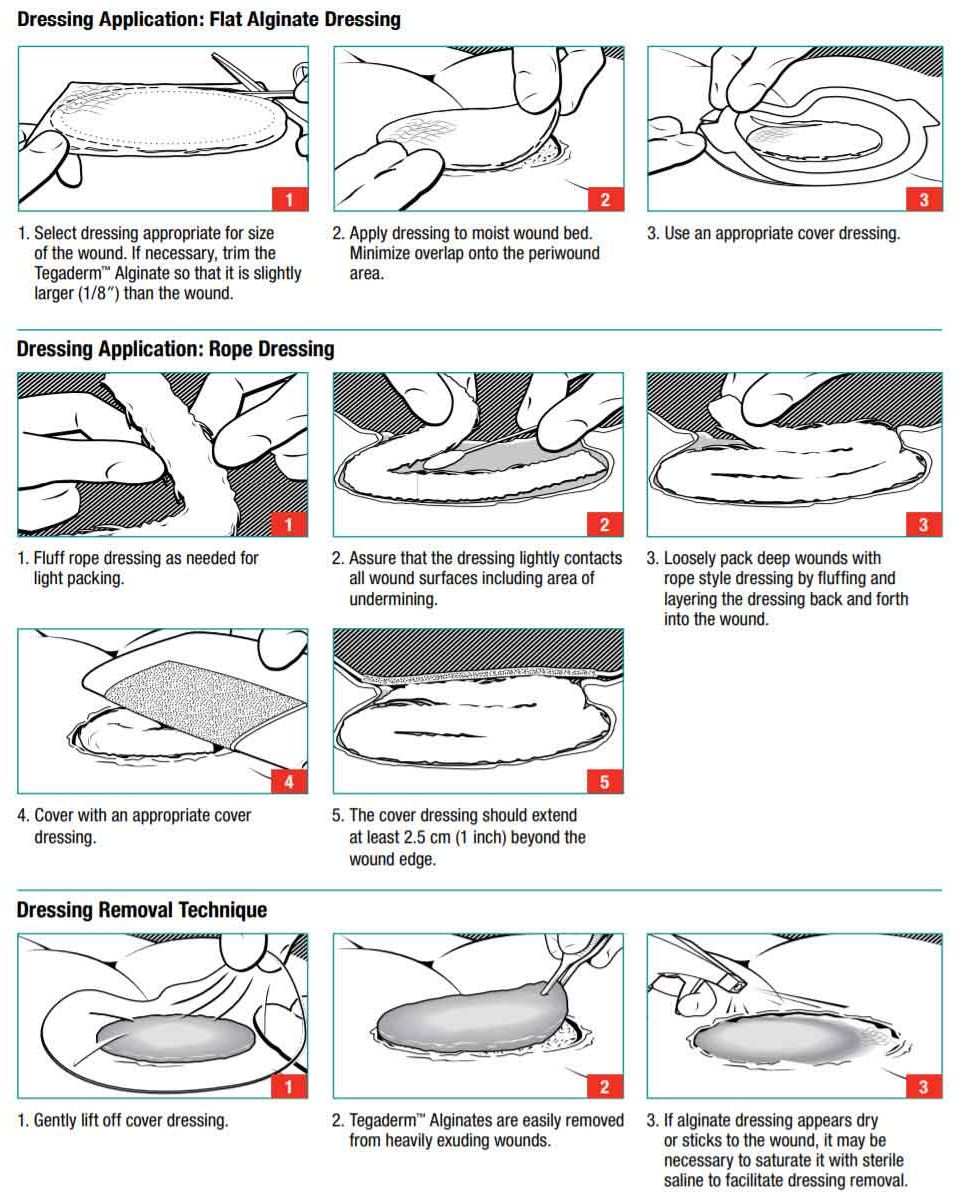 Commonly Asked Questions
Question: How much do Tegaderm High Integrity and Tegaderm High Gelling Alginates absorb, and how does this compare to other alginates on the market?
Answer: A white paper has been published based on the testing done in the 3M Skin Health Lab (publication number 70-2009-0803-9). The findings indicate that Tegaderm High Integrity and Tegaderm High Gelling Alginates compare favorably to leading competition. Both Tegaderm Alginates absorb approximately 20 times their weight in fluid.
Question: How do Tegaderm Alginates compare to a hydrofiber dressing?
Answer: Tegaderm High Integrity and Tegaderm High Gelling Alginates and hydrofiber dressings are primary wound dressings clinically indicated for use on draining partial and full-thickness wounds. Alginates are nonwoven dressings made from calcium alginate fibers, derived from brown seaweed. Hydrofiber dressings are composed of carboxymethyl cellulose, an absorbent carbohydrate. Both dressing types are sterile, highly conformable, soft, and absorbent. Both react with wound exudate to form a gelatinous substance, absorbing up to 20 times their weight in wound exudate. Tegaderm Alginate retain their integrity for ease of removal from the wound bed with or without irrigation.
Question: How often do you change a Tegaderm High Integrity or Tegaderm High Gelling Alginates?
Answer: Typically alginate dressings are changed every 1-3 days, however the dressing may be left in place for up to 7 days depending on the condition of the wound. Dressing change frequency will depend on wound characteristics and the amount of drainage. Alginate dressings may be left in the wound until saturated. Change frequently enough to prevent saturation of the outer dressing and leakage of drainage onto surrounding skin, which can cause maceration. As volume of drainage decreases, frequency of dressing change may be decreased or an alternative dressing should be considered.
Specifications