Acta Medical ACTAIPAWIPER99 - Sterile, Pre-Saturated, 9" x 9" Cleanroom Wipers, (70% IPA/30% Water for Injection) Non-Woven 55% Cellulose/45% Polyester, 30/PK, 24 PK/CS
Sterile Presaturated Wipes
Our presaturated nonwoven Polypropylene wipes that are packed in resealable pouches. The wiper is manufactured utilizing blended 70% IPA (isopropyl alcohol) and 30% Deionized Water (DIW) solution.Our Sterile Presaturated Wipers are conveniently packaged in a resealable pouch to ensure cleanliness.
45% polyester / 55% cellulose blend wiper.
70% sterile IPA/30% WFI.
ISO class 5 cleanroom compatible.
Non shedding, low particulate.
Designed to meet USPcleanroom requirements.
low-endotoxin.
Available as non-sterile.
No-easy fiber off Dust-free 100 gsm microfiber ipad cleaning cloth is made of 100% microfiber,

washed with 17.5 MO water and packed in vacuum in class 100 cleanroom

.
It has a variety of advantages like compact structure, no-easy fiber off, superior water absorption etc.
Features
Sterile wipers designed to meet USP 797 cleanroom requirements.
Lot numbers on each pouch for traceability and accountability.
Resealable pouch prevents wipes from drying and helps to maintain sterility.
Polyester/Cellulose blend offers a strong and durable wiper.
Sterile, ISO Class 5, Non Shedding, Low Particulate, Low Endotoxin, Pre-Saturated (70% IPA/30% WFI) Cleanroom Wipers. Wipers are Saturated with .02 Micron Filtered Isopropyl Alcohol and Water for Injection, which provides a higher purity level than that of Deionized water. Wipes are Gamma Irradiated.
Isopropyl alcohol
Isopropyl alcohol (IUPAC name propan-2-ol), also called isopropanol or dimethyl carbinol, is a compound with the chemical formula C3H8O or C3H7OH or CH3CHOHCH3 (sometimes represented as i-PrOH). It is a colorless, flammable chemical compound with a strong odor. As a propyl group linked to a hydroxyl group, it is the simplest example of a secondary alcohol, where the alcohol carbon atom is attached to two other carbon atoms, sometimes shown as (CH3)2CHOH. It is a structural isomer of 1-propanol. It has a wide variety of industrial and household uses, and is a common ingredient in chemicals such as antiseptics, disinfectants and detergents.
70% Isopropanol (IPA)
70% isopropyl alcohol is used for disinfection of hands and equipment surface and surgical devices. 70% solution of isopropyl alcohol acts as a disinfectant killing all surface microorganisms. 70 % isopropyl alcohol solution kills microorganisms by dissolving the plasma membrane of the cell wall. Plasma membrane of gram negative bacteria consist of thin layer of peptidoglycon that easily destroyed by the alcohol.
Water plays key important role which used to denature the proteins of cell membrane and acts as a catalyst in the reaction. Contact time of the alcohol with the organism also play an important role. A 70% solution of alcohol takes more time in evaporation from the surface, increasing the contact time. Therefore, 70% isopropyl alcohol fulfills the both requirements.
55% cellulose / 45% polyester
Our wipes are made from a hydroentangled blend of 55% cellulose / 45% polyester. This creates a strong, clean, and very absorbant wipe for liquid removal or lint free wiping of surfaces for contamination removal. This nonwoven wipe exhibits lower particle and fiber release than other comparable products thru a unique blending process.
Hydroentangled 55% Cellulose / 45% Polyester Nonwoven wipe.
Low particle and fiber generation.
Extremely high absorbancy per basis weight.
Maintains hi strength in wet applications.
Works well with IPA and other cleaning solvents.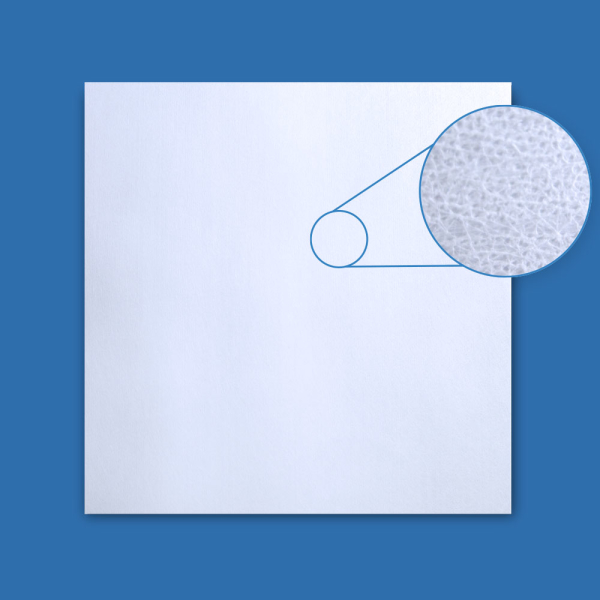 Gamma Irradiated
The gamma sterilization process uses Cobalt 60 radiation to kill microorganisms on a variety of different products. Processing with gamma irradiation yields quick turnaround time, easily penetrating packaging and product, and is ideal for many types of materials.
The treatment of medical devices by gamma processing has been one of the principal methods of sterilization in the healthcare industry since the introduction of the concept of single use, sterile, disposable medical devices in the 1960s.
This simple, proven process is safe, reliable, and highly effective at treating single-use medical devices. With the ability to penetrate products while sealed in their final packaging, gamma irradiation supports the manufacturing and distribution process by facilitating final packaged product as well as raw materials, whilst still ensuring full sterility of the product.