Part Number
Alaris Medical MP1000
Ships Within
Call for Availability
Alaris Medical MP1000 - MAXPLUS CLEAR NEEDLELESS CONNECTOR, POSITIVE DISPLACEM, EACH
MaxPlus Clear needle-free Connector. Not made with DEHP. PV: 0.28 mL *Labeled for use with low pressure power injectors up to 325 psi and maximum flow rate of 10 mL/second.
Connect with patients, safely. Hospitals using the MaxPlus needleless connector had lower unadjusted CLABSI rates, as well as lower standardized infection ratios, compared to hospitals not using the MaxPlus connector.*
1. Proven three-second disinfection
A solid, sealed surface enhances workflow while helping prevent bacteria from entering the line.
2. Nowhere for bacteria to hide
The fluid-filled design eliminates air space inside the connector so bacteria cannot be trapped.
3. Clear fluid path
The visible fluid path and high-flow, straight-fluid channels enhance flushing.
4. Safety through simplicity
The connector fluid path is one component vs. multiple moving parts that can hide contaminants and prevent complete flushing.
Features/Benefits
1. Reduced occlusion risk
A bolus of fluid clears the catheter tip at disconnection, reducing risk of occlusions from reflux.
2. Saline flushing
The device lets you use a saline flush and lock rather than heparin that can cause risks.
3. Device standardization
The device supports standardizing connectors on both central and peripheral lines.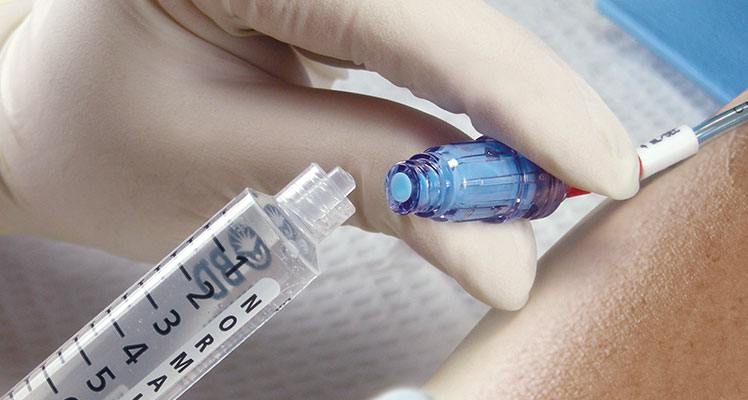 Product Specifications
Weight (lbs): 1.1000
Country of Manufacture: Mexico
Approximate Length (cm): 0
Approximate Priming Volume (mL): 0.28
Case Dimensions: 6.25in x 6.25in x 5.5in 1.1lb
Not Made with Natural Rubber: Yes
Manifold: None
Number of Back Check Valves: 0
Number of Connectors: 1
Number of Fuses: 0
Pressure Rated: Yes
Sterility: Content Sterile
Stopcock: None
Color of Tubing: None
T-Connector Type: None
Number of y-sites: 0
Y-Site Port Type: None
Type of Connector: MaxPlus Clear
Filter: None
Quantity: Each