Ships Within
Special Order
Smith & Nephew 66800438 - ALLEVYN AG GENTLE BORDER 12,5X12,5CM

ALLEVYN Ag Gentle Border Silicone Gel Adhesive Silver Wound Dressing, 12.5cm x 12.5cm
Minimizes pain to the patient and trauma to the wound at dressing change
Rapid and sustained antibacterial action
Optimal exudate management
A unique two-in-one solution for exuding chronic wounds
Benefits
ALLEVYN silver protection
Sustained antibacterial activity for 7 days
Enhanced performance ALLEVYN
Triple-action technology absorbs, retains, and transpires exudate to provide optimal fluid management.
Maintains optimal moisture balance
Provides an optimal moist wound environment for the promotion of faster closure
Comes off lightly
Gentle adhesive allows for less painful dressing changes
Goes on tightly
Stays in place for up to 7 days
Cost-effective
Long wear time = fewer dressing changes
ALLEVYN Ag Gentle Border is a dressing that delivers fluid management via the unique triple-action technology which absorbs, retains and transpires the optimal balance of fluid. This optimises the moist wound environment and helps to promote healing. The addition of silver sulfadiazine to the hydrocellular pad provides a sustained antimicrobial action.
ALLEVYN Silver Potection

ALLEVYN Prformance
Triple-action technology - designed for optimal exudate management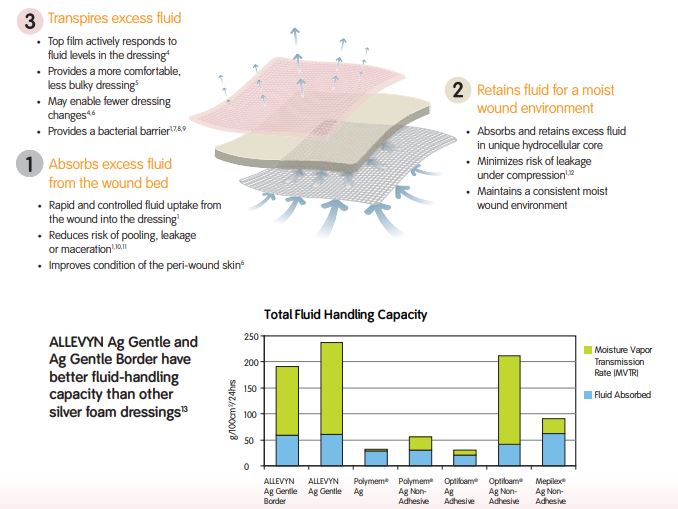 Indications
ALLEVYN Ag Gentle Border dressings are indicated for use in exuding partial and full thickness wounds including decubitus ulcers, diabetic ulcers, first and second degree burns and donor sites.
ALLEVYN Ag Gentle Border may be used over debrided and partial thickness wounds.
ALLEVYN Ag Gentle Border can be used in conjunction with a hydrogel dressing, such as INTRASITE Gel for necrotic or sloughy wounds.
ALLEVYN Ag Gentle Border is suitable for use on fragile skin.
Precautions
For external use only.
ALLEVYN Ag Gentle Border is not compatible with oxidizing agents (e.g. EUSOL) or hydrogen peroxide, as these can break down the absorbent polyurethane component of the dressing.
ALLEVYN Ag Gentle Border dressings are not intended to provide treatment for infected wounds.
ALLEVYN Ag Gentle Border may be used on infected wounds being managed in accordance with institutional clinical protocols for infection abatement as an adjunct to the standard treatment regimen to provide a barrier to bacterial penetration.
ALLEVYN Ag Gentle Border may not be compatible with topical antimicrobials.
If reddening or sensitisation occur discontinue use and consult a healthcare professional.
Avoid contact with electrodes or conductive gels during electronic measurements e.g. EEG and ECG.
When ALLEVYN Ag Gentle Border is used on a patient during MRI (Magnetic Resonance Imaging) examination some warming may be experienced.
ALLEVYN Ag Gentle Border is not compatible with oil based products such as petrolatum.
ALLEVYN Ag Gentle Border is not suitable for use alone on cavity wounds but may be used over cavity wounds as a secondary dressing.
As with all products containing silver sulfadiazine the following precautions should be noted, especially when covering a large surface area with the dressing.
Use caution in patients with significant hepatic or renal impairment,
Use caution in individuals known to have glucose-6-phosphate dehydrogenase deficiency,
Effects of systemically administered drugs may be altered. This can especially apply to oral hypoglycaemic agents and to phenytoin. In the case of these drugs, it is recommended that blood levels should be monitored as their effect canbe potentiated.