Part Number
B Braun 4251131-02
B Braun 4251131-02 - Introcan Safety 3 Closed IV Catheter 18 Ga. x 1.25 in., PUR, Winged, 50/BX, 4 BX/CS
B Braun 4251131-02 Introcan Safety 3 Closed IV Catheter
The FIRST fully automatic passive safety peripheral IV catheter with needlestick AND multiple access blood exposure protection that cannot be bypassed.
Catalog No.

Gauge
Length
Gravity Flow Rate (mL/min)
4251131-02
18
1.25 in. (32 mm)
105
Contrast Media Viscosity (mPa*s)
Flow Rate mL/sec)
Material

Packaging

2.3
27.5
19
15
PUR

200/CS
Automatically control blood exposure
Reduce exposure to blood
Helps reduce clean-up time and materials
Automatically prevents needlesticks
Passive safety shield automatically engages and cannot be bypassed
Multiple access blood control
For blood collection, boluses or set changes without blood exposure
| | |
| --- | --- |
| | |
| Draw blood | Connect extension set |
Confidence and Peace of Mind for You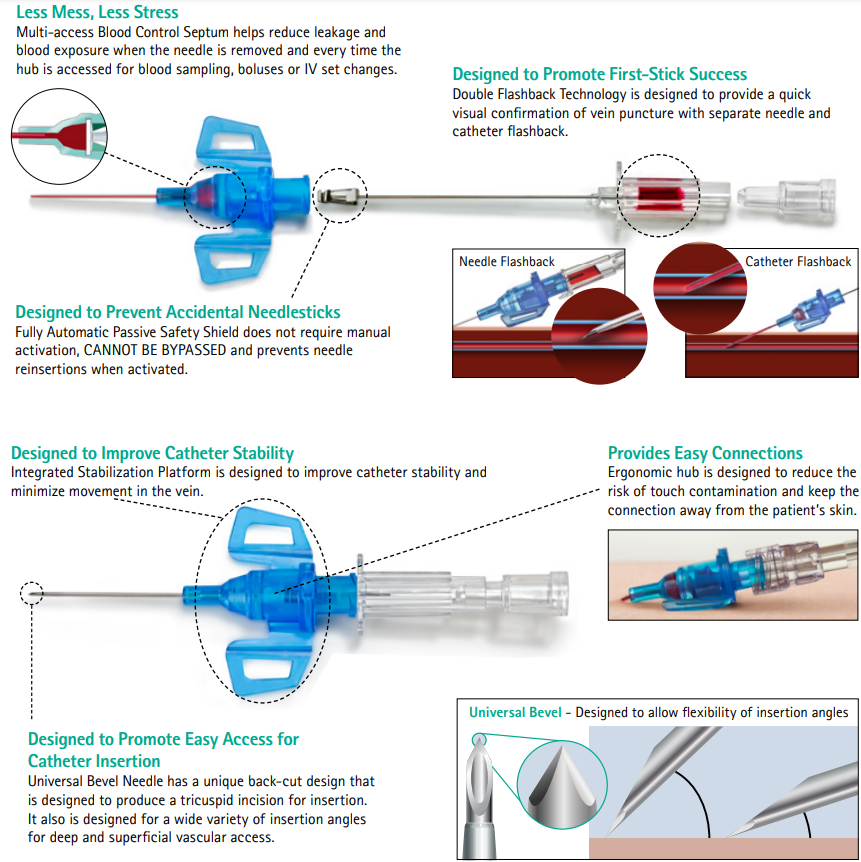 B Braun 4251131-02 Introcan Safety 3 Closed IV Catheter insertion guide
Preparation
Select and prepare site according to facility protocol.
Completely remove the paper from the packaging.
Flex wings up and down multiple times.
Remove protective cover by holding at each end, then pull straight apart.
DO NOT ROTATE CATHETER PRIOR TO INSERTION
Confirm catheter hub is seated tightly against flashback chamber.
Perform insertion
Hold skin taut, insert catheter at optimal insertion angle.
Visualize first flashback in flashback chamber to confirm needle entry in the vessel.
Upon first flashback visualization, LOWER and advance the needle and catheter together approx 3mm or 1/8in. to ensure catheter tip is in the vessel.
Thread catheter
Holding needle still, advance the catheter off needle and visualize second flash within the catheter to confirm catheter is in the vessel.
After confirmation, continue advancing catheter off the needle into the vessel.
Release tourniquet
Stabilize catheter hub and remove needle
With hub stabilized, swiftly remove needle straight out from hub.
The passive safety shield automatically covers the needle bevel.
Properly discard needle into sharps container
Connect and secure catheter
Immediately CONNECT and TIGHTEN the accessory device to the catheter hub.
Stabilize and dress the site per facility protocol while maintaining proper hub angle.
Device Characteristics of B Braun 4251131-02 Introcan Safety 3 Closed IV Catheter
What MRI safety information does the labeling contain?
Labeling does not contain MRI Safety Information
Device required to be labeled as containing natural rubber latex or dry
natural rubber (21 CFR 801.437):
No
Device labeled as "Not made with natural rubber latex":
Yes
For Single-Use:
Yes
Prescription Use (Rx):
Yes
Over the Counter (OTC):
No
Kit:
No
Combination Product:
No
Human Cell, Tissue or Cellular or Tissue-Based Product (HCT/P):
No