B Braun BBVISTA - VISTA INFUSION PUMP, REFURBISHED, 1-YEAR WARRANTY, EACH
VISTA INFUSION PUMP, REFURBISHED, 1-YEAR WARRANTY, EACH
The Vista basic was designed to ensure simplicity in all aspects of its use: from set installation, to programming, to special mode use and alarm correction. Based on a design that has sold over 100,000 units worldwide, the Vista basic provides high reliability packaged in one of the easiest pumps to use. As a workhorse in the outpatient market, it offers a rugged and reliable design, all relevant therapies such as continuous, piggyback and program mode, and a selection of cost-effective, straight line gravity sets.
A cost-effective pole-mounted large volume pump that is a workhorse in all outpatient settings
Robust design of mechanical components ensures maximum durability
One-year standard warranty and multiple warranty options are available to meet your future service needs
Two-year preventive maintenance schedule helps save and money from typical annual inspection requirements
Battery life of approximately 3 years before replacement is required
Sets not made with DEHP protect patients. Needle-free sets protect both the patient and the clinician
Helpful prompts walk the user through the programming process
Easy to use, teach and learn. Perfect for homecare settings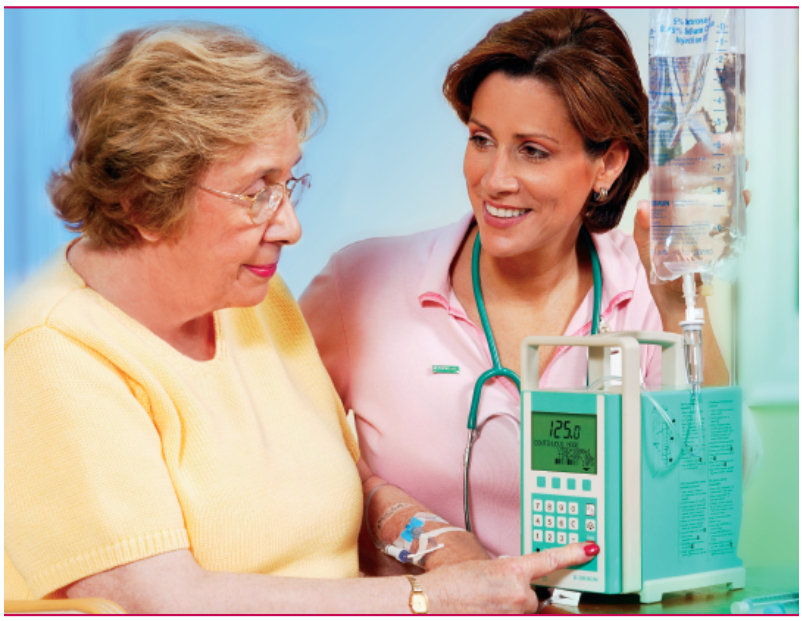 Easy to Use and Convenient
Saves time loading with straight-line gravity tubing
Quick start-up saves time for continuous infusionssimply enter rate and volume, then press START
Helpful prompts walk the user through the programming process
Easy to read large display provides all information at a glance
Ergonomic design is lightweight yet durable
Bag hook for pump offers space and cost savings, eliminates separate IV pole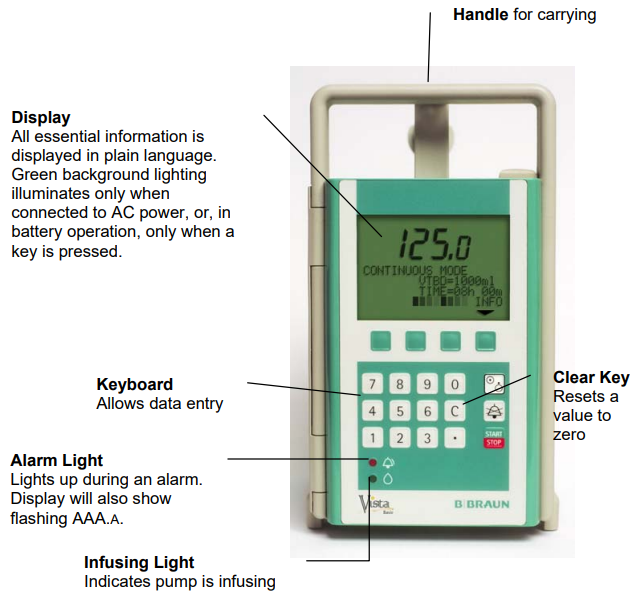 Flexible Continuous Mode
Enter rate, volume and run to initiate Program Mode
Flexible options allow up to nine steps in the program mode
Sequential step delivery is ideal for circadian and intermittent therapies Ramp/Taper Mode
Easy-to-program Ramp/Taper Mode uses step-by-step prompts to shorten learning curve
Enhanced safety feature requires maximum plateau rate be approved by the clinician before initial infusion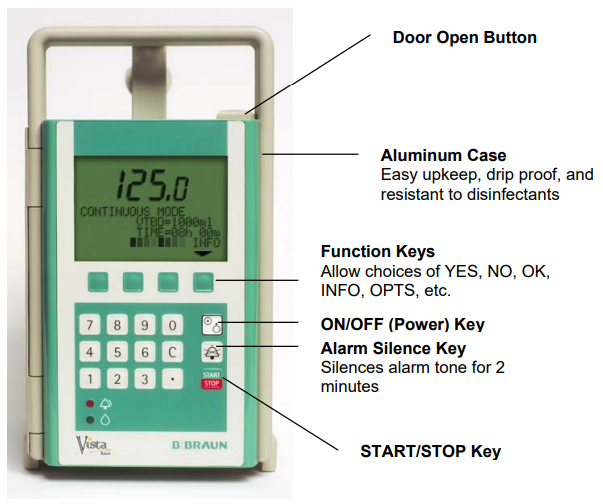 Warnings and Cautions
After starting an infusion, make sure drops are falling in the drip chamber. If no drops are falling, make sure the roller clamp is open. If the roller clamp is open and still no drops are falling, replace and dispose of the set.
The air detector cannot recognize the introduction of air at 3-way stopcocks, infusion ports, and other lines/tubes below the pump.
To avoid mechanical or electronic damage, do not steam autoclave or immerse the pump in any fluids or cleaning solutions. Always disconnect electrical power cord from outlet before cleaning to prevent electrical shock.
Do not attempt to infuse two fluids simultaneously using the Vista basic.
Variations in pressure, e.g. caused by change in level of fluid container, may affect the accuracy of the device.
If several pieces of infusion equipment are connected together, it is possible there may be mutual influence. Possible incompatibilities can be found in the instructions for use for the drug or for the other appliances.
Use only equipment, accessories, parts, and disposables that are intended for use with the Vista basic.
Do not clean, disinfect, or sterilize any part of the device by autoclaving or with ethylene oxide gas. Doing so may damage the device and void the warranty. Only external parts of the pump should be disinfected. See Maintenance, Storage, & Service for suggested cleaning solutions.
Technical specifications are not guaranteed with any other tubing than that approved for use with the Vista basic.
Any analog and digital components connected must demonstrate that they meet EN specifications (i.e. EN 60950 for data processing equipment and EN 60601 for electrical medical equipment).
Only an authorized system configuration technician responsible for meeting the specifications of standard EN 60601-1-1 may connect additional devices to the signal inputs or outputs.