Allow C.I.A. to white-glove your request for this item
Not buying today? Need a volume discount, Net 30 terms, or a government quote? Got a backorder, and need immediate stock? That's exactly what we do best. Let us solve your problem.
Product Description
Baxter 1C8160 - Basic Solution Set 48/Ca
Administration Set 10 Drops / Ml Drip Rate, 69 Inch - Solution Set,48/CS
Solution Set with male Luer lock adapter. S*. Approx. drops per mL 10. Approx overall length 101" (2.6 m). *S indicates set has tubing that is compatible with the COLLEAGUE Series Volumetric Infusion Pumps and FLO-GARD 6201 and 6301 Series Volumetric.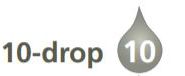 Spike is designed so that 10 drops equal approximately 1 mL. Used often by Anesthesiologists in the OR.