Baxter 1C8363 - Baxter Healthcare Extension SetsExtension Set with 0.2 Micron Downstream Filter, Male Luer Lock Adaptor, 10 48/case

Straight-Type Extension Set, 0.2 Micron Filter, Polyethylene Lined Tubing . 6.2" (15.8 cm)
Extension Set with 0.2 Micron Downstream Filter, Polyethylene Lined Tubing, Male Luer Lock Adapter. Approximately Volume 3.3 mL. Approximately Length 6.2" (15.8 cm). Fluid path does not contain DEHP; outer layer of polyethylene lined tubing contains
DEHP. Sterile Package, Nonpyrogenic.
Extension sets provide flexibility and additional infusion capabilities to gravity and infusion instrument sets.
0.2 Micron Filter
Removes particulate matter larger than 0.2 microns and virtually all fungi and bacteria. Often used as final filter for air elimination in the NICU. Recommended for use with non-lipid TPN infusions.
Pyrogen-free
Pyrogen is any substance that causes a fever. The most commonly thought of pyrogens are bacterial endotoxins and exotoxins, although the host body (human or animal) can also produce pyrogens. The most commonly assayed for pyrogen is lipopolysaccharide, or LPS. It is a component of the bacterial wall of Gram-negative bacteria and is released upon breakdown of the cell wall or bacterial cell lysis. Pyrogen-free products are manufactured in settings that prevent the deposition of bacteria and other agents on the products.
Contains DEHP
Diethyl hexyl Phthalate, A chemical commonly used in PVC tubing; used to yield clarity and soft pliable tubing.
Latex Free
Contains no latex. Latex is known to cause hypersensitivity reactions in significant percentages of patients and health care workers.
Why PVC?
Polyvinyl chloride (PVC) plastic is used to manufacture a huge number of articles for daily life, e.g. toys, building material such as flooring, cables, as well as medical products. PVC is the most widely used thermoplastic material in medical devices due to its:
Safety
Before medical devices can be used all the components must be fully understood from a toxicological point of view. Consequently all the materials used to make such components have to be thoroughly tested and assessed in the EU before being accepted. Experience based on all available knowledge from international environmental and healthcare authorities shows that PVC is safe. It is the best material existing today which optimises all performance and safety requirements at lowest cost.
Chemical Stability
Material used in medical applications must be capable of accepting or conveying a variety of liquids without themselves undergoing any significant changes in composition or properties.
Biocompatibility
Whenever plastics are used in direct contact with the patients tissue or blood, a high degree of compatibility is essential between the tissue/blood and the material. The significance of this property increases with time over which plastic is in contact with the tissue or blood. PVC is characterised by high biocompatibility, and this can be increased further by appropriate surface modification.
Clarity and Transparency
Because of its physical properties, products made from PVC can be formulated with excellent transparency to allow for continual monitoring of fluid flow. If colour-coded application is needed, virtually any colour can be created.
Flexibility, Durability and Dependability
Not only does PVC offer the flexibility necessary for applications such as blood bags and IV containers, but can also be relied upon for its strength and durability, even under changing temperatures and conditions.
Sterilizability
The absence of sources of infection is a fundamental requirement in medical product applications. PVC products can be easily sterilized using such methods as steam, radiation or ethylene oxide.
Compatibility
PVC is compatible with virtually all pharmaceutical products in healthcare facilities today. It also has excellent water and chemical resistance, helping to keep solutions sterile.
Resistance to Chemical Stress Cracking
PVC's resilience helps assure that medical products function consistently, for extended use, in demanding applications. Ease of processing PVC can easily be extruded to make IV tubing, thermoformed to make 'blister' packaging or blow moulding to make hollow rigid containers. This versatility is a major reason why PVC is the material of choice for medical product and packaging designers.
PVC in Medical Products
The use of PVC in medical devices represents a very minor percentage of the total amounts of PVC manufactured each year. Nonetheless the use of plasticized PVC in a wide range of medical devices has been very important for a number of reasons.
Flexibility in a variety of physical forms from tubes to membranes.
Chemical stability and possibility to sterilise.
Low cost and wide availability.
Lack of evidence of significant adverse consequences in patients.
Specifications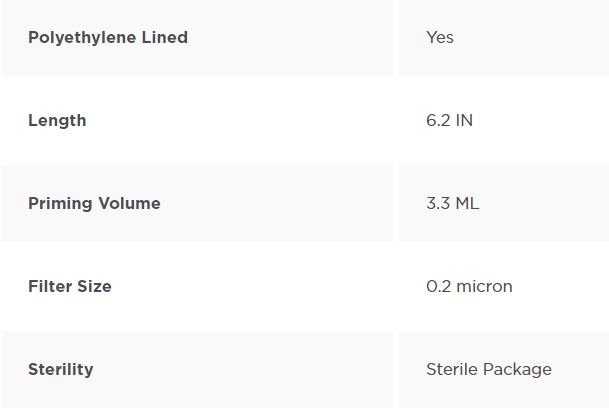 Packing Information