Allow C.I.A. to white-glove your request for this item
Not buying today? Need a volume discount, Net 30 terms, or a government quote? Got a backorder, and need immediate stock? That's exactly what we do best. Let us solve your problem.
Product Description
Baxter 2C6251 - STOPCOCK, 4-WAY LARGE BORE, W/EXT SET, MALE, 1 SET
Stopcock Extension Set, 4-Way Large Bore, 22" (56 cm)
Large Bore Stopcock with Extension Set, Male Luer Lock Adapter with Retractable Collar
Extension Set with 4-Way Large Bore Stopcock and Male Luer Lock Adapter with Retractable Collar. Approximate Volume 4.1 mL. Approximate Length 22" (56 cm). Contains DEHP. Sterile package, nonpyrogenic.

Device Characteristics
| | |
| --- | --- |
| What MRI safety information does the labeling contain? | Labeling does not contain MRI Safety Information |
| Device required to be labeled as containing natural rubber latex or dry natural rubber (21 CFR 801.437): | No |
| Device labeled as "Not made with natural rubber latex": | Yes |
| For Single-Use: | Yes |
| Prescription Use (Rx): | Yes |
| Over the Counter (OTC): | No |
| Kit: | No |
| Combination Product: | No |
| Human Cell, Tissue or Cellular or Tissue-Based Product (HCT/P): | No |
Sterilization
| | |
| --- | --- |
| Device Packaged as Sterile: | Yes |
| Requires Sterilization Prior to Use: | No |
Pyrogen-free
Pyrogen is any substance that causes a fever. The most commonly thought of pyrogens are bacterial endotoxins and exotoxins, although the host body (human or animal) can also produce pyrogens. The most commonly assayed for pyrogen is lipopolysaccharide, or LPS. It is a component of the bacterial wall of Gram-negative bacteria and is released upon breakdown of the cell wall or bacterial cell lysis. Pyrogen-free products are manufactured in settings that prevent the deposition of bacteria and other agents on the products.
Contains DEHP
Diethyl hexyl Phthalate, A chemical commonly used in PVC tubing; used to yield clarity and soft pliable tubing.
Product Characteristics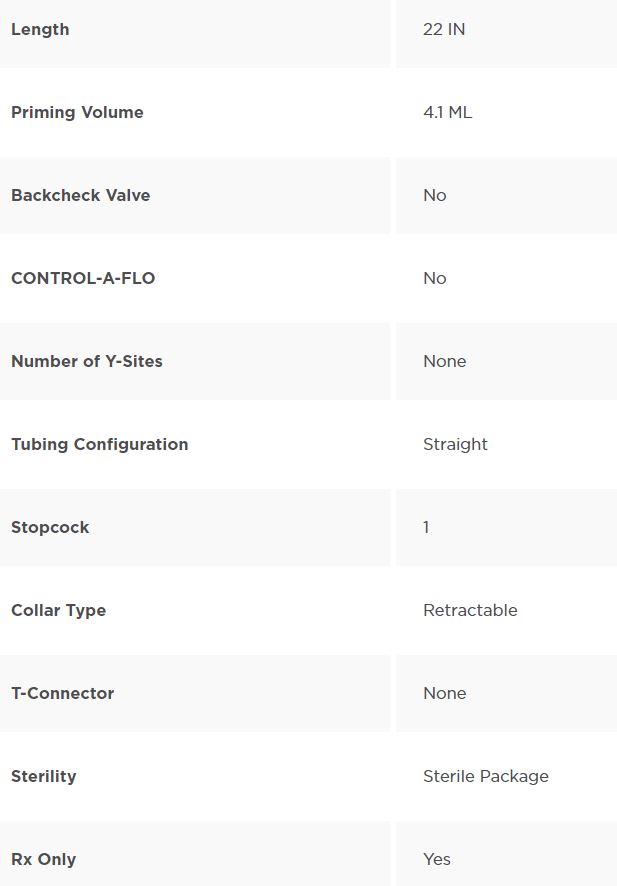 Packing Information