Baxter 3300M - DEVICE, CATHETER, GRIP, ADHESIVE, 100 EA/CS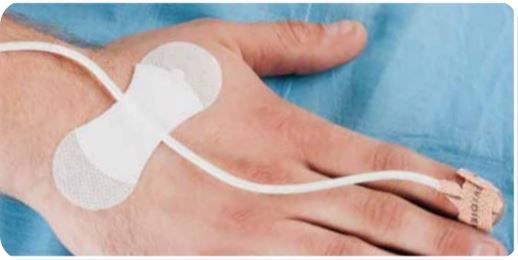 GRIP-LOK Medium Universal Securement Device
Grip-Lok is a stabilization and securement device strong enough to lock catheters, tubes and lines securely in place, yet versatile enough for almost any securement situation.
Medium
GRIP-LOK Medium Universal Securement Device. Standard Catheter Stabilization Device kit and foam tape strips. Holds tubing and lines 3.0 mm to 8.0 mm in diameter. Sterile Package.
Designed for tubes sized 1/8" - 5/16" (3.0 - 8.0mm) in diameter. Overall length: 3.5" (8.9cm)
| | | | | | |
| --- | --- | --- | --- | --- | --- |
| Product Code | Approximate Length | Description | Minimum Tubing Size | Maximum Tubing Size | Pack Factor |
| 3200S | 3.5" | Small Stabilization Device | 3 mm | 8 mm | 100/case |
Applications
IV Lines
Surgical Drains
Catheter tubes
Bedside Monitoring Equipment
Any tube, line or catheter sized between
3 and 8mm in diameter that needs to be secured.
Benefits of
Grip-Lok
Safe:
Grip-Lok is latex free and is packaged in individual sterile units, allowing you to use the Grip-Lok close to the wound site or right in the sterile field. The medical grade hypoallergenic tape allows the patient's skin to breathe, thus reducing the risk of rashes and other skin irritations.
Simple:
Grip-Lok is applied in the same simple manner as a bandage and can be easily placed and adjusted by gloved hands. Available in 3 sizes, each is used and applied in the same identical manner, thus encouraging standardization of important dressings.
Secure:
Grip-Lok employs specialized adhesives and a self-gripping fastener to keep lines, tubes, and catheters locked securely in place. Once secured, Grip-Lok prevents dislodgment and/or migration, thus reducing the risk of lost lines, duplication of work, and patient discomfort or distress.
Standardized:
Grip-Lok conforms to the new Infusion Nursing Standards of Practice and can eliminate the need for sutures and unscheduled catheter restarts, thus directly reducing needlestick injuries.
Grip-Lok vs Tape
Grip-Lok offers significant advantages over tape. It is designed to hold significantly more securely and reduce complications. Every line pull or IV restart that is avoided results in better patient care and reduced costs.
Promote Consistent, Convenient, Cost Effective Care
Enhance patient care with comfortable, reliable securement.
Per the 2011 CDC Guidelines for the Prevention of Intravascular Catheter-Related Infections, Catheter Stabilization is recognized as an intervention to decrease phlebitis, catheter migration and dislodgement, and may be advantageous in preventing CRBSIs.
INS Standards of Practice advocate catheter stabilization devices as "the preferred alternative to tape or sutures when feasible.
Use of catheter stabilization devices may reduce risk of needlestick injuries and associated complications.
Baxter catheter stabilization devices have been demonstrated to reduce the rate of unscheduled restarts by up to 62% when compared to tape , which helps decrease facility costs.
VITAL HOLD Products offer familiar designs that nursing professionals can consistently apply.
VITAL HOLD Devices have a soft, non-rigid design which may provide added comfort for patients.
Product Characteristics
| | |
| --- | --- |
| Sterility | Sterile Package |
| Rx Only | Yes |
Packing Information
| | |
| --- | --- |
| Length | 7.4 IN |
| Width | 6.4 IN |
| Height | 4.1 IN |
| Volume | 0.11 FC |
| Weight | 6 LB |
| Pack Factor | 100 |