BD 303391 - Syringe 3cc 20g/17g Interlink System IV Blnt w/oNdl 100/Bx, 8 BX/CA

303391 - 3 mL Syringe with BD Twinpak Dual Cannula Device
The BD Twinpak Dual Cannula is a truly universal device that simplifies needleless IV access. It offers twice the performance of traditional methods. BD Twinpak Dual Cannula features two cannulas in one shield: one red-hub, steel cannula for syringe filling and one clear, blunt plastic cannula for safe access into a split septum. The BD Twinpak Device is designed to help streamline IV work flow and reduce the number of individual pieces, thereby saving time and reducing costs. For use with Interlink, Abbott LifeShield or SafeLine Systems.
BD Twinpak Dual Cannula Device
The Self-Contained Solution

Red Hub Cannula (Syringe Filling Device)

Blunt Plastic Cannula (with Green Cap)

20 G Metal Cannula
provides versatility in syringe filling
from vials, and for other multiple
vial access needs (e.g., reconstitution).

Blunt Tip Design
provides a safer alternative to a
traditional, sharp needle for
syringe filling.

Red Hub
easily identifies the syringe filling
device.

Dual Side Ports
provide greater fluid dispersion in flushing and drug delivery

Center-point Design
features tapered tip for less resistance during insertion

Universally Compatible
with split-septum cannula access devices, such as
Baxter Interlink, Hospira LifeShield, B. Braun SafeLine,
and Alaris VersaSafe injection sites as well as vials designed
for needleless access.

Green Cap
designed to provide easy identification and a protective cover
for clear BD Blunt Plastic Cannula Hub, and can later be
used to cover the BD Red Hub Cannula.
Key Product Features
| | |
| --- | --- |
| Sterile | Sterilized product |
| Safety Engineered | Safety engineered product |
| Safety Engineered Feature | Needleless |
| Sterilization Method | Gamma irradiation |
| BPA Free | Not made with BPA |
| DEHP Free | Not made with DEHP |
| PVC Free | Not made with PVC |
| Latex Statement | Not made with natural rubber latex |
| Disposable | Disposable product |
| Single Use | Product is for single use only |
Device Characteristics
| | |
| --- | --- |
| What MRI safety information does the labeling contain? | Labeling does not contain MRI Safety Information |
| Device required to be labeled as containing natural rubber latex or dry natural rubber (21 CFR 801.437) | No |
| Device labeled as "Not made with natural rubber latex" | No |
| For Single-Use | Yes |
| Prescription Use (Rx) | Yes |
| Over the Counter (OTC) | No |
| Kit | No |
| Combination Product | No |
| Human Cell, Tissue or Cellular or Tissue-Based Product (HCT/P) | No |
Instructions for Use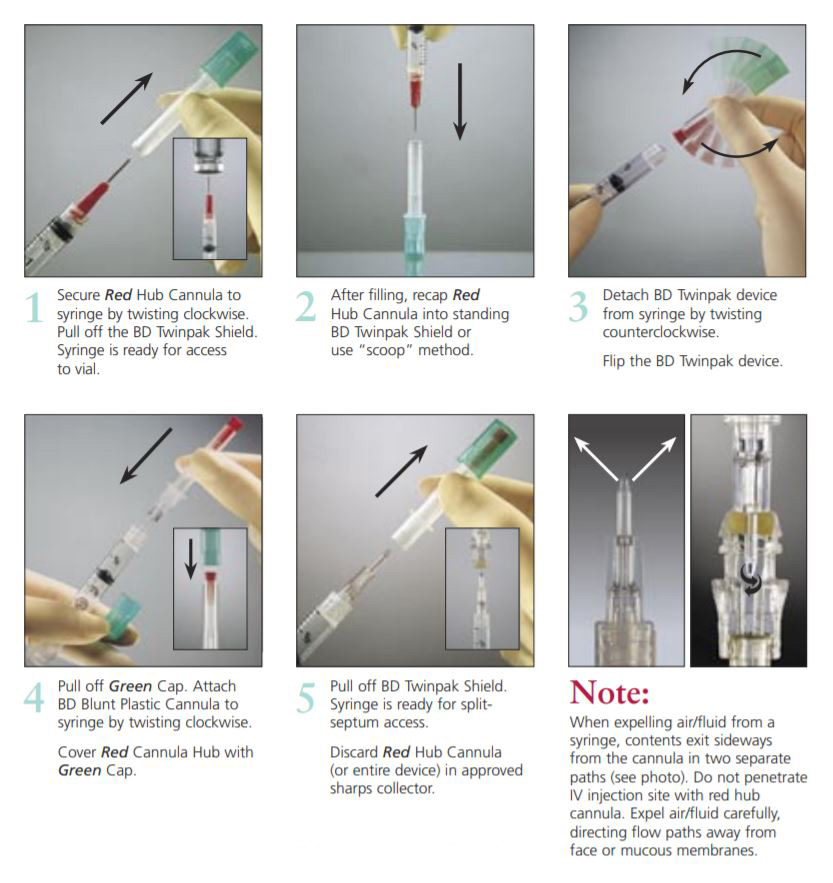 Product Packaging Information
| | | | |
| --- | --- | --- | --- |
| Packaging Level | Shelfpack | Each | Case |
| Quantity | 100 | 1 | 400 |
| Length | 27.31 cm | | 273.0 mm |
| Width | 20.0 cm | | 400.0 mm |
| Height | 19.69cm | | 393.7 mm |
| Weight | 1.18 kg | 11.8 g | 4.71 kg |