Allow C.I.A. to white-glove your request for this item
Not buying today? Need a volume discount, Net 30 terms, or a government quote? Got a backorder, and need immediate stock? That's exactly what we do best. Let us solve your problem.
Product Description
BD 305937 - Syringe Safety f/Insulin GL 31G 3/10cc 400/CS

BD SafetyGlide Safety Insulin Syringe
305937 - 3/10 Ml BD Safetyglide Insulin Syringe with 31 G Thin Wall 5/16 In. Needle. Permanently Attached Needle, 0.3 ml 31G x 5/16 in. 0.25 mm x 8 mm
BD SafetyGlide Syringe with Tiny Needle Technology
The BD SafetyGlide Syringe for Insulin is specially designed and scaled to deliver smaller doses of medication. It has an attached needle and helps to meet the unique needs of the healthcare workers who administer these types of injections.
For Insulin delivery
Easy to use single hand activation
Safe and secure with visible lock
Fingers remain behind needle at all times
Benefits
26 GA to 31 GA needle sizes perform a variety of subcutaneous and intradermal applications.
1 mL, 1/2 mL and 3/10 mL insulin syringe sizes facilitate small dose injections.
Permanently attached needle means minimal waste space:

A necessity for insulin injection.
A potential medication cost savings if used instead of a detachable needle and syringe.

Features single-handed activation that allows for ease of use and minimal training.
Rotating safety arm eliminates interference with scale during drawing up, and facilitates low-angle injections.
Cap is designed to stand on end for true one-handed passive recapping of clean needles for transport
Key Product Features
| | |
| --- | --- |
| Hub Color | Clear |
| Hub Material | Polypropylene |
| Hub Type | Dart shape |
| Needle Gauge | 29 G |
| Needle Gauge (m) | 0.25 mm |
| Needle Length (in.) | 5/16 in. |
| Needle Length (m) | 8 mm |
| Needle Tip Type | 3-bevel |
| Needle Type | Insulin |
| Needle Wall Type | Thin wall |
| Syringe Scale | 0.3 mL graduations |
| Total Shelf Life | 1825 |
| Sterile | Sterilized product |
| Safety Engineered | Safety engineered product |
| Safety Engineered Feature | Hypodermic syringe and needle with shielding mechanism |
| Sterilization Method | Gamma radiation |
| Latex Statement | Not made with natural rubber latex |
| Disposable | Disposable product |

Features and Benefits For Healthcare Workers and Their Patients
BD PrecisionGlide Needle Technology
Designed for patient comfort
Leading brand of hypodermic needle technology in the U.S.
One-Handed Activation
Virtually no change in technique
Requires minimal training
Finger stays behind the needle at all times
Proven Dependability
Secure and visible lock
Virtually no splatter upon activation
Designed for Efficiency
Permanently attached needle is designed with minimal dead space - for minimal drug waste
Rotating safety arm allows for low angle injections
How to Use the BD SafetyGlide Syringe for Insulin, TB and Allergy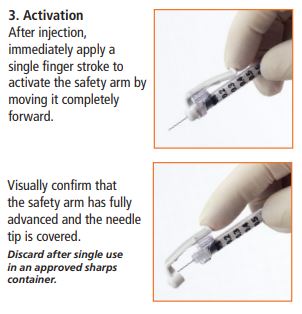 Product Packaging Information
| | | | |
| --- | --- | --- | --- |
| Packaging Level | Shelfpack | Case | Each |
| Quantity | 100 | 400 | 1 |
| Length | 12.123 cm | 387.35 mm | |
| Width | 7.123 cm | 355.6 mm | |
| Height | 6.123 cm | 165.1 mm | |
| Weight | 682.5 g | 2.73 kg | 6.825 g |