BD 306553 - Normal Saline 0.9% IV Flush Posiflush SF Syringe 10mL Standard Plunger Rod 30/Bx

306553 - 10 mL BD PosiFlush Sterile Field (SF) Saline Syringe, in 10 mL syringe (NHRIC: 8290-306553)
BD PosiFlush Sterile Field (SF) Saline Flush Syringe is terminally sterilized in its peel pouch, enabling it to be aseptically presented to a sterile field. Typically used in oncology, interventional radiology and critical care, the syringe supports applications such as PICC or CVC insertions.It is intended to be used only for the flushing of indwelling vascular access devices.
For all your flushing needs
For sterile field applications such as extended dwell catheter insertions, accessing implanted ports, etc.
Impact to solution contamination
The product is designed to prevent solution from entering a nonsterile area of the syringe, helping reduce the risk of solution contamination.
Impact to catheter dwell time
A failed IV catheter means pain, dissatisfaction, prolongation of care and venous depletion, compounded by the need to treat minor and severe IV catheter failure-related sequelae.
Reduced medication errors
The syringe supports efforts to reduce the risk of medication errors by meeting Joint Commission and ISMP medication labeling guidelines
Internal and external sterilization
The syringe is externally sterilized to support sterile field applications. It features a sterile fluid pathway.
Key Product Features
| | |
| --- | --- |
| Preservative Free | Product is preservative free |
| Pyrogen Free | Product is pyrogen free |
| Syringe Tip Orientation | Concentric |
| Syringe Tip Type | BD Luer-Lok |
| Syringe Scale | 0.5 mL graduations |
| Total Shelf Life | 1095 |
| Sterile | Sterilized product |
| Concentration | 10 mL fill in 10 mL syringe |
| Safety Engineered | Safety engineered product |
| Safety Engineered Feature | Needleless |
| Sterilization Method | Steam autoclaved |
| BPA Free | Not made with BPA |
| DEHP Free | Not made with DEHP |
| Latex Statement | Not made with natural rubber latex |
| PVC Free | Not made with PVC |
| Disposable | Disposable product |
| Single Use | Product is for single use only |
Designed to Meet Your Needs
Designed to Enhance Best Clinical Practice
Flush with the smallest recommended volume
Infusion Nurses Society (INS) recommends that the minimum volume of the final flush solution should be twice the labeled priming volume of the catheter and any added devices.

A 3 mL BD PosiFlush Saline Syringe provides more than twice the priming volume recommended.
Consistent 10 mL diameter designed to lower the risk of catheter damage
Syringe size has an impact on the risk of catheter damage. Smaller diameter syringes generate greater amounts of pressure than larger diameter syringes.
Choose any size BD PosiFlush Syringe for lower pressure due to the 10 mL syringe diameter (as compared to standard syringes). All BD PosiFlush Syringes assure compliance with PICC manufacturer recommendations for with a 10 mL diameter syringe.
Use the appropriate flushing volume for sodium-restricted patient needs
Through the unique design of BD PosiFlush, clinicians can deliver the appropriate volume with minimum salt impact in a 10 mL diameter syringe.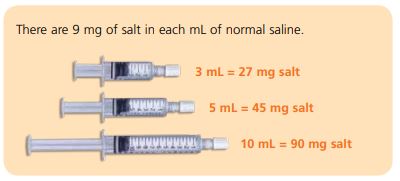 Usage Guidelines
For use on sterile field only.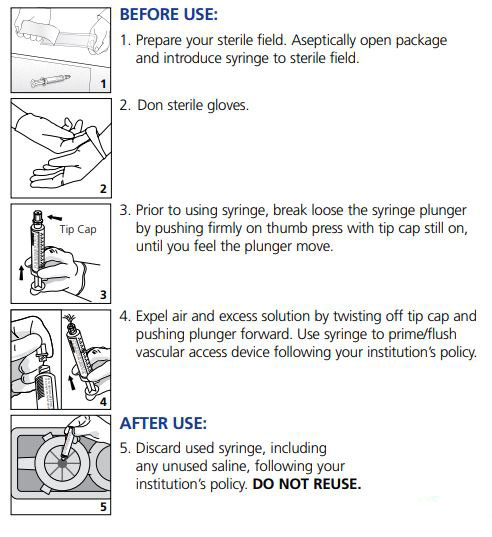 Product Packaging Information
| | | | |
| --- | --- | --- | --- |
| Packaging Level | Shelfpack | Case | Each |
| Quantity | 30 | 240 | 1 |
| Length | 290.0 mm | 603.0 mm | |
| Width | 217.0 mm | 451.0 mm | |
| Height | 141.0 mm | 311.0 mm | |
| Weight | 1.049 kg | 8.392 kg | 34.97 g |