BD 309703 - Syringe 5cc Luer Lock Ndls 25/Tray 12 Trays General Use 12x25/Ca
BD Pharmacy Convenience Paks
309703 - 5 mL BD Luer-Lok Syringe bulk sterile Pharmacy Convenience Tray
BD conventional syringes are available with and without an attached needle. BD syringe-needle combinations feature a clear barrel with a bold scale. Disposable syringes with a BD Luer-Lok tip, luer slip tip or eccentric luer slip tip can be fitted with either a conventional needle or safety needle.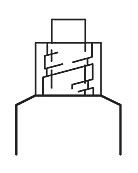 BD Luer-Lok Tip
Our BD Luer-Lok tip is generally used for injections requiring a secure connection of the syringe to another device.
Efficiency for batch filling
With features like a stopper at the bottom-most position to reduce manipulation, BD Sterile Syringe Convenience Trays help pharmacy staff save time and effort when batch-preparing syringes.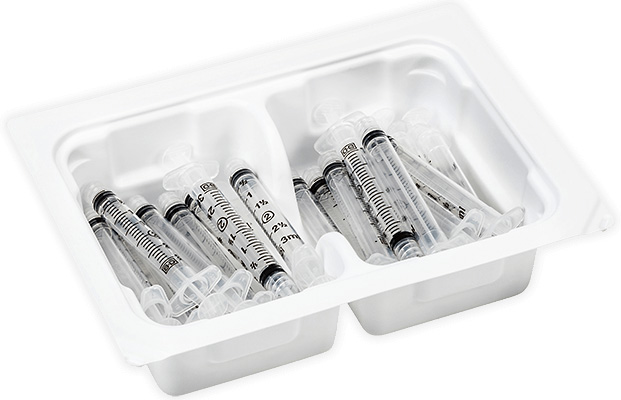 Tray Contents:
25 syringes only per sterile tray, 12 trays per case of 300
Key Product Features
| | |
| --- | --- |
| CE Mark | Product is CE-marked |
| Parenteral | Parenteral product |
| Pyrogen Free | Product is pyrogen free |
| Syringe Tip Orientation | Concentric |
| Syringe Tip Type | BD Luer-Lok |
| Syringe Scale | 0.2 mL graduations |
| Total Shelf Life | 1825 |
| Sterile | Sterilized product |
| Volumetric Accuracy | +/- 5% *for 1ml or smaller,accuracy below 0.2ml is+/- 0.07ml |
| Sterilization Method | Radiation |
| BPA Free | Not made with BPA |
| DEHP Free | Not made with DEHP |
| Latex Statement | Not made with natural rubber latex |
| PVC Free | Not made with PVC |
| Disposable | Disposable product |
| Single Use | Product is for single use only |
Regulatory Compliance and Quality System
BD Products comply with the regulatory requirements of the region in which these are sold and manufactured.
CE-marked
BD Products which are CE marked comply with Medical Devices Directive 93/42/EEC and are manufactured within production facilities that comply with the international standard ISO 13485: Quality Systems - Medical Devices - Requirements For regulatory purposes.
Sterility
All products which are labeled as #sterile# and released for sale by BD are certified to be sterile as long as the package is unopened and undamaged. For those products labeled #sterile fluid path#, only the fluid path is sterile.
This product is primarily sterilized via E-beam. Sterilization cycle development/validation is performed to 10-6 SAL in accordance with current ISO 11137 guidelines.
Pyrogenicity
All products which are labeled as non-pyrogenic and released for sale by BD have been tested per United States Pharmacopeia (USP) chapter 85 - Bacterial Endotoxins Test and meets limits as specified in chapter 161- Transfusion and Infusion Assemblies and Similar Medical Devices.
Quality Control Testing and Release
Representative production samples are collected and inspected in accordance with current applicable product specifications. Inspection records are reviewed and signed off by qualified personnel for product release. The released devices meet applicable BD product specifications.
Device Characteristics
| | |
| --- | --- |
| What MRI safety information does the labeling contain? | Labeling does not contain MRI Safety Information |
| Device required to be labeled as containing natural rubber latex or dry natural rubber (21 CFR 801.437) | No |
| Device labeled as "Not made with natural rubber latex" | No |
| For Single-Use | Yes |
| Prescription Use (Rx) | Yes |
| Over the Counter (OTC) | No |
| Kit | No |
| Combination Product | No |
| Human Cell, Tissue or Cellular or Tissue-Based Product (HCT/P) | No |
Product Packaging Information
| | | | |
| --- | --- | --- | --- |
| Packaging Level | Shelfpack | Case | Each |
| Quantity | 25 | 300 | 1 |
| Length | 194.0 mm | 391.0 mm | |
| Width | 143.0 mm | 289.0 mm | |
| Height | 64.0 mm | 213.0 mm | |
| Weight | 192.75 g | 2.313 kg | 7.71 g |