BD 329515 - Needle 30gx3/16" Duo Pen BD Autoshield 800/Ca

BD AutoShield Duo Safety Pen Needle, 329515 - BD AutoShield Duo Pen Needle 5mm X 30G
AutoShield Pen Needle
Now you can bring the unique advantages of a pen to your facility with the BD AutoShield Pen Needle, a safety-engineered device for use with insulin pens and other delivery devices.
Fewer steps to inject: No inner shield to remove.
No needle recapping needed.
Red band indicator shows when the needle has been used.
Large barrel for easy handling and attachment.
Convenient, carrying on the go and needle disposal.
AutoShield Pen Needle Benefits
Safety
Shield automatically locks after injection to help reduce the risk of accidental needlesticks
Metal tabs provide visual confirmation that the safety feature is activated
Comfort
Broad shield diameter reduces pressure on the patient's skin
Needle is hidden from view for a less intimidating experience
Confidence
Float end of shield helps to stabalize for easier injection
Single-Handed Technique
Highest level of protection with single-handed technique.
Flexibility
Flexibility to work with all pen injectors for diabetes treatment.
Injection pens have been shown to improve the quality of treatment for patients and may improve treatment observance.
They also reduce the risk of medication error and improve dose accuracy. However, without the use of a safety solution, injection pens are associated with needlestick injuries six times more often than syringes.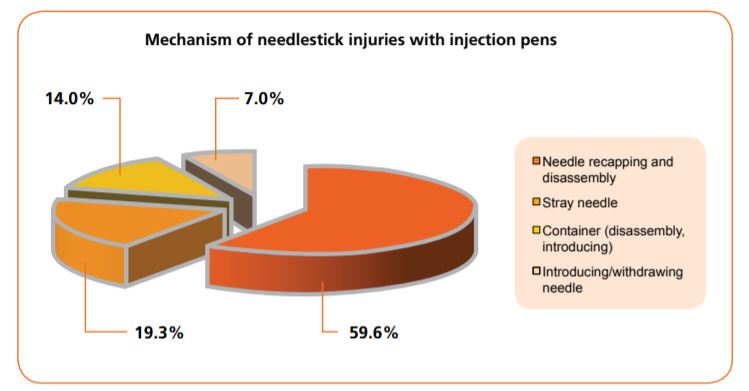 Studies have shown that both ends of a pen needle are contaminated after use so both ends would require safety features. A pen needle designed with automatic double protection may reduce the risk of exposure to the patient and clinician after removal from the pen.
The first safety pen needle designed to fit all insulin pens that provides automatic double protection
A Safety Pen Needle offering protection on both patient AND pen/cartridge ends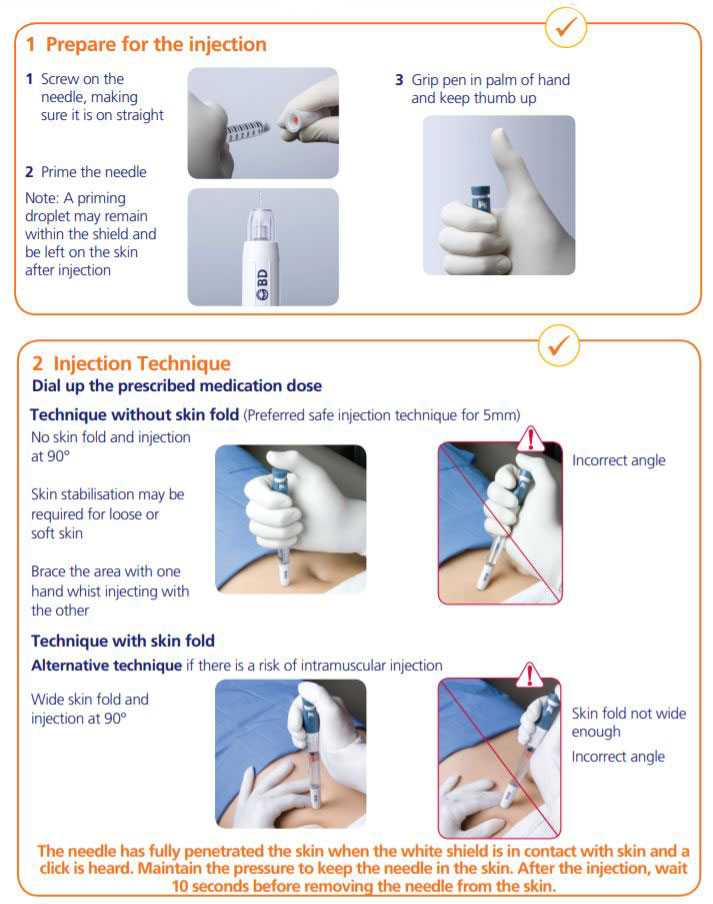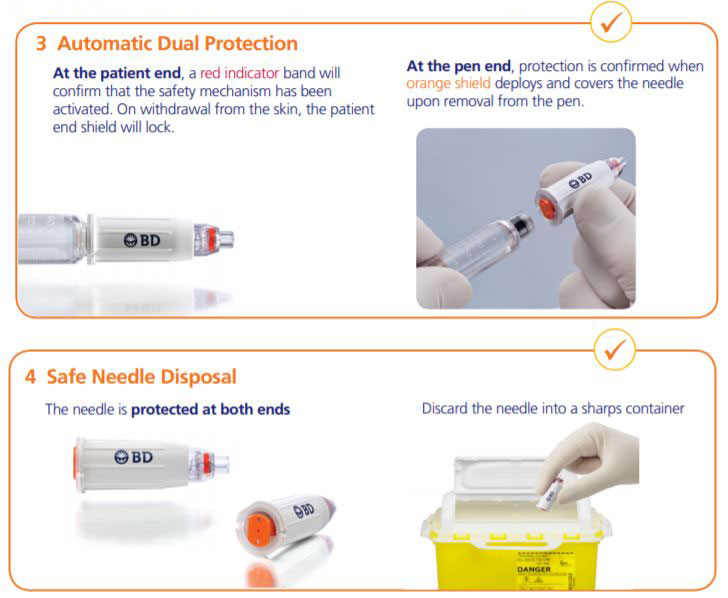 Device Characteristics
| | |
| --- | --- |
| What MRI safety information does the labeling contain? | Labeling does not contain MRI Safety Information |
| Device required to be labeled as containing natural rubber latex or dry natural rubber (21 CFR 801.437) | No |
| Device labeled as "Not made with natural rubber latex" | No |
| For Single-Use | Yes |
| Prescription Use (Rx) | No |
| Over the Counter (OTC) | No |
| Kit | No |
| Combination Product | No |
| Human Cell, Tissue or Cellular or Tissue-Based Product (HCT/P) | No |
Proper Injection Technique
Proper injection technique is essential to improve consistency in medication delivery and optimize glycemic control. It includes factors such as:
knowing where the common injection sites are
understanding how to rotate sites
ensuring consistent delivery into subcutaneous (fat) layer
choosing proper needle length
avoiding injecting into muscle
Why is Proper Disposal Important?
Proper syringe disposal will help to:
Store and safely dispose of used syringes and lancets,
Protect trash collectors from accidental needlesticks,
Prevent your used syringes from falling into the wrong hands,
Protect the environment.
Product Packaging Information
| | | | |
| --- | --- | --- | --- |
| Packaging Level | Shelfpack | Case | Each |
| Quantity | 100 | 800 | 1 |
| Length | 14.13 cm | 30.0 cm | |
| Width | 11.75 cm | 25.24 cm | |
| Height | 11.27 cm | 25.4 cm | |
| Weight | 461.303 g | 3.963 kg | 4.565 g |