Part Number
Blickman Health 1310
Ships Within
Special Order
Blickman Health 1310 - IV Stand Chrome 4-Leg 2-Hook 22" Diameter Base Tru-Loc
IV Stand Chrome 4-Leg 2-Hook 22" Diameter Base Tru-Loc
Blickman IV poles are optimal for maintaining continuous fluid delivery for every patient, available in a wide range of adjustable heights with a variety of easy locking options that can be operated with one hand. Blickman IV poles are all available in high quality chrome and stainless steel, and set on 4, 5, or 6 leg bases with casters, projections, and great balance/tip resistance. Some bases are gravity weighted to help compensate for heavier loads. All bases have the ability to spin 360 desgree in tight spaces.
4 Leg Chrome IV Stand
Available with a heavyweight base and Wall Saver tips that helps against damages to the wall and scuff marks. The Blickman 1310 IV Stand moves on a 2 plastic twin wheel hooded swivel casters and it comes standard with two hooks.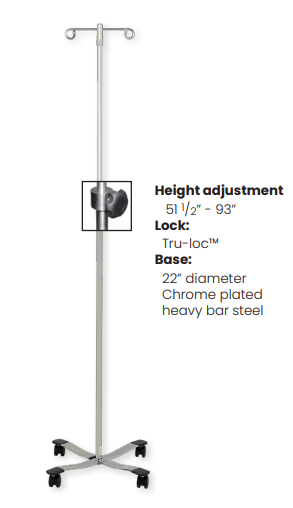 4 Leg Chrome IV Stand Specifications
Manufacturer Part Number: 1310
Commercial Distribution Status: In Commercial Distribution
Catalog Number: 0561310000
Company Name: Blickman Industries, LLC
Primary DI Number: 00850038810023
Device Description: IV Stand 2 Hook w/Tru Loc Mechanism w/4 Leg Chrome Base
Capacity: 2 Hook
Type: IV Stands
Package Quantity: 1
Material: Chrome Plated Steel
Style: Tru-Loc Friction Knob
Color Family: Silver
Wheel Type: Twin Wheel Hooded Casters
Wheel Diameter 2 in
Height: 51-1/2 93 in
Base Diameter 22 in
Shipping Weight: 14 lbs