Allow C.I.A. to white-glove your request for this item
Not buying today? Need a volume discount, Net 30 terms, or a government quote? Got a backorder, and need immediate stock? That's exactly what we do best. Let us solve your problem.
Product Description
BSN Medical 4874 - TAPE DELTACAST CONF 2"
Delta-Cast Elite Polyester Cast Tape, 4874, Black, 4 in x 4 yds, 10 rolls / box
The Progressive Solution Polyester Cast Tape
Delta-Cast Elite has been designed with ease of application and patient comfort in mind. Our patented fibreglass-free casting material combines strength and rigidity with soft edges for enhanced patient comfort. Ease of application is one of the most desired product features in the application of cast tapes. Delta-Cast Elite is a light-weight, non-fiberglass but rigid cast which was designed to offer ease of application combined with a high level of patient comfort.
Features & Benefits
Excellent conformability
Strong lamination
Excellent molding touch
Reliable working time window
Fiberglass-free
Smooth finish & soft edges
Free choice of glove
Latex-free formula
Cost-effective solution
Highly radiolucent
Conformable Substrate
Delta-Cast Elite has a patented polyester substrate featuring extensible yarns that easily shape to body contours, providing enhanced molding capabilities. Environmentally friendly Delta-Cast Elite produces less dust during cast removal.
Excellent Unrolling Tension
The resin formulation of Delta-Cast Elite allows for application using standard examination gloves, while also providing consistent unrolling tension and secure lamination.
Non-Fibreglass
Smooth and soft cast edges
Excellent strength, rigidity and durability
Easily conforms to body contours without folding or tucking

Increased patient comfort

Consistent set-time

Easier cast applications
Less time consuming
High-Tack Resin
Maximum lamination and end lay down
Long lasting, vibrant colours make casts more enjoyable to wear
Excellent Conformability Helps Create Well-Fitting Anatomic Casts
Patented elastic polyester yarns offer excellent conformability for wrinkle-free application
Conforms well to difficult or bony body contours
No tuck and fold required during application
Helps avoid constrictions
Resin Formulated for a Better Molding "Touch"
Slip agent surfactant creates a slippery touch during working time for an optimal molding feeling
Freedom to work with glove of your choice
Reliable, precise working time window
Excellent pliability throughout working time

It's the Number of Details
That Makes the Difference in the End
The features of Delta-Cast Elite aim to secure therapy success by offering superb wearing comfort and lasting support.
Strong Lamination for Secure Immobilization and Lasting Support
Secure lamination between layers ensures long-term durability
High rigidity and strong stability of cast gives self-confidence
High durability reduces risk of cast breakdown
Excellent end lay Down and Flawless, Smooth Surface
Secure lamination of end of bandage
Smooth surface minimizes snag on clothing and bed linens
Soft edges for improved patient comfort and compliance ??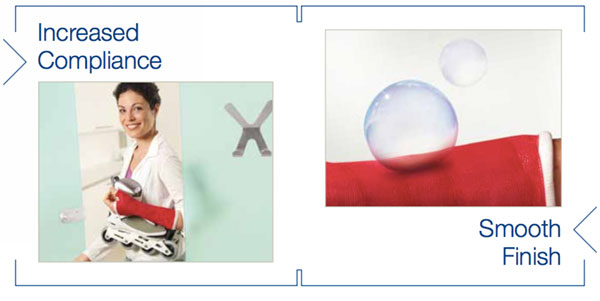 Patented Fibreglass-Free Substrate
Delta-Cast Elites patented polyester substrate features extensible yarns that easily shape to body contours, providing enhanced molding capabilities for both primary and secondary casting applications and produces less dust during cast removal.
Patented Resin System
Ensures maximum lamination and end laydown for strong, long-lasting casts. The patented glove system provides a tack-free application.
Product Application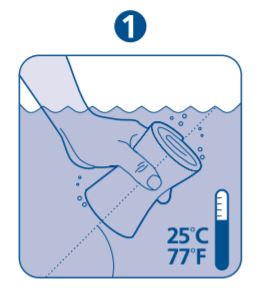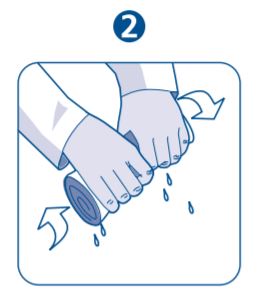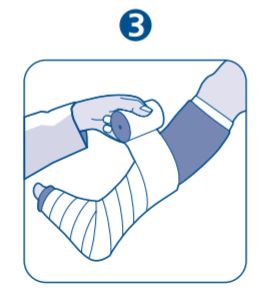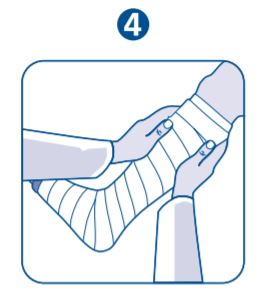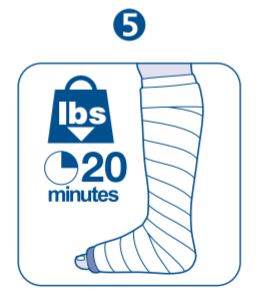 Product Specifications
| | |
| --- | --- |
| Product Number | #4874 |
| Brand | Delta-Cast Elite |
| Manufacturer | BSN Medical |
| Application | Cast Tape |
| Color | Black |
| Dimensions | 4 in x 4 yds |
| Material | Polyester |

Product Safety Data