BSN Medical 5933 - Tape Deltalite Conf Fbgl Red 3"X4Yds 10/BX

Delta-Lite Conformable Fiberglass Cast Tape Red 5933, 3 in x 4 yds, 10 rolls/case
Delta-Lite Conformable The Advanced Durable Solution Fiberglass Cast Tape
Superior handling is an outstanding feature of Delta-Lite Conformable. Its high conformability and the benefits of a new resin formulation guarantee problem-free application and superb anatomically molded casts. Delta-Lite Conformable is a fiberglass cast bandage ideal for rigid primary and secondary casting applications where conformability and patient fit is critical. Finished casts are lightweight, strong, resist breakdown and are enjoyable to wear.
Delta-Lite Conformable is constructed using a patented latex-free, fiberglass substrate that provides unprecedented conformability for an enhanced fit and ease of application. Exceptional strength and enhanced lamination add to the appeal of this revolutionary cast tape. The patented resin system ensures maximum lamination and end laydown for strong, long-lasting, lightweight casts utilising the patented glove system that provides a tack-free application. The three dimensional stretch eliminates the need to tuck and fold during application and prevents creases when casting around difficult body contours.
Features & Benefits
Now low tack - use the gloves of your choice
Primary and secondary casting
Rigid support
Superior conformability
Exceptional strength
Excellent lamination
Three-dimensional stretch
Weight bearing in approximately 20 minutes
3 - 5 minute set time
A New Philosophy
Conventional casting and splinting materials like plaster and fiberglass produce casts and splints that are rigid over the entire surface. For the patient, this means that areas not affected may also be immobilized, leading to atrophy, stiffness and general discomfort. By using Delta-Lite Conformable casting tape and FCT techniques, patient comfort is improved by creating casts and splints that are rigid where immobilization is required and flexible in areas not requiring rigid immobilization. Joints and fractures are stabilized without negatively affecting adjoining soft tissue or joints. This concept stabilizes the injury site, yet maximizes muscle function.
Molding is vastly improved over traditional fiberglass cast tapes with a special resin formulation. This resin remains smooth and easily manipulated during the reliable 3 minute working time. Any glove may be used during the working process. After just 20 minutes, the cast is weight-bearing. The end result is a strong, durable, and comfortable-fitting fiberglass cast. The substrate is open-knit, allowing for increased air and vapor ventilation. The fiberglass, along with the secure lamination, lends superior strength, stability and support.
Fiberglass Casting Material is naturally water resistant. With waterproof cast padding, fiberglass casts can become completely waterproof and may be submerged entirely underwater, See RELATED PRODUCTS Tab. Waterproof padding allows water to drain from the cast in minutes, and body heat can transform the rest into vapor that passes through the cast itself, completely drying within an hour and a half.
High Conformability Thanks To 3D-Stretch and Elastic Yarn
Wrinkle-free application due to patented elastic fabric delivering multi-directional conformability
No tuck and fold gaps or issues during application
Master difficult anatomic contours with ease
Excellent molding characteristics
Creates well-fitting anatomic cast
New Resin Formulation with Slip Agent Surfactant
Use the glove of your choice
Pleasant smooth touch throughout molding time
Consistent and reliable working and set time

The robust fiberglass yarns combined with elastic yarns of Delta-Lite Conformable assure high reliability and longevity.

Rigid With A Flexible Touch
Durable fiberglass and elastic yarns for strong support
Secure lamination provides strong, long-lasting stability
Weight-bearing after only 20 minutes
Durability That Lasts Throughout
Fiberglass/Elastic yarn substrate delivers durable casts
Allows sufficient room for muscle movement thus preventing constriction and premature cast changes
Open knit substrate increases air flow and helps to reduce skin breakdown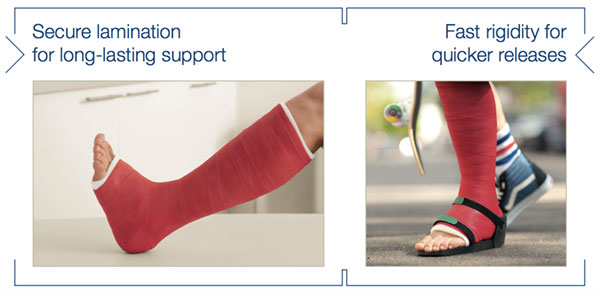 Benefits at a Glance
Highly conformable
Rigid and durable due to secure lamination
Excellent molding with gloves of your choice
Lightweight cast for better compliance and comfort
Latex-free
Product Specifications
| | |
| --- | --- |
| Product Number | #5933 |
| Brand | Delta-Lite Conformable |
| Manufacturer | BSN Medical |
| Application | Cast Tape |
| Color | Red |
| Dimensions | 3 in x 4 yds |
| Material | Fiberglass |
| Set Time | 3 - 5 minute |