BSN Medical 5952 - Delta-Lite Conformable Durable Solution Fiberglass Cast Tape, Green, 2 in x 4 yds 10/BX
Delta-Lite Conformable Synthetic Cast Tape.
The Advanced Durable Solution Fiberglass Cast Tape!
Superior handling is an outstanding feature of Delta-Lite Conformable. Its high conformability and the benefits of a new resin formulation guarantee problem-free application and superb anatomically molded casts.
When the muscle is active, such as the calf muscle when walking, the short stretch bandage applies resistance to the muscle, also known as working pressure. The resistance or working pressure applied by a Comprilan short stretch bandage occurs because of the bandages limited stretch characteristic.
The patented fiberglass substrate of Delta-Lite Conformable provides unsurpassed conformability, greatly reducing the need to tuck and fold during application. The finished cast is lightweight, strong, resists breakdown and is comfortable to wear.
Features & Benefits
Now low tack - use the gloves of your choice.
Primary and secondary casting.
Rigid support.
Superior conformability.
Exceptional strength.
Excellent lamination.
Three-dimensional stretch.
Weight bearing in approximately 20 minutes.
3 - 5 minute set time.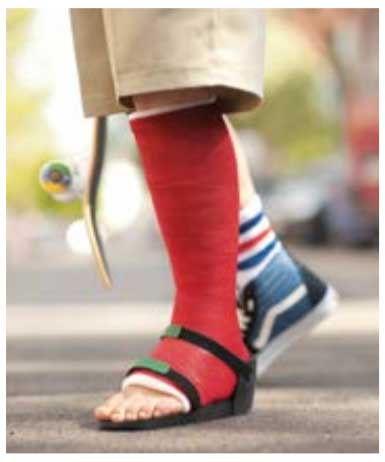 A New Philosophy
Conventional casting and splinting materials like plaster and fiberglass produce casts and splints that are rigid over the entire surface. For the patient, this means that areas not affected may also be immobilized, leading to atrophy, stiffness and general discomfort.
By using Delta-Lite Conformable casting tape and FCT techniques, patient comfort is improved by creating casts and splints that are rigid where immobilization is required and flexible in areas not requiring rigid immobilization. Joints and fractures are stabilized without negatively affecting adjoining soft tissue or joints. This concept stabilizes the injury site, yet maximizes muscle function.
Molding is vastly improved over traditional fiberglass cast tapes with a special resin formulation. This resin remains smooth and easily manipulated during the reliable 3 minute working time. Any glove may be used during the working process. After just 20 minutes, the cast is weight-bearing. The end result is a strong, durable, and comfortable-fitting fiberglass cast. The substrate is open-knit, allowing for increased air and vapor ventilation. The fiberglass, along with the secure lamination, lends superior strength, stability and support.
Fiberglass Casting Material is naturally water resistant. With waterproof cast padding, fiberglass casts can become completely waterproof and may be submerged entirely underwater, See RELATED PRODUCTS Tab. Waterproof padding allows water to drain from the cast in minutes, and body heat can transform the rest into vapor that passes through the cast itself, completely drying within an hour and a half.
FAQ
Q: What is casting tape?
Synthetic Casting Tapes or Plaster Bandages are the main source of rigidity in a cast. Casting tape is comprised of a bandage combined with a casting material. The bandage is carefully wrapped around the limb to the desired thickness.
Q: What are the different casting materials?
Plaster of Paris, Fiberglass, and Polyester are the most common cast types. Plaster of Paris uses natural plaster as the casting material. Fiberglass and Polyester are considered synthetic casts and both use a polyurethane resin.
Q: What are the strengths and weaknesses of plaster of paris casts?
Made from natural gypsum plaster, plaster casting materials are much economical than synthetic materials. Plaster of Paris is also easier to mold, resulting in a precise and comfortable fit. Once dry, plaster is extremely strong, but this process can take days. Plaster casts are much bulkier and heavier than synthetic casts. Dry plaster is extremely vulnerable to water and liquids and even a spilled drink may result in an unplanned cast replacement. Plaster casts are ideal for shorter-term casting, early treatments, and more delicate casting operations.
Q: What are the strengths and weaknesses of fiberglass casts?
Fiberglass casts utilize a synthetic resin combined with a fiberglass substrate. Fiberglass casts are significantly lighter and stronger than plaster casts, and they have a lower breakdown rate. Synthetic casts set much faster than plaster, capable of being weight-bearing in as soon as 20 minutes. Fiberglass casts are also water resistant, and may be used with special waterproof stockinettes and paddings to create waterproof casts. Fiberglass casts tend to have a rougher finish and are much more difficult to mold.
Q: What are the strengths and weaknesses of polyester casts?
Polyester casts use a synthetic resin with a polyester yarn substrate. Polyester Casting Tape is very flexible, conforming easily to the body's contours for a lighter, more comfortable fit than fiberglass. More flexible than fiberglass casts, Polyester Cast Tapes are often used to make semi-rigid casts. Semi-rigid casts allow some degree of movement, providing many benefits over complete joint immobilization. Many polyester casts may also be cut with scissors, allowing the creation of a wide range of custom-shaped splints.
Q: How are casts removed?
Do not attempt to remove casts at home, as specialized equipment and training is required. Casts are removed with special saws that utilize vibrating blades. Cast Saws cut easily through hard casting material but have difficulty with soft padding.
Q: Can casts get wet?
Plaster splints and casts cannot get wet, as water will permanently ruin the integrity of the cast. Synthetic casts, such as fiberglass and polyester, are naturally water resistant, but water contact should still be avoided as wet cast padding can cause severe skin complications. If your cast padding gets wet and does not quickly dry, call your physician.