Allow C.I.A. to white-glove your request for this item
Not buying today? Need a volume discount, Net 30 terms, or a government quote? Got a backorder, and need immediate stock? That's exactly what we do best. Let us solve your problem.
Product Description
BSN Medical 7270822 - Tape Cast Delta Cast Soft II Polyester 3"x4Yd LF White 10/Ca
Delta-Cast Soft Semi-Rigid Fiberglass-free Cast Tape,
White, 7270822

, 3 in x 4 yds, 10 rolls/box
Semi-Rigid Polyester Cast Tape
The Flexible Solution Polyester Cast Tape
The new fiberglass-free Delta-Cast Soft was designed to provide functional support to fractures and soft tissue injuries. Its semi-rigidity allows for more flexibility and mobility, thus helping to reduce immobilization-related problems such as atrophy or joint stiffness. As a result, the overall healing process tends to shorten.
Earlier patient mobility as cast will allow a limited range of movement
Improved circulation, faster healing, shorter rehabilitation period
Helps to avoid or minimize muscle atrophy and other immobilization-related issues
Lightweight, breathable material offers high wearing comfort
Smooth surface for a snag-free finish
Soft edges for higher patient satisfaction
Available in a wide range of attractive colors and unique patented paw pattern
Delta-Cast Soft is a semi-rigid polyester (non-fiberglass) cast tape, which allows for greater range of movement, earlier mobility and reduces some of the problems of rigid immobilization, such as muscle atrophy. It is mainly used in pediatric applications, such as club foot treatment and serial casting, as well as customized support.
Advanced Technology
Delta-Cast Soft is a unique, high-tech construction of polyester and polyurethane resin that combines safety, functionality and comfort into one product. Delta-Cast Soft will hold its form and not delaminate, even as a removable cast.
Versatility
Delta-Cast Soft is an excellent choice for functional immobilization, providing support while allowing a limited range of motion. By varying the layers of the cast, the support can be customized to the patients needs.
Comfort
Delta-Cast Soft polyester substrate delivers a smooth surface and soft edges that provide greater patient comfort and satisfaction. A semi-rigid cast minimizes the rehabilitation period by allowing the patient to continue with some daily activities.
Ease of Application and Removal
The unique Delta-Cast Soft construction offers consistent unrolling tension, ideal work and set times and a highly conformable, multi-directional knit. Delta-Cast Soft can be removed with scissors or unwrapping. The use of a cast saw is optional.
Flexible Casting Tape
Delta-Cast Soft provides functional support to fractures and soft tissue injuries. Its semi-rigidity allows for flexibility and mobility, helping to reduce immobilisation related problems such as muscle atrophy and joint stiffness.
Polyester Substrate
3 way stretch / excellent conformability.
Ease of handling on application
Perfect fit around difficult body contours
Wrinkle free application
Fibreglass free
Superior durability resulting in fewer cast breakdowns
Reduces time and cost for the cast room
100% radiolucent
Allows clear x-ray images for diagnosis and follow up monitoring
Specially developed resin
Flexibility
Minimises the effect of total rigidity immobilisation
Improved circulation, a faster healing process and a shorter rehabilitation period
Ease of removal
Can be removed by lifting and unpeeling
Can be removed and trimmed to shape using regular cast scissors
Excellent lamination
Excellent lamination of layers produces a strong, well bonded cast with secure end laydown
Delta-Cast Soft - An Unbeatable Durability!
BSN Medical has developed a semi rigid / soft fiberglass-free polyester band, like offers unbeatable durability
In a retrospective study * the sustainability was tested Delta-Cast Soft vs semi-rigid / soft fiberglass joint. After an hour, 22% of the semirigids had fiberglass joints broke apart. The Delta-Cast Soft polyester joint was cleared tests without remark.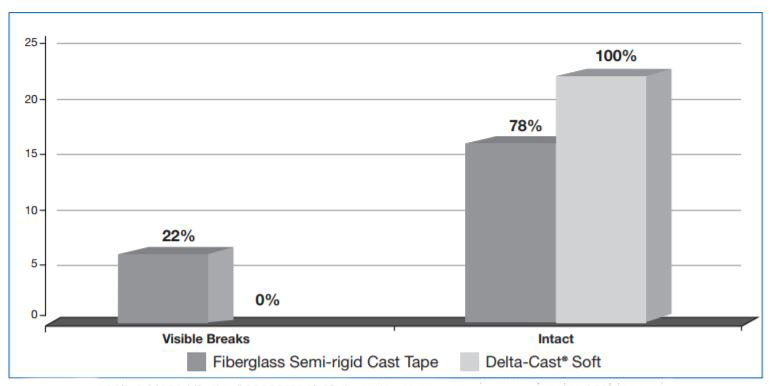 * Retrospective Case Study: Assessment of durability of new semi-rigid polyester cast tape of Delta-Cast Soft vs. fiberglass based semi-rigid cast tape. BSN medical Inc. March 2012
The result shows that Delta-Cast Soft is more durable and durable, which in turn minimizes the risk unplugged gypsum bytes. Delta-Cast Soft, which is a glass-fiber-free polyester band, also has many other advantages like very good fit, support, lamination, completely rhino-permeable, destroyed by combustion etc.
Product Specifications
| | |
| --- | --- |
| Product Number | #7270822 |
| Brand | Delta-Cast Soft |
| Manufacturer | BSN Medical |
| Application | Cast Tape |
| Color | White |
| Dimensions | 3 in x 4 yds |
| Material | Polyester |