Allow C.I.A. to white-glove your request for this item
Not buying today? Need a volume discount, Net 30 terms, or a government quote? Got a backorder, and need immediate stock? That's exactly what we do best. Let us solve your problem.
Product Description
BSN Medical 7800901 - Total Contact Casting Cutimed TCC Kit Ea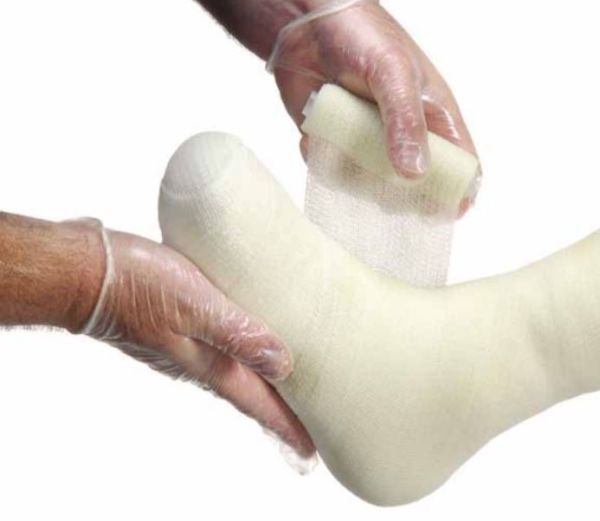 Cutimed Off-Loader Select Synthetic | Total contact cast system
1st choice for wounds not showing significant healing at 4 weeks
Cost effective
Reduces inventory
Complete treatment kit for diabetic foot ulcers
Reduces shear and friction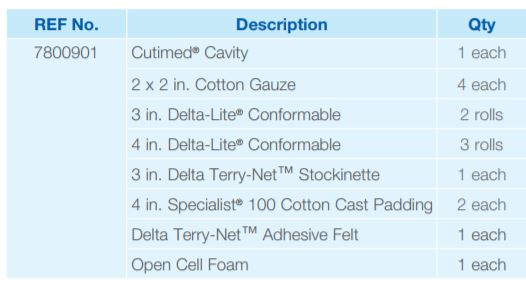 Kit components
Cutimed Cavity
A sterile dressing, made from hydrophilic absorbent polyurethane foam.
Delta Terry-Net C
Cotton stockinette has excellent absorption and conformability. It reduces the risk of bunching in the dorsum of the foot.
Delta Terry-Net
Adhesive felt padding for added protection of the bony prominences of the tibia and malleoli.
Specialist 100
cotton cast padding is soft and made of 100% cotton. It has excellent absorption properties and low loft needed for a total contact cast.
Orthoflex Elastic
Plaster of Paris Bandage that is ideal for difficult casting applications as it conforms well to the body contours. Manufactured with Specialist plaster and an elastic gauze.
Gypsona S
Plaster of Paris Bandages are made with a creamy plaster that results in a smoother cast, plastic core improves handling.
Delta-Lite Conformable
A patented fiberglass cast tape that provides unsurpassed conformability, greatly reducing the need to tuck and fold during application.
Perforated open cell foam to protect the toes and allow more breathability than nonperforated foams.
Cotton gauze used between the toes to reduce the risk of skin maceration.
Cutimed Off-Loader Select
Evidence based treatment guidelines including consensus documents and Standards of Care agree off-loading is required for the healing of diabetic foot ulcers . Now, the worlds leading casting company brings you two options for your Total Contact Casting (TCC) needs. The Cutimed Off-Loader and Cutimed Off-Loader Select Total Contact Casting Systems offer the premium casting materials in an easy to use kit.
Evidence Based Results
Total contact casting provides higher percentage of ulcers healed vs other methods of offloading.
90% TCC
65% RCW (Removable Cast Walker)
58% Half Shoe
Total contact casting WORKS to remove the barriers to healing in the Diabetic Foot ulcer
Highest reduction in impact, velocity and duration
Works to significantly reduce repetitive stress injury
Works to limit time under stress
Highest reduction in Shear forces
Protects fragile wound bed and wound edges from shear and friction damage
Reduces inflammation due to repetitive tissue damage
Seals out Contaminants and Bacteria
Works to reduce opportunities for infection
Challenge:
Without Total Contact Casting Diabetic Foot Ulcers Take Longer to Heal and Are Costly
Solution:
An Integrated Therapy Approach Remove, Rebuild, Reduce" Promotes Faster Healing
Is it Possible to Improve the Outcome?
Aggressive off-loading of neuropathic plantar ulcers in diabetic patients is not an adjunct therapy to treatment it is the most extensively studied treatment4
Advanced therapeutics are unlikely to succeed in improving wound healing outcomes unless effective off-loading is achieved
Increased healing of a DFU is more likely to occur with adherence to off-loading
Off-Loading Therapy From BSN: Customizable, Easy to Apply and Remove
Reduce Pressure | Cutimed Off-Loader Select TCC System
TRUE Total Contact Casting
Customizable for most legs
Cost-effective
Easy to apply and remove
Cutimed Off-Loader Select Offers Superior Results to Newer, More Expensive Therapies

Cutimed Off-Loader Select TCC Treatment Pathway
Ways to Help Ensure Positive Post-Healing Outcomes
DFU Education
Without sound self-management and proper foot care, DFUs are three times more likely to reoccur
Discuss healthy diet, blood sugar levels, weight, daily foot exercise and other key factors
Maintain Range of Motion (ROM)
As healed DFUs can impact normal ROM, range of joint motion and repetitive foot exercises have been shown to increase blood supply to affected areas, aiding in both healing and future prevention.
Intelligent Footwear and Device Choices
Healing sandals, diabetic socks, and shear-reducing insoles offer both comfort and protection.