Cardinal Health 29459 - ANGIOGRAPHY DRAPE SHEET, 16 EA/CS
Surgical Drapes and Packs
Femoral Angiography Drape with Catheter Pouch
Cardinal Health provides a comprehensive selection of surgical drapes and ancillary products that offers patients and clinicians the protection they want and need.
Femoral Angiography Drape Features
Tiburon fabric
Reinforcements.
Side panel material.
Incise.
Clear plastic panels, anesthesia screens and pouches.
Adhesive.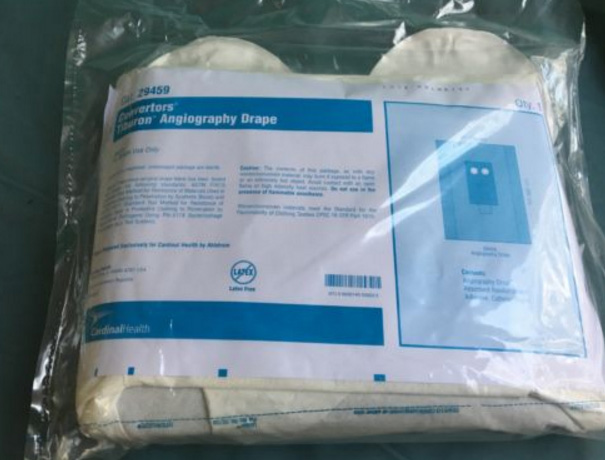 Femoral Angiography Drape Advantages
Absorbent reinforcement, 28.75 x 44 in. (73 x 112cm).
Fenestration, dual circular, 6 in. (15cm), with circular incise aperture, 3.5 in. (9cm).
Catheter pouch, 8.5
Sterial.
Meterial Tiburon Fabric
This fabric is tough. It's engineered to be impervious for maximum patient and clinician safety.It's resistant to abrasion and punctures, yet its flexible, cloth-like properties allow it to drape naturally, following the contours of the patient. Impervious Tiburon fabric was engineered by scientists with the help of clinicians who truly understand the clinical environment. Tiburon fabric passes both industry standard tests required to be considered impervious and therefore provides the highest level of protection available. Absorbency Tiburon fabric is impervious. The absorbent top layer can effectively hold and disperse fluid away from the patient, reducing the chance of contamination and infection. Puncture, abrasion, strength and linting A reliable drape must be able to stand up to the kind of handling and stress that can occur during a procedure. Tiburon fabric's performance in these industry standard tests clearly demonstrates its durability and strength.Tiburon fabric is lower linting than other currently available surgical drape fabrics when compared in laboratory testing.