Part Number
Cardinal Health 2D72NS75X
Ships Within
Call for Availability
Cardinal Health 2D72NS75X - Protexis Latex Sterile Latex Powder-Free Surgical Gloves with Nitrile Coating, Size 7.5, 50 PAIR/BX, 4 BX/CA
Protexis Latex Surgical Gloves. A glove that works as hard as you do!
Protexis Latex powder-free surgical gloves with nitrile coating provide the second-skin comfort of latex with a brown tint.
Protection
Powder-free, natural rubber latex.
Versatile glove to be used in a wide variety of surgical environments.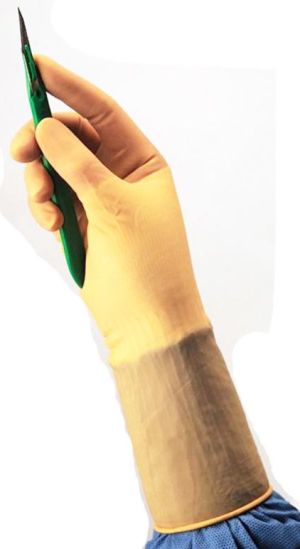 Performance
Gloves brown-tint blends with the wearers skin for protection that is unobtrusive and less noticeable.
Proprietary hand mold with an independent thumb design allows for an anatomical fit and natural movement in the fingers, thumb and palm.
Featuring an interlocking, beaded cuff design that helps to reduce roll-down.
We protect so you can perform!
Protexis is the brand name of the powder-free portfolio of surgical gloves offered by Cardinal Health. It represents our ongoing dedication to providing protection, performance and expertise so wearers can perform confidently and focus on their patients. All of our Surgical Gloves are uniquely designed for precision performance with special features that enable natural hand movement. Plus, they are backed by the recognized expertise and commitment to cost-effective care of Cardinal Health.
Specifications
Material: Natural rubber latex with nitrile polymer
Protein: Contains 50 micrograms (g) or less of total water extractable protein per square decimeter (/dm2)
Powder-Free: Powder residue limit < 2.0 milligrams (mg)2
Dimensions (target) Length: Size 7.5 in.
Tensile Strength: = 24 MPa.
Stress @ 500% elongation (modulus): = 5.5 MPa.
Ultimate Elongation (elasticity): = 750%.
Finger: 9.8 mils / 0.25 mm
Palm: = 7.9 mils / = 0.20 mm
Cuff: 7.5 mils / 0.19 mm.
Puncture resistance (cuff): = 5N.
Freedom from holes: 0.65 AQL (exceeding ASTM standard of 1.5).