Part Number
Cardinal Health 2D73DP60
Cardinal Health 2D73DP60 - GLOVE, SURG, PF, PROTEXIS PLUS, 6.0, 200 PR/CS, 4 BX/CS
Protexis Neoprene Surgical Gloves
Protexis Neoprene Surgical Gloves are an alternative when natural rubber latex surgical gloves are not an option. They are designed to be softer and thinner than previous Cardinal Health Neoprene Surgical Gloves, while maintaining physical property performance.
A unique synthetic!
With advances in manufacturing and coating technologies, powder is no longer required as a donning lubricant. Powderfree surgical gloves provide the protection and performance needed without the irritant effects of powder.
Protexis is the new brand name of the powder-free portfolio of surgical gloves from Cardinal Health. It represents our ongoing dedication to providing protection, performance and expertise so wearers can perform confidently and focus on their patients.
Protection
Synthetic neoprene not made from natural rubber latex.
Powder-free.
Performance
Thinner and softer than previous Caridnal Health Neoprene Surgical Gloves for enhanced tactile response.
Proprietary hand mold with an independent thumb design allows for an anatomical fit and natural movement in the fingers, thumb and palm.
Featuring an interlocking, beaded cuff design that helps to reduce roll down.

Inner nitrile coating for effortless donning.

Tested for chemotherapy agent permeation in accordance with ASTM D 6978-05, "Standard Practice for Assessment of Resistance of Medical Gloves to Permeation by Chemotherapy Drugs".
Backed by the expertise of Cardinal Health, Protexis PI Surgical Gloves meet all relevant FDA and ASTM standards, including those for physical dimensions , physical properties and freedom from holes. Documentation is available upon request.
Material
Synthetic neoprene.
Powder-Free powder residue limit < 2.0 milligrams (mg) per glove.
Dimensions (target)
Size: 6.0 : 152.4 mm
Finger: 6.7 mils / 0.17 mm
Palm: 5.5 mils / = 0.14 mm
Cuff: 5.5 mils / = 0.14 mm
Properties (before aging)
Puncture resistance (cuff): 5N.
Tensile Strength: 17.0 MPa.
Stress @ 500% elongation (modulus): 7.0 MPa.
Ultimate Elongation (elasticity):650%
Freedom from holes: 0.65 AQL.
Chemotherapy Agent Permeation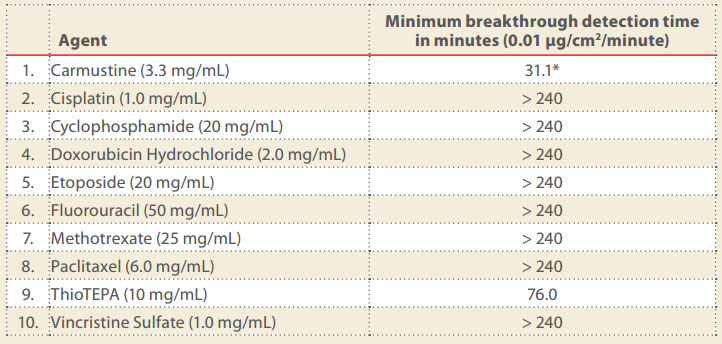 When chemotherapy drugs are present, glove selection should be based on the specific type(s) of chemicals used.
Users should review drug labeling or Safety Data Sheets for the chemicals being used to determine an adequate level of protection.