Part Number
Cardinal Health 2D73EB65
Ships Within
Call for Availability
Cardinal Health 2D73EB65 - GLOVE, SURG, POLYISOPRENE, ESTEEM, PF, 6.5, 1 PR/PR
Protexis PI Blue with Neu-Thera Surgical Gloves
Protexis PI Blue with Neu-Thera Surgical Gloves are a synthetic solution that can be worn as a foundation layer when double-gloving. The blue color alerts wearers to breaches in the outer glove and the Neu-Thera Emollient Coating offers donnability as well as moisturizing and soothing hands during glove wear.
The essential underglove!
With advances in manufacturing and coating technologies, powder is no longer required as a donning lubricant. Powderfree surgical gloves provide the protection and performance needed without the irritant effects of powder.
Protexis is the new brand name of the powder-free portfolio of surgical gloves from Cardinal Health. It represents our ongoing dedication to providing protection, performance and expertise so wearers can perform confidently and focus on their patients.
Protection
Synthetic polyisoprene (PI) not made from natural rubber latex.
Powder-free.
Distinct blue color aids in alerting wearers to perforations in the outer glove.
Performance
Neu-Thera Emollient Coating aids in wet and dry donning, helps promote skin moisturization and supports hand hygiene compliance.
Proprietary hand mold with an independent thumb design allows for an anatomical fit and natural movement in the fingers, thumb and palm.
Features an interlocking, beaded cuff design that helps to reduce roll-down.
Blue color ensures easy identification
Unique polyisoprene formulation provides the fit, feel and performance of latex without natural rubber latex without natural rubber latex protein allergens Neu-Thera emollient coating protects.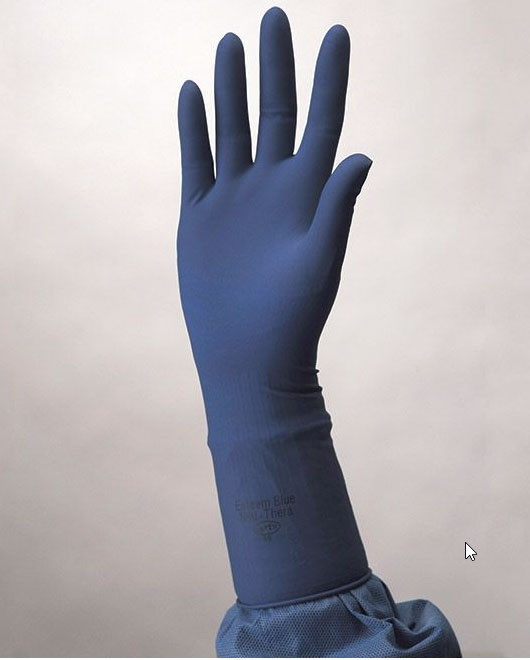 Backed by the expertise of Cardinal Health, Protexis PI Blue with Neu-Thera Surgical Gloves meet all relevant FDA and ASTM standards, including those for physical dimensions , physical properties and freedom from holes . Documentation and testing data are available upon request.
Material
Synthetic polyisoprene (PI) with Neu-Thera Emollient Coating.
Powder-Free powder residue limit < 2.0 milligrams (mg) per glove.
Dimensions (target)
Size: 6.5 : 165.1 mm
Finger: 7.9 mils / 0.20 mm
Palm: 5.5 mils / 0.14 mm
Cuff: 5.5 mils / 0.14 mm
Properties (before aging)
Puncture resistance (cuff): 5N.
Tensile Strength: 17.0 MPa.
Stress @ 500% elongation (modulus): 7.0 MPa.
Ultimate Elongation (elasticity):650%
Freedom from holes: 0.65 AQL.
Recommended protection
AORN recommends double-gloving during invasive procedures.
ACS recommends the universal adoption of the double-glove technique for surgeons and scrub personnel.
AAOS recommends double-gloving during all surgical procedures and to change the outer pair of gloves at least every two hours.
CDC recommends double-gloving to reduce contact with patients blood and body fluids.