Allow C.I.A. to white-glove your request for this item
Not buying today? Need a volume discount, Net 30 terms, or a government quote? Got a backorder, and need immediate stock? That's exactly what we do best. Let us solve your problem.
Product Description
Cardinal Health 65651-220 - Guardian Suction Canister 2000cc Ea, 40 EA/CS
Our number one goal is to improve safety and efficiency throughout the hospital, allowing customers to focus on what matters most caring for their patients. We offer families of products that allow you to stay competitive in today's healthcare environment, control costs and meet the diverse needs of your facility.
The Guardian Suction Canister System features single-use disposable hard locking lid attachments. Special brackets and stands are available for convenient mounting configurations and mobility. Designed for safety, economy and convenience, Guardian Suction Canister Systems are available in a variety of sizes to meet all of your suction and fluid collection needs.
65651-220 2000CC Disposable canisters: Guardian Disposable Hard Canisters feature rigid blue lids with an automatic shutoff valve to help prevent cross contamination of regulators and wall vacuum outlets. Its 90 adapters allow tubing to connect at right angles to help prevent kinking and impeded fluid flow. The locking lid encourages the proper disposal of infectious liquid medical waste and enhances worker safety. Lid includes accessory and orthopedic ports.
Assembly options
The Guardian System is available in several assembly options, allowing for flexibility at the point of use.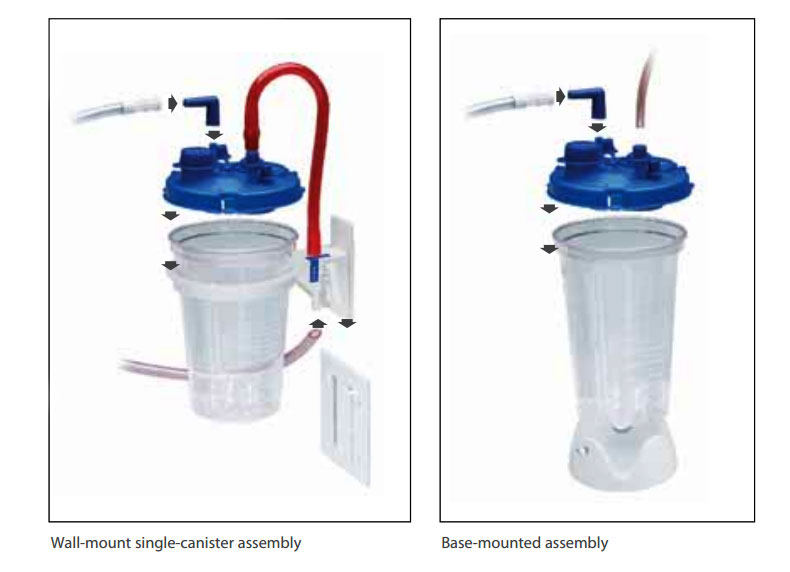 Wall-mount single-canister assembly
This is a wall-mount single-canister installation typical of a patient room situation.
The Guardian Ring Bracket is available with or without the on/off valve.
Base-mounted assembly
This is a typical base-mounted installation, commonly used on portable vacuum pumps, shelves, etc.