Allow C.I.A. to white-glove your request for this item
Not buying today? Need a volume discount, Net 30 terms, or a government quote? Got a backorder, and need immediate stock? That's exactly what we do best. Let us solve your problem.
Product Description
Cardinal Health 65651-230 - Medi-Vac Guardian Suction Canisters, Size 3000cc, 40/CS
Guardian Suction Canister Systems 3000cc
The Guardian suction system features disposable hard, clear plastic containers. Special brackets and stands are available for convenient mounting configurations and mobility. An automatic shutoff valve is located inside the lid to help prevent cross contamination of regulators and wall vacuum outlets. 90 adapters allow tubing to connect at right angles to help prevent kinking and impeded fluid flow. The locking lid encourages the proper disposal of infectious liquid medical waste and enhances worker safety. Lid includes accessory and orthopedic ports.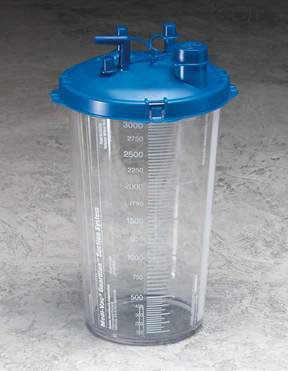 The Guardian LVC (large volume collection canister) tough, shatter-resistant hard plastic canisters feature sturdy, ergonomic handle and graduations for viewing and measuring contents. Available with two sizes of roll stands for easy mobility.
Our single-use Flex Advantage liners are designed with safety features to provide maximum protection and ease of use during fluid collection, retention and disposal. Liners include a one-way valve built into the inner lid at the patient port to prevent backflow of fluid. The rigid outer canisters are reusable. Liners are available separately or in kits with nonsterile patient tubing.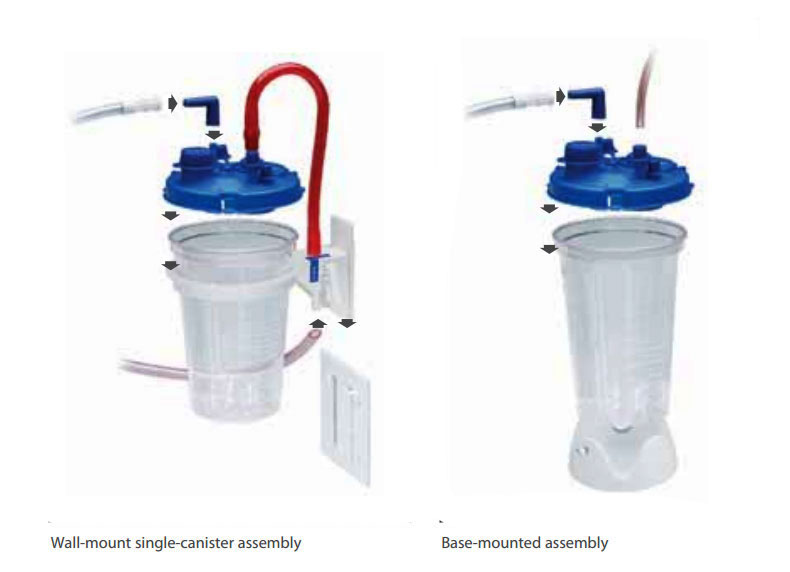 The Gurdian Suction Canister System features single-use disposable hard locking lid attachments. Special brackets and stands are available for convenient mounting configurations and mobility. Designed for safety, economy and convenience, Guardian Suction Canister Systems are available in a variety of sizes to meet all of your suction and fluid collection needs.
Wall-mount single-canister assembly
This is a wall-mount single-canister installation typical of a patient room situation. The Guardian Ring Bracket is available with or without the on/off valve.
Base-mounted assembly
This is a typical base-mounted installation, commonly used on portable vacuum pumps, shelves, etc.